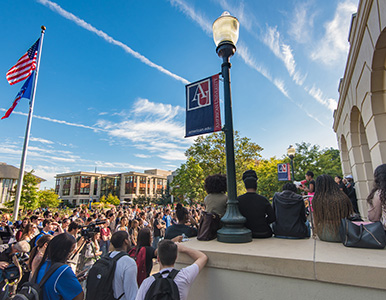 September 27 was an unseasonably hot day in Washington, and inside AU's Kay Spiritual Life Center, emotions were raw. Rightfully so. The previous evening a white male—about 5 feet 11 inches, thought to be about 40 years old, dressed in a construction hard hat and vest and carrying a toolbox—put up racist posters depicting Confederate flags in several locations around campus. Cotton stalks were attached to them. 
It was a deeply unnerving time for a community still reeling from a hate crime that occurred on its grounds in May. When students joined AU president Sylvia Mathews Burwell, her cabinet, members of the Board of Trustees, faculty, and staff for a town hall meeting, anger, fear, sadness, defiance, and even tears flowed freely.
Of course, what happened in their corner of the world was of utmost importance to the people in Kay (and to the overflow crowd listening outside), but a troubling subtext festered just below the surface of the passionate collective conversation. 
What's happening here is happening all over this country. 
Since September 2016, the Anti-Defamation League's (ADL) Center on Extremism has tracked 188 instances of white supremacist propaganda on 126 college campuses in 39 states. The same week as the incident at AU, a swastika was found painted inside a residence hall restroom at Georgetown University. 
"These groups are specifically targeting college campuses," says Doron Ezickson, Washington regional director for ADL. He oversees its activities in the District, Maryland, Virginia, and North Carolina. "They want to recruit a new generation. They think there's an opportunity to disseminate their ideology and identify new recruits who might sympathize with their racist ideologies."
Ezickson's region has seen more than 30 instances of vandalism, distribution of hate literature, formation of white student unions, and online trolling this year. "And those are just the ones that are reported," he says.
Formed in 1913 in response to anti-Semitism, the ADL today fights hate, extremism, terrorism, and bigotry in all its forms and advocates for equal rights and justice in America and elsewhere. With 29 offices in the United States and 3 in other countries, it is among the highest-profile organizations of its kind.
"Our former director Abe Foxman used to say we would very much like to be out of the business of fighting hate, but unfortunately there's a lot of it out there," says Michael Freeling, SPA/BA '89. A real estate attorney by trade, he began volunteering for the ADL in 2005 and chaired its Florida Regional Law Enforcement Committee from 2009 to 2014. Today, as a national commissioner, he votes on various policy positions the ADL takes.
"We stand up for anybody who's being discriminated against because it goes to a teaching that says, 'If I am not for myself, who will be for me? But if I am only for myself, who am I? If not now, when?'" Freeling says. 
In the pre-dawn hours of May 1, bananas hanging from strings fashioned in the shape of nooses appeared on AU's campus. The previous day, Taylor Dumpson, SPA/BA '18, had become AU's first female African American student government president. The timing hardly seemed coincidental. In the ensuing days, protests and demonstrations took place around the campus. A town hall meeting was held in Kay.
"People were just numb and shocked," says Fanta Aw, vice president of Campus Life. "Every emotion you can think of was in that room. There are those who say the forum didn't go well because they didn't get, from their perspective, the emotion they needed from the leadership. But it was important to bring the community together."
Five months later, when the second town hall was held in the same space, the emotional gravity of the situation was unmistakable.
"Acts like this target American University precisely because of our strength," President Burwell told the crowd, her voice quavering. "We stand against racism and anti-Semitism, injustice and bigotry, and it's those strengths that will see us through."
As in the May crime, the timing of the Confederate posters appeared to be deliberate. That evening, Burwell and other dignitaries attended an event for AU's new Antiracist Research and Policy Center, the first of its kind in the country. Best-selling author and award-winning historian Ibram X. Kendi joined the faculty in August and serves as the center's founding director.
At the town hall, he read a message he was moved to write to students in the aftermath of the incident:
"This is the latest attempt on this campus to frighten our community, as groups are trying to frighten other communities around the country. I want you to know that you are a model of triumph-and even when you triumph you become a threat to people who would rather you fail. The history of your successes is the history of racist terror. If they can't keep you down by discrimination, then they have attempted to keep you down by terror, by instilling fear in you, in me. But it is normal for us to be fearful. Courage is not the absence of fear. It is the strength to do what is right in the face of it. In the coming days and weeks and months, no matter what happens, let's gather that strength together."
The university has taken several steps to ensure that happens: A new diversity and inclusion website was launched (american.edu/president/diversity), a consultant was hired for the near-term to advise the administration, and AU Public Safety continues to work with the FBI and US Attorney on the investigation of both crimes. In July, Aw brought Ezickson to campus for a half-day briefing attended by 60 cabinet members, deans, and other key stakeholders. He discussed the scope of the problem, the nature of the extremist threat, tactics used by extremist groups, and First Amendment issues, among other things.
"Because of the increasing frequency and the general atmosphere today, leading universities are taking hold of this issue and working systematically to try to create not only a safe environment but also appropriate procedures and programming," Ezickson says. "American University is a leader in that regard. The urgency of this conversation, at this point in time in our society, is very high. ADL is here to partner with institutions like AU, where the education of a new generation is happening. So what is critical to our ability to limit the hate, is the kind of commitment that AU is showing to addressing these issues, as difficult as they are."
At the second town hall meeting, Burwell (who took office in June), Aw, and other leaders promised to have an open dialogue with students about how best to move forward. But in a world where hate seems to be on the rise, how much can any university isolate itself?
"I think it's important for us to be honest and candid with our students," Aw says. "We cannot guarantee that, while you're here, this type of thing will never happen again. What we can do is continue to work on the climate here to help this community understand what it means to be inclusive."
After the town hall, people spilled out of Kay into the bright sunshine. Across the bucolic quad, students of all skin colors, hailing from 50 states and 144 countries, stopped to mingle with one another or strolled to their dorms, classrooms, or in search of an afternoon snack. It was a lovely scene, one that made it easy to forget that American is not immune to the ills of America.