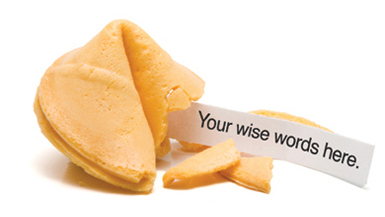 There are few things more American than Chinese fortune cookies. The prescient treats first appeared at San Francisco's Japanese Tea Garden in the 1890s, and actually were flops when they were introduced in China a century later.
Today, more than 3 billion cookies are made each year. California-based Passport Food Group makes 25 million annually.
"If you're an Asian food company, you have to do fortune cookies," says Rodney Naylor, SIS/BA '84, Passport's vice president of sales and marketing. "When I bring customers into the plant, they all want to see how fortune cookies are made."
First, batter comprised primarily of flour, sugar, vanilla, and sesame seed oil is shaped into silver dollar-sized pancakes. It's then folded before a machine inserts the fortune (prior to the cookie being folded a final time). Ah yes, the fortune. Where do those bite-sized words of wisdom actually come from, anyway? At Passport, from the minds of its employees. The company maintains a database of more than 1,800 fortunes that were written by everyone from machinists to accountants.
"To me, a fortune cookie is a minute of happiness for a customer," Naylor says. "It's one of the last free gifts you get anymore. It's like the Cracker Jack prize—you know there's one in every box."
Or, when it comes to Chinese food, one in every carryout bag.