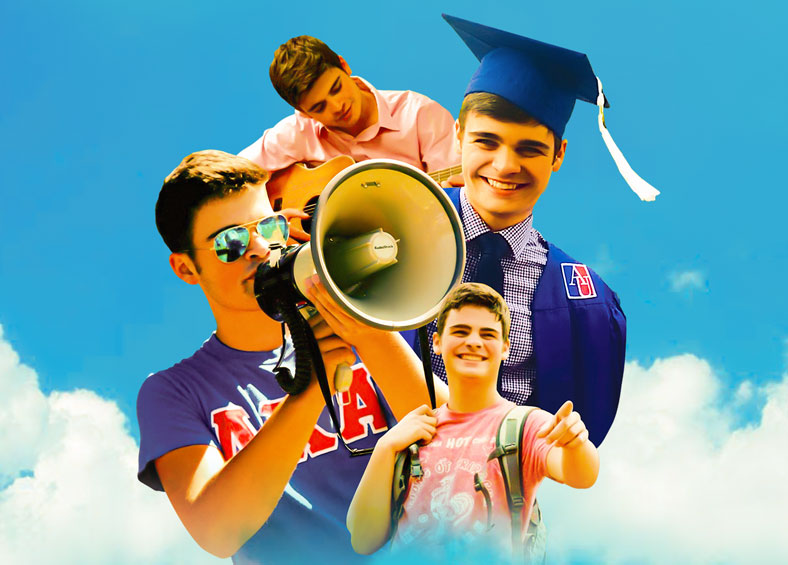 Both the movie and the meal were pure Steve. For dinner: bowls of spicy bún bò Huế soup from a local Vietnamese takeout. On the screen: a movie so esoteric that it surely would have prompted a smart-ass-yet-good-natured reminder from him that he was a cinema studies minor.
It was June 3, and Stephen and Liz Cammarota were celebrating their son's 24th birthday. They chose his favorite cuisine and one of the films he most respected to honor him. It was the first time his mother had seen Mulholland Drive.
"She's still scratching her head," his dad says.
So has pretty much everyone who's ever seen it. To an outsider, the David Lynch project might have seemed an odd choice for family movie night, but for Stephen and Liz and their daughter, Sarah, it was the perfect pick.
"We watched a David Lynch movie because he likes David Lynch. Liked David Lynch," Liz says, her voice trailing off.
They are recounting the evening the next day while sitting in their kitchen in Blue Bell, Pennsylvania, about 20 miles northwest of Philadelphia. Each crevice of the home is filled with the most cherished and brutal of memories. The country is ensnarled in the grip of a global pandemic that has turned life upside down, but the Cammarotas' world was upended months before the coronavirus arrived. That happened on August 25, 2019, when their firstborn, Steve, died at just 23 years old.
"He figured out a way to live his life to the fullest and treat people better than they expected to be treated, and to give back," says Stephen, who has a different middle name than his son. "Because to him, if you knew you might die young, that would be the best way to live as a young person."
Stephen James Cammarota, SOC/BA '18, would probably hate this story. He was stricken with one medical condition at a young age, and acquired additional diagnoses throughout his childhood. Still, he never let his fragile health define the way he lived. In fact, he cringed when the spotlight shined on him. Whenever he was praised for leading a volunteer effort on campus, thoughtfully bringing a friend a drink from Starbucks, or nailing a project at work he'd often respond with a self-deprecating joke.
"This portrayal of Stephen as a saint wouldn't please him because it's omitting something important about Stephen, which is that he had . . .  Satan's sense of humor," his sister, Sarah, said during her eulogy at his memorial service. Be that as it may, Steve was a guy friends could count on, a dude they could trust, the cutup who always was armed with a smart or searing or sometimes dark joke that usually hit its mark.
"He would do this thing called 'Steve-ing out,' where he would go on these rants about how terrible the traffic is in DC or the movies he didn't like," says his friend Jonathan Chick, SPA/BA '20. "But he was actually a very kind and loving person. He could find a balance between when to be serious and when to joke around."
Chick remembers the first time he saw Steve. It was at a Lambda Chi Alpha party (both were brothers), and Steve was wearing a "ridiculous" Christmas tree suit. He also remembers the last.
"We would go to trivia night at Breadsoda," Chick says. "One time we were walking back from trivia and he was like, 'You know, guys don't say they love each other enough. I love you man.' I was like, 'I love you too.' That was one of the last things he said to me. He just cared so much about his friends and family and wasn't afraid to say it."
The first clue came in second grade, when Steve started coming home from school black and blue. He was diagnosed with immune thrombocytopenic purpura, a blood disorder known to cause bruising and internal bleeding due to a decrease in platelets, the cells that form clots.
Two rounds of chemotherapy followed before another diagnosis: Common Variable Immune Disorder (CVID). Steve had no antibodies to fight off infections.
"They weren't able to diagnose the CVID originally because typically you present with a lot of infections, which he did not have," Stephen says. "They couldn't believe that he hadn't been sick all the time because he had zero antibodies to fight off the common cold, measles, mumps. Anything."
After the chemo, he took steroids, which caused the rail-thin kid to balloon. During Little League he had to wear a batting helmet in the outfield, lest a misplayed fly ball cause uncontrollable bleeding. Yet his parents took it all in stride, and their oldest son followed. The reason: their youngest son, Sam.
When Steve was seven years old, a pregnant Liz was rushed to the hospital. There, doctors told her that her baby, who was born prematurely, would not make it.
Sam was diagnosed with microcephaly, a condition where the head is smaller than normal, before he was born. The prognosis: he would be in a vegetative state when he was delivered—if he lived at all. Although he's severely cognitively disabled, 16 years later he's alive and well.
Because of Sam, Stephen and Liz's outlook on life changed. When Steve was presented with his own health challenges, the family was able to keep things in perspective.
"Steve had the expectation that Sam wasn't going to make it," Liz says. "At a very young age he was very mature. I don't think he ever said, 'Why is this happening to me?'"
Other than taking weekly doses of immunoglobulin to boost his immune system, Steve was a normal kid. He loved Star Wars and Lord of the Rings; he wasn't much ofa jock.
"He was good at tennis, but I don't think he cared enough to become really good," Sarah says. "So he played on the JV team for one year and then just played for fun. He was a John McEnroe type where if he missed a serve or something, he would smash his racquet on the ground."
He brought a gentler disposition to the courts when, for a service-learning project, he and his neighbor Julia Friedenberg founded Tennis Buddies, a nonprofit that hosts clinics for kids with special needs. It's still going strong today.
Music was more his speed. He played saxophone in the jazz band even though his musical tastes tended toward new wave. Duran Duran and New Order were two favorites. When his high school band director asked for a volunteer to play the bulky contrabass clarinet, Steve was the only person who stepped up.
"He couldn't say no to anyone," Sarah says. "I don't want to say he was a pushover, because it wasn't out of a sense of obligation, it was more out of a sense of, 'Oh, no one else is going to do it? I'll do it.'"
After a cancer scare in high school Steve penned an essay entitled "You Are Going to Die, So Be Happy" (see below). Heavy stuff for a 17-year-old. Beautifully written, the piece is insightful and hopeful.
"Allowing the possibility of death into my life allowed me to move past my fear," he wrote. "I started focusing more on the time I thought I had left, making the moments count and not focusing on the petty trivial pursuits that had governed a large part of my life."
That was the attitude he carried to AU for the four most formative years of his life.
Kendall Lawrence, SIS/BA '18, is terrible with names. For the first weeks of her freshman year she could only remember the funny guy she met while playing Cards Against Humanity in the Centennial lounge as "the kid with no immune system."
"He mentioned it during an icebreaker during Welcome Week. It was his 'fun fact,'" she says. "He didn't hide it, but he also didn't let it affect how he chose to live his life."
The two became close friends, and eventually roommates. They cooked together and ate their way around Adams Morgan. During their senior year, Steve helped Lawrence get a job at SOC's SubHub.
Steve was a fixture in the McKinley Building. Like so many, he came to Washington thinking he'd pursue a career in the political world, but after an internship in Senator Bob Casey's (D-PA) office, he became interested in public relations instead. For Professor Gemma Puglisi's PR portfolio class, he dressed up as Clawed during an event to show support for Covenant House, a nonprofit that provides services to youth facing homelessness.
"He was one of the most caring students I ever had," says Puglisi, who invited him back to her class to speak with her new students. "The last time I remember [seeing] him, it was a semester after I had him. I was gearing up for the same class's final presentation. He saw me moving chairs and said, 'Professor, I can help you move these. How's your class?'"
Puglisi dedicated the spring 2020 semester of her course to Steve. Her students raised about $2,000, which they donated to Georgetown University Medical Center, where Steve was treated before he passed away.
As a senior, Steve was on the board of EagleTHON, a 12-hour dance marathon that raised $29,657 for Children's National Hospital. He was a go-getter with such an infectiously positive attitude that Alan Fleischmann, SIS/BA '87, SPA/BS '87, gave him a job after college following just a seven-minute interview.
"We were looking to hire someone who would work in the office of the CEO," says Fleischmann, founder, chairman, and CEO of Laurel Strategies. "My chief of staff came back from a really short interview and said, 'I don't think he's right. He's too junior.' I wanted to meet him, but people in my office were saying, 'You don't have time. You only have seven minutes until your next meeting.' I walked into the conference room and he stood up and never sat down again. I got to know this kid in seven minutes like you normally would get to know someone in an hour. At one point I said, 'I need an all-in person.' He looked at me and said, 'I don't have another gear.' He said it with a fire and a passion."
Steve traveled with Fleischmann, who chairs the SIS Dean's Board of Advisors, to New York on a couple of business trips. During one, Fleischmann was choking on a piece of food in his hotel room when Steve rushed in to help.
"When it was all over and I was better, the two of us were lying next to each other on one of the two beds in my room talking, looking up at the ceiling. I think his line was, 'Is this what a typical day on a business trip with you is like?' I miss not seeing him get older."
The Cammarota family vacations in Hilton Head, South Carolina, almost every year. While Steve was growing up, he would fish with his dad. The two would plant themselves on the beach, cast their lines into the ocean, and sometimes reel in small sharks. In 2019, Steve joined the family for a week. As usual, everyone enjoyed the sun, sand, and each other's company. Steve even played a histrionics-free tennis match with Sarah.
On his drive back, he stopped in Ocean City, Maryland, to hang out with some friends. That night his parents began receiving what they describe as "incoherent" texts.
"He was confused, he wasn't forming sentences," Liz says. "In the beginning, I thought he's in Ocean City with his buddies, he's hungover. I told him, 'You need to go get hydrated.' But he wasn't making any sense."
Apparently, Steve also understood that something wasn't right, because when he got back to DC, he Ubered to Georgetown University Medical Center. His dad arrived soon after he was admitted to the intensive care unit.
"When I got there, the hemoglobin in his blood was down to almost zero," Stephen says. "He was getting no oxygen to the brain. They said, 'What year is it, Stephen?' and he said, 'October.'"
His condition deteriorated quickly. Doctors thought he might be suffering from hemophagocytic lymphohistiocytosis, a severe systemic inflammatory syndrome that can cause a strong activation of the immune system, but they weren't sure. Steve had a massive stroke then slipped into a coma. Seven days after he checked himself into the hospital, he passed away. His parents still aren't exactly sure what killed him.
No parent wants to contemplate their child's funeral. But in the days immediately following Steve's death, Stephen and Liz knew that they didn't want a solemn memorial. They dubbed the service "A Celebration of Life." The program featured a picture of a smiling Steve alongside movie poster-style blurbs ("Man throws grill off roof. Hilarity ensues." "A heartfelt look at the human condition." "Two thumbs up.") and a list of Steve's not-so-greatest hits ("Believed in Santa until the seventh grade.")
More than 300 people packed the auditorium in Steve's high school to remember, laugh, 
and cry.
"It was the first celebration of life that I've been to that actually felt like a celebration of life," says his friend Desmond Calhoun, SOC/BA '18.
"From his birth to his death, he was an enigma," Stephen said in his eulogy. "If you only paid attention to his rants, you would think he was the most miserable SOB there was, but if you hung past the rant and cynicism, you realized there was a reason for them. I don't know how to explain it other than to say Stevo was passionate about being a good human being, which made him highly critical but equally empathetic and selfless at the same time. . . . He expected people to meet a high standard. If you were his friend, that meant a lot because it probably meant you were as selfless as he was."
The Cammarotas are trying to preserve that selflessness by starting a nonprofit in their son's honor. Do Better 4 Steve will help disabled and disadvantaged youth in Montgomery County, Pennsylvania. Money donated in Steve's honor already has subsidized one child's fees for summer camp at the local YMCA, an early partner of the foundation.
Though the pandemic has slowed progress on the nonprofit, Stephen and Liz have registered it with the IRS and secured a domain name. They hope it will be up and running by what would have been Steve's 25th birthday, when they'll once again celebrate their lovable, quirky, resilient son over Vietnamese takeout and a movie—just not Mulholland Drive.
YOU ARE GOING TO DIE, SO BE HAPPY
By Stephen Cammarota
It may sound morbid, but people have an expiration date. Sometimes people don't even get a chance to make it that long. Car crashes, sickness, acts of God, all of these things have the potential to snuff out the light of life. I don't dwell on this reality; I merely acknowledge it. Accepting mortality allows for a more fulfilling life. You are going to die, so be happy.
Last year it was very likely that I had lymphoma. Various preceding medical complications, including a blood disorder and an immune deficiency, as well as two courses of early-age chemotherapy, had most likely mutated my cells into cancer cells. The outlook was grim, all of the tests came back positive. When I was first made aware of this, I did not know how to feel. I didn't cry, I wasn't angry, I was just puzzled. I thought, "Young people don't get cancer." The enormity of the situation was very real, and I understood it, but I just couldn't bring myself to feel anything. The full effect of this news came crashing down on me about a week later. I would have panic attacks and be unable to function. I finally knew damn well what emotion I was feeling, and it was fear. If things kept on going the way they were, I was going to die from panic long before the cancer got to me. That's when I made the conscious decision to accept the fact that I might die, and it might happen sooner rather than later. It was liberating.
Allowing the possibility of death into my life allowed me to move past my fear. I started focusing more on the time I thought I had left, making the moments count and not focusing on the petty trivial pursuits that had governed a large part of my life. Gone were my worries about the quiz I failed and if my hair looked OK that day. (It did.) I devoted more time to family and the things I liked to do. This was not denial, this was freedom. I realized that I might die, and this made me appreciate what time I had, and how much my friends and family cared. I was feeling better than I had in a long time. The news came that this wasn't cancer, just a flare up of a preexisting condition. The response my father received after relaying the information was, "that's cool." Needless to say, he was surprised.
Nobody lives forever. Realizing this has made my life all that more precious. I thankfully do not have cancer, although I am still 50 percent more susceptible than the normal person. I make more time for the more important things, and I worry less about the small stuff. Accepting that death is as much a part of life as life itself allows for a more fulfilling and rewarding experience. This I believe.