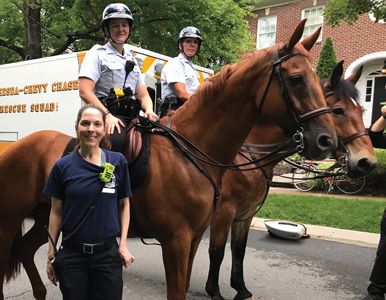 For years, Maryam Tabrizi drove past a sign outside the Bethesda-Chevy Chase Rescue Squad (BCCRS) in suburban Maryland promising "the experience of a lifetime" and thought she might like to volunteer. Tabrizi—who holds a master's in health promotion management from AU and a doctorate from Johns Hopkins University—was working in research and evaluation at the time and missed caring for patients. So, in 2016, she answered the call to service.
Tabrizi trained to become an emergency medical technician and joined the ambulance crew for a weekly 12-hour shift, responding to basic life support calls. "You are able to provide emergency medical care and a compassionate hand to someone on possibly one of their worst days," she says.
Founded in 1937 with a single ambulance in a tiny, Northwest DC garage, BCCRS's fleet now includes seven medic units, two heavy rescue squads, and a variety of command and utility vehicles. The squad's 150 volunteers respond to more than 20 calls for service each day, from car accidents to patients in cardiac arrest.
Today, Tabrizi works as a night crew officer, overseeing operations and conducting training exercises—including how to treat and transport suspected COVID-19 patients. She also sits on the board of directors, working to ensure that the nonprofit unit—funded primarily by donors, foundations, and local businesses—can continue to respond to more than 8,000 emergency calls each year.
"You know you are making a direct impact on the lives of people with each and every 911 call."