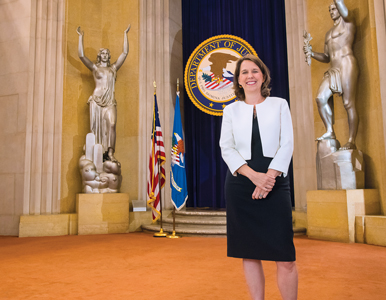 Kathy Toomey, SIS/BA '92, didn't grow up dreaming of becoming just any kind of lawyer. Her goal was specific: she set her sights on the United States Department of Justice. 
"I always wanted to work for the Civil Rights Division," says Toomey, an upstate New York native who's been doing just that for 17 years. "I was really fascinated by the notion that the law can create an equal playing field. It can provide opportunity that doesn't exist for a lot of people."
The Civil Rights Division is charged with enforcing federal civil rights law. Its roughly 650 staff work on cases involving hate crimes; people with disabilities; employment, housing, and lending discrimination; and voter rights. Toomey started as a litigator, then spent several years in professional development, where she realized her calling was to support other lawyers in the division. 
She's now director of operational management, a role she likens to that of a law firm's managing partner or chief operating officer. 
"My job is to make the mission and the support structure meet," Toomey says. "I think about everything from how we support our managers to how we [boost] the morale in our sections. We want to improve the litigation skills that lawyers have, we want to make sure our budget supports bringing more cases. It's a good time to be thinking about innovation and efficiency, and about how we can deliver the best for both our employees and the public."