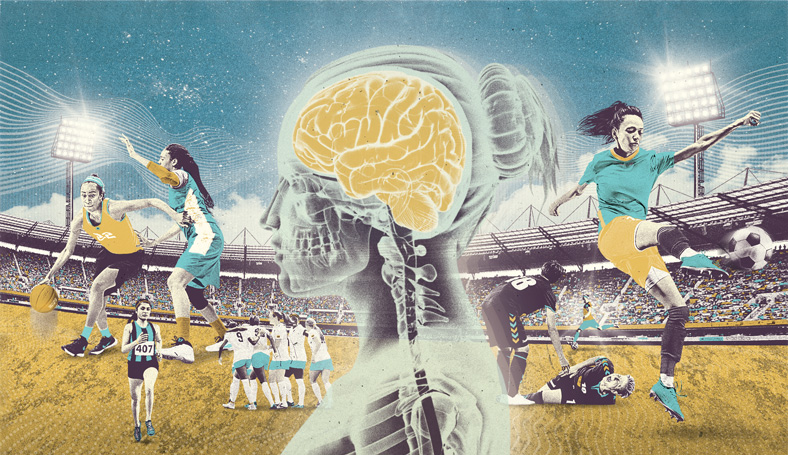 Soccer player Carly Perry wasn't ready to compete when she stepped off the bus at the University of Stirling in central Scotland, a cold rain piercing the late November air.
Her joints were stiff after the eight-hour drive from the English Midlands. The grad student also was behind on her sports psychology coursework and hadn't had time to visit the athletic trainer—let alone sleep.
As Perry, CAS/BA '18, and her Loughborough University teammates prepared for kickoff with a possession drill, she stepped over a cone on the slick, artificial turf and felt a familiar pop. As her right leg wobbled out of balance, she immediately sat down. A coach suggested she jog it off, but it was no use. Perry knew she had just torn her anterior cruciate ligament (ACL).
"It's a very distinctive feeling," the former AU midfielder says. "I wouldn't say it's excruciating pain, but it's scary."
The ACLs, which connect the tibia and the femur, are tiny knee ligaments with enormous responsibilities. When an athlete pivots or decelerates, ACLs are at the controls, providing stability and preventing excessive movement like shock absorbers. Tearing one means embarking on a recovery cycle of six months or longer and sometimes swallowing a bitter dose of reality—reinjury risk, reduced speed, or early retirement.
Perry's third ACL tear served as a curtain call for her soccer career. But it also sparked her thesis—and ignited her intellectual curiosity.
A few months after the injury in fall 2018, Perry was kicking around ideas with her thesis advisor. She mentioned the physical and emotional struggles that can accompany injuries in non-aesthetic sports like soccer and running—a body of research far less robust than studies that focus on aesthetic sports like dance and gymnastics or weight-dependent sports like wrestling.
She was keenly aware that many injured female soccer players wrestle with anxiety, depression, and eating disorders triggered by feelings of isolation from teammates and a lack of on-field success while rehabbing.
After a serious injury, "part of your identity is taken away," says Perry, who started a three-year sports psychology PhD program at the University of Central Lancashire in January. "You're entering this physical and mental place that you've never been in. Your identity is centered on your ability to be an athlete, but you're unable to move."
Perry recruited for her thesis 13 former NCAA Division I and English semiprofessional women's soccer players who had torn their ACLs. In lengthy, often emotional interviews, 12 women shared—many for the first time—that they had battled an eating disorder.
Perry confirmed her hypothesis. She also connected with her subjects' pain, powerlessness, and loneliness.
Their stories were her story.
Perry showed promise on the pitch from a young age, playing varsity soccer at Mahtomedi High School in suburban Minneapolis as an eighth grader.
But her budding career stalled when she suffered back-to-back torn left ACLs—the second a product of an unsuccessful first surgery. A protracted recovery cost her more than just two years of developmental soccer.
"I got cut from my club team because they told me I wasn't going to recover," Perry says. "I was a 14-year-old little girl with my dreams crushed."
Still, she gripped them tight, bootstrapping her way to a Division I opportunity at Manhattan College in Riverdale, New York. Perry logged more than 60 minutes a game as a freshman in 2014, but she took a knock to her right knee in the season's final contest, requiring yet another operation.
The surgery to clean out her knee was relatively minor, but the emotional toll cut deeper. Perry felt the last four years, during which she worked to return to peak fitness and rebuild her confidence, had been a waste, and she was overwhelmed by the thought of starting at square one—again. Anxiety loomed over everything, from injury rehab to prescription pickups at Walgreen's, and in just a few months, Perry had shed 30 pounds from her already lean frame. She knew something was wrong, but the gravity of the situation didn't fully register until over the summer, when she watched her older brother recoil upon seeing her.
Missy Perry knew her daughter was struggling but didn't know how much so until she visited Manhattan in spring 2015.
"When she came out of her dorm it was pretty stark, like, 'Whoa,' but you have to be careful how you ask things," says Missy. "She had a whole different view of herself that she had never had before. Everything shifts. You think you're invincible, that if you just train harder everything's going to be OK, but you can't because you have a knee injury."
Perry transferred closer to home, enrolling at the University of St. Thomas in St. Paul in fall 2015 and working with a group of mental health and medical professionals Missy calls Carly's "fabulous five": a psychologist, dietician, strength trainer, sports doctor, and physical therapist. After a year of Division III soccer, she was itching to play again at a higher level.
AU, where Perry spent her last two years of undergrad, gave her that chance. "She just radiated this blue-collar, humble type of approach, which was exactly what we wanted," says assistant coach Declan Coll. But the offer came with a fair question from loved ones: Was Carly ready?
"I was nervous, and she was nervous. She was nowhere near ready to go back and there was reason for us to be concerned," says her father, Jack. "She was well aware of that [doubt], but we did not stand in the way and I think it probably would have taken [literally] standing in her way. I still don't know if it was the right decision, but she made it the right decision. She made it look good."
As Perry begins a doctoral program in which her focus will be mental health among women's soccer players, she reflects on a difficult dichotomy in her own experience with the game. The same sport that took her to dangerous lows also allowed her to build friendships; foster a connection with her younger brother, Eddie, a soccer player at DePaul University and a member of the US Deaf Men's National Team; and inspired a promising career.
"I think sport is the most wonderful thing in the world, but I also think that when you love something so much, there's pain that comes with it when things don't go your way," Perry says. "It was from sport that I learned so many life lessons that I can take into other domains of life, but they came at a cost, and I don't think that cost needs to be as extreme as it was for me."
The daughter of a marriage and family therapist, Carly grew up dissecting "systems"—the relationships, motivations, and health factors that influence one's moods and actions.  
As a PhD student, she will have plenty of material to work with. The systems at play within the culture of many amateur and professional sports are ripe for analysis, and the shared experiences of athletes everywhere—male and female, injured and healthy—underscore the need for continued sports psychology research. 
Nearly 25 percent of NCAA Division I athletes experience depression, according to a 2016 study published in the British Journal of Sports Medicine. A lineup of high-profile professional athletes, from swimmer Michael Phelps to former US women's national soccer team standout Abby Wambach to NBA all-star DeMar DeRozan, have opened up about their mental health struggles.
Building a healthy and successful sports culture is a tricky proposition. An ideal program can win while tending to athletes' individual mental health needs. Most programs, however, fall short. The challenge of recognizing those differences is what excites AU health studies professorial lecturer Trina Ulrich about Perry's research.
"People can get down and out [during injury rehab] because their identity changes and they're asking, 'Who am I?' but you can still apply many sports psychology principles to help them," says Ulrich, who nurtured Perry's interest in sports psychology at AU. "Why do certain principles work better for some than others? Are there connections across injuries? Are there connections in women's sports and men's sports? There's so much she can research now."
More importantly, she has the intellect and empathy to handle that research, analyzing others' mental health as she continues to care for her own.
Manhattan's 2014 press release announcing Perry's recruitment highlighted both her work ethic and her "outgoing Midwest personality." Her former Loughborough teammate, Alice Hassall, called Perry a hardworking "grafter" on the field, and someone who was vital in helping Hassall navigate her ankle injury.
In October, Perry met with AU athletic director Billy Walker and visited Ulrich's sports psych class, telling her story so that other Eagles might feel comfortable sharing theirs. She has also stayed in touch with many of her thesis subjects and celebrates the strides they've made. Like a talented midfielder, a good sports psychologist is always ready with a timely assist.