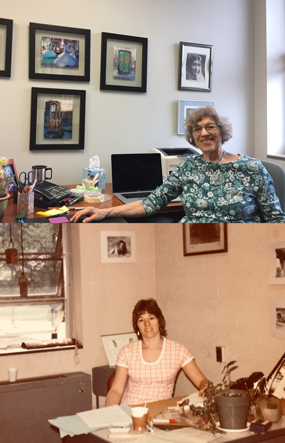 After more than a half century teaching, researching, and writing about literature at AU, Roberta Rubenstein is penning her next chapter.  
In May, the literature professor closed the book on her 51-year tenure, during which she designed 37 courses, wrote six books, served as the inaugural chair of AU's Women's Studies program—now Women's, Gender, and Sexuality Studies—and won several awards, including 1994 Scholar-Teacher of the Year.
"I don't think I considered until recently how long I had been teaching," Rubenstein says. "I feel my whole career has been a gift. Things happened that I didn't foresee, and yet they turned out to lead me in really interesting directions."
After earning her doctorate at the University of London's Birkbeck College—which she attended on a Fulbright fellowship—Rubenstein aspired to work in Washington, where she had interned at the Department of the Interior as an undergraduate. When she arrived in DC in January 1969, she knew that teaching positions would be difficult to find in the middle of an academic year, and commenced her search with the Yellow Pages, where—naturally—AU was listed first among area universities. The alphabetical prologue proved serendipitous: Rubenstein landed a temporary position in the Department of Literature starting that January.
She credits senior female colleagues in the department with enabling her to stay at AU. When she discovered that her term appointment was not subject to renewal, they spoke up, throwing their support behind Rubenstein. "As tenured members of the reappointment and tenure committee, they succeeded in having my contract upgraded to a tenure-line position. I'm indebted to those very supportive women."
As a PhD student, Rubenstein studied the influence of Russian writers like Leo Tolstoy and Fyodor Dostoyevsky on Virginia Woolf, and worked with Woolf's husband, Leonard, to decipher the writer's handwritten notes. Her interest in Woolf's feminism evolved as the Women's Movement in the US unfolded during the 1970s—"a truly exciting time to be a scholar," Rubenstein says. "Feminist literary theory changed the way I thought about gender and significantly influenced my growth as a scholar and teacher." She began to read and publish scholarship on contemporary women writers, including Doris Lessing, Margaret Atwood, and Toni Morrison.
During her tenure, Rubenstein developed courses like Directions in Modern Fiction, Feminism and Fiction, Literature of the Immigrant Experience, and Boundary Crossings. She also relished introducing students to her favorite literary text, Woolf's To the Lighthouse.
As Rubenstein's teaching evolved, so too did AU, becoming more diverse, prestigious, and clearer in its mission. She took an active role in moving it forward, joining female scholars across campus in the early 1980s to establish an interdepartmental Women's Studies program—first as a minor, then as a major—which she chaired for six years. She and her colleagues also successfully pushed AU's administration to remedy gender pay inequities and encouraged their faculty colleagues to include more works by women in their syllabi.
As she approached the last decade of her tenure, Rubenstein enjoyed a "late-career surge." Forty years after completing her dissertation, she revised the fruits of that early research to publish Virginia Woolf and the Russian Point of View. The book was followed by Literary Half-Lives, which explores the ethics of autobiography-as-fiction, focusing on Doris Lessing's pivotal relationship with American writer Clancy Sigal.
In retirement Rubenstein plans to resume two dormant hobbies—painting and photography—and travel with her husband, Professor Emeritus Charles Larson, once COVID-19 dissipates. She may even write another book "if a project reaches out and grabs me."
The lifelong literary scholar is excited to embark on whatever adventures her retirement brings. "I haven't had a chance to feel time on my hands yet. I'm looking forward to having a little bit of time and seeing what it is I want to do with it," she says. "I'll be forever grateful for the terrific students and colleagues I've encountered during my half-century at AU."