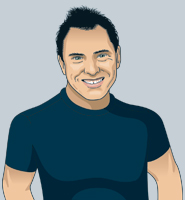 David Ruck, SOC/MFA '13, has shot films on land and underwater—and one of his movies has been seen in outer space. His documentary, I Want to be an Astronaut, premiered 285 miles above Earth, where it was screened for astronauts aboard the International Space Station. Now a videographer for the National Oceanic and Atmospheric Administration (NOAA), Ruck, 36, often dons scuba gear and captures footage in lakes, bays, and oceans. There's nowhere he won't go to get the shot.
1989: The law firm where his father practiced purchased a VHS camera. When it wasn't being used at work, he'd bring it home. "We went for a boat ride in Florida; I narrated it as though I was Robin Leach."
1996: Certified in scuba. "I was swimming before I can remember walking. SCUBA seemed like the natural thing to do."
1999: During a brief hiatus from college, worked a series of odd jobs, including as an industrial janitor cleaning up coolant from machines finishing exhaust manifolds. Became motivated to return to school.
2001: Finished Flowers of War, a film he made with a friend that captured a World War II reenactment.
2003: Hired by the Lake Michigan Foundation to make a film about the history of environmental abuses by the Hooker Chemical Company. Film is still used in area schools to teach kids about conservation.
2004: Graduated from Grand Valley State University with a bachelor's in film and video production.
2005: Traveled to Nepal for three months with his friend, Tulsi Bhandari, to make a documentary about the country's civil war. "We went from the Maoist-controlled parts to areas that were controlled by the government, masquerading as a tourist and his guide."
2006: Released Requiem for a Stream, a film about a group of citizens fighting a sand mining company that wanted to dump wastewater into Lake Michigan.
2011: Had an "ah-ha" moment while listening to Neil deGrasse Tyson discuss Congress slashing funds for the James Webb telescope. "We were canceling the shuttle program and struggling to fund new space endeavors: what impact would this have on young people? Would kids still want to be astronauts?"
2014: Completed I Want to be an Astronaut, and began Facebook-messaging astronauts aboard the International Space Station. Got a reply at 2 a.m. from Rick Mastracchio that said, "Hey David, I watched the trailer, would love to see the whole film." Days later received an email from Johnson Space Center stating that the crew requested a copy of the film be beamed to space.
Joined NOAA as videographer for the Office of National Marine Sanctuaries. Became certified as a NOAA diver. "We've got 14 sites that protect cultural resources like shipwrecks, and environmental resources like whale habitats. My job is to travel to these sites and tell stories about the work people do there." 
2016: Released Three Miles from Safety: The Story of the USS Conestoga, documenting the discovery of a US Navy tugboat that sank in the early twentieth century. "What I'm doing now is an honor and a privilege. I think I'm supposed to be here for a while, to make an impact."