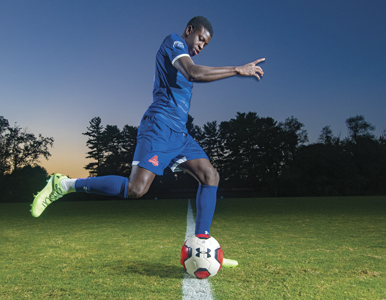 A day before the AU men's soccer team laced up their boots and returned to the pitch in August, senior forward David Coly reached the final stages of his reboot.
A nagging knee injury prevented Coly, SPA/BA '22, from playing full-speed for three months after AU's loss to top-ranked Clemson in the NCAA Tournament in May. But he had regained the ability to sprint and was on track to return before August 29, the Eagles' season opener against Old Dominion. He also had perspective.
"I've been through a lot worse than a knee injury," says Coly, a native of Dakar, Senegal.
After all, when you've spent four years away from competitive soccer—stuck in limbo at halftime of your college career—there's no sweating a minor setback.
In fall 2016, administrative issues prevented Coly, then at the University of Washington, from extending his visa. It expired, and after his sophomore season, a holiday visit home became permanent. Coly spent six months in Europe, catching matches in Barcelona, Madrid, Dortmund, and his favorite, Paris. But upon flying back to Senegal, reality smacked him in the face: "Boom. This is your new life now. You might be here for God knows how long."
The beautiful game factored into Coly's return to the US. As a soccer-obsessed freshman at UW, he kicked his ball everywhere—including around his dorm room. One day, his downstairs neighbor, Nora, who was struggling to study through thuds, knocked on his door and asked him to keep it down. Annoyance turned to adoration and they married in Senegal in March 2017. Nearly 18 months later, after endless paperwork and back-and-forth with the US Consulate, officials deemed their marriage legally valid, issuing Coly a green card.
After three years, UW was no longer able to hold Coly's scholarship, and he entered the transfer portal, reconnecting with AU's coaching staff. Coach Zach Samol first watched Coly as a freshman at Mercersburg Academy in Pennsylvania. Assistant Mike Montross recruited him at Villanova. They had neither recent game film nor a read on Coly's fitness, but a positive evaluation from Washington coach Jamie Clark weighed heavily in extending an offer.
"You do your homework, but recruiting's never perfect. You're always taking a risk," Samol says. "With David, we're glad we did."
Coly kicked into high gear during his debut this spring, leading AU to its first Patriot League title since 2004 and posting a team-high seven goals in an efficient 628 game minutes (not bad after two million away from college soccer). Even during a season delayed and shortened by COVID, it was clear: Coly had a nose for the goal, confidence, a willingness to press on defense, a desire to raise expectations, and an arm-around-the-shoulder leadership style that resonates with younger players.  
No longer stuck in neutral, he also has a changed outlook.
"I'm free," says Coly, who added another eight goals in 16 games this fall. "I'm living in the present and finally get to see what's out there waiting for me in the future."
In soccer and in life, he's out to accomplish goals.