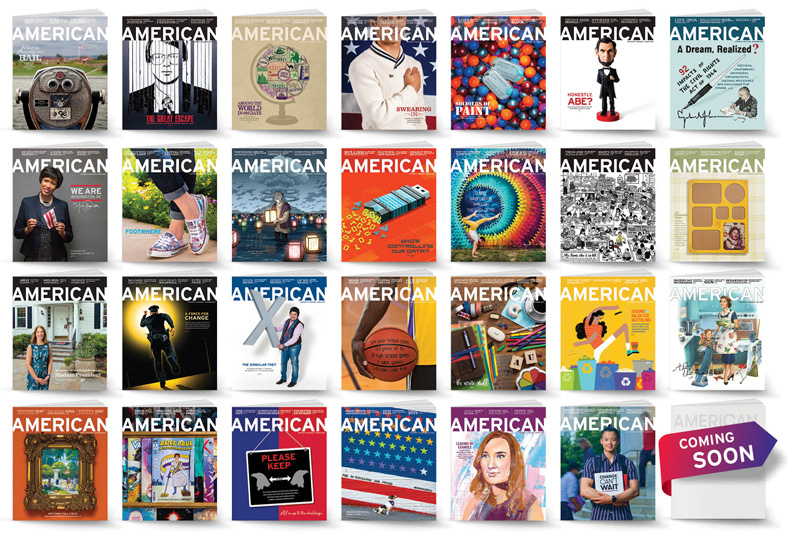 We're turning the page on American. When the fall issue of the magazine arrives in your mailbox in November, it will boast a fresh, new look that reflects AU's exciting, new narrative: Challenge Accepted.
The university's flagship publication debuted in fall 1977 with a cover story about the new library. (Both the magazine and the library have since undergone a few facelifts.) After unveiling our current look in December 2012, we've published 1,256 pages of stories about AU changemakers across the country and around the world, groundbreaking scholarship and pioneering scholars, and this vibrant city we—and about 40 percent of you—call home. 
We've written about athletes and authors, entrepreneurs and environmentalists, filmmakers and foodies, trailblazers and trail runners, congresspersons and even a cheesemonger. We've celebrated the past (JFK and RBG, Nirvana and Obama), tapped into the expertise of our community to better navigate the present, and channeled the optimism and enthusiasm of our students as we look to the future. And we've marked myriad history-making events: from naming AU's first female president, Sylvia Burwell, in 2017 to becoming the first carbon neutral university in the country a year later. 
American has introduced you to 151 Eagles who work, learn, live, and play around 26 Metro stops across the DMV, and we've devoted 81 minutes to such topics as space weather, cryptocurrency, the Electoral College, and the future of offices. (Don't worry, Metrocentered and 3 Minutes On will live on in the new version.) 
In addition to old favorites—like My Favorites—the redesigned magazine will be chock full of even more of the thoughtful, timely content that you've come to expect from American. Making something good even better is always a challenge, but it's one that we've accepted wholeheartedly.