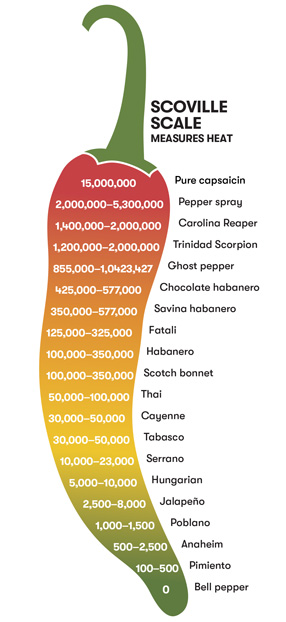 She makes customers cry and sweat. Yet Lauren Cosenza, SOC/BA '00, cofounder and brand lead at Señor Lechuga Hot Sauce, keeps them coming back for more dangerously delicious bottles. Born in Brooklyn in 2017, Señor Lechuga—named for Cosenza's husband, product head Nico Lechuga—represents the marriage between spicy and savory. Señor Lechuga cranks up the temperature in its small batch sauces, but "we don't believe in fire for fire's sake," Cosenza says. "We want to build maximum heat and flavor without sacrificing either one."
While the sensation of scorched tastebuds lasts but a few minutes, the premium hot sauce industry conjures images of eternal damnation. Bottles are adorned with demons, flames, and a plethora of ferocious predators. Concoctions like Brain Burner, Constrictor, and Eye of the Scorpion are popular choices among pepperheads.  
Cosenza took a different approach. As Lechuga experimented in the couple's Williamsburg kitchen in 2017, Cosenza built a website that provided the framework for Señor Lechuga's branding: standing out with simplicity. The labels on the 5-ounce bottles are stark white and the text is sparse. The sauce names—a core trio of .001, .002, and .003—are similarly straightforward.
"A lot of things are skull and crossbones and devils and a lot of animation and loud colors. That's not to throw shade; we purchased those hot sauces prior to starting our business," Cosenza says. "What we are trying to achieve and communicate is that this is a simple sauce that's clean but full of fire and flavor, and we don't really need to say much more about it."
Señor Lechuga's growing customer base—built by word of watering mouth and a few important partnerships—speaks for itself. The hot sauce company teamed up twice in the last two years with Bronx Brewery on an IPA and hot sauce, collaborated with Shake Shack in 2019 on a spicy "Dracarys Burger" ahead of the Game of Thrones finale, and landed in several gift guides in Cosmopolitan, where Cosenza worked as an account executive from 2003 to 2006.
It has also reached millions of screens this fall as one of 10 sauces in the season 16 lineup of the popular Hot Ones YouTube series. The show features interviews with celebrities like Matthew McConaughey, Dave Groh, and Kevin Hart, who field questions while feasting on progressively spicier chicken wings. Jeremy Renner, Salma Hayek, Mila Kunis, and Jimmy Kimmel have tried Señor Lechuga's .718, the season's fifth-spiciest hot sauce, on camera. Kunis chuckled as she tasted the adobo, black lime, and ghost pepper sauce. "That is good," she said. "You know what it's good for? Sinuses. Señor Lechuga is muy fuego."
Neither Cosenza nor Lechuga, who boasts a background in finance, had experience in the food industry when they took a fiery leap of faith four years ago. Today, hot sauce is their full-time family business.
"People often ask, 'Is working with your husband nuts?' But because we are so different in terms of our backgrounds, we distribute our responsibilities well and working together has been pretty seamless," Cosenza says. "We're obviously very passionate and fiery people. You can't be in hot sauce without that."
Peppers have a pecking order. Here, Cosenza explains the century old Scoville heat scale:
Pharmacist Wilbur Scoville created the scale in 1912 while developing heat-generating ointments. Scoville Heat Units (SHU) began as a tastebud measurement: cups of sugar water needed to dilute a cup of pepper solution until it no longer burned testers' mouths. Scientists now use liquid chromatography to determine the concentration (ppm) of capsaicinoids—active, heat-producing compounds—in peppers. Multiplying by 16 converts to Scoville units. Señor Lechuga hasn't Scoville-tested its sauces, but its pepper of choice—the Carolina Reaper—is more than 200 times hotter than a jalapeño.