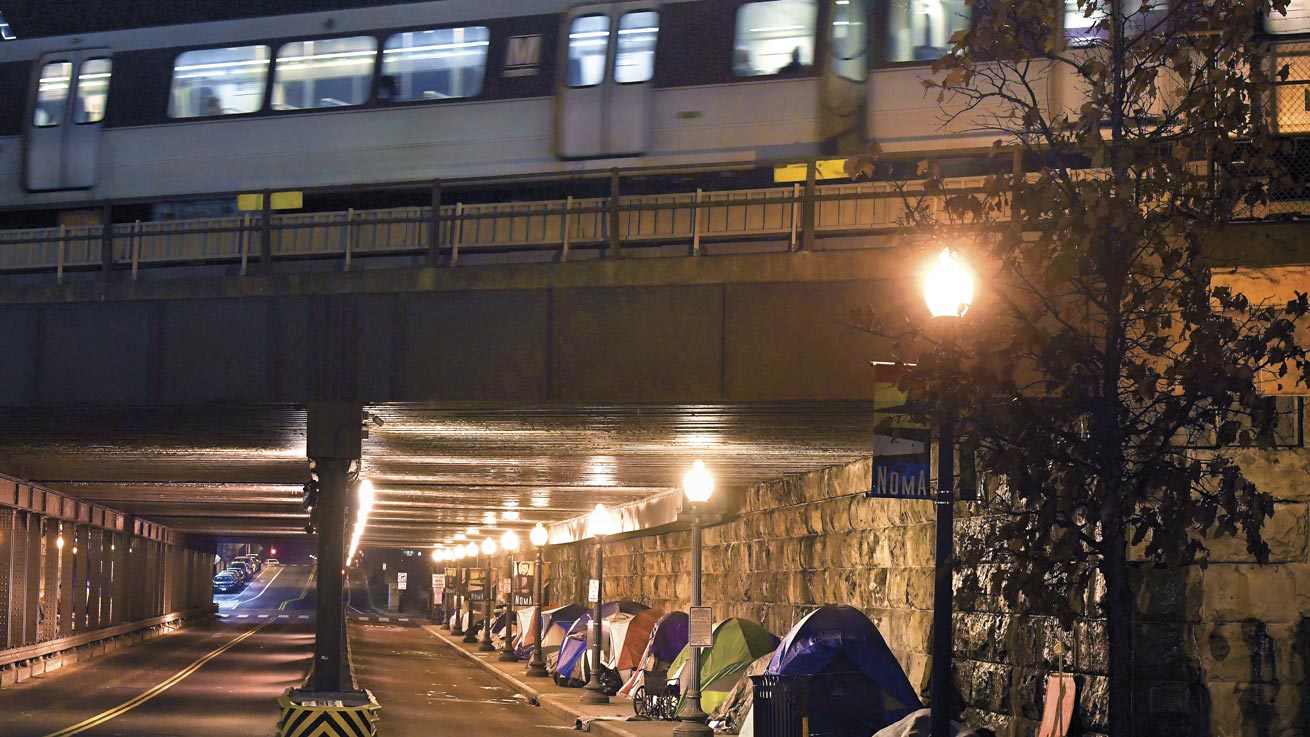 During the last 10 days in January, volunteers fanned out across the District to tally every Washingtonian experiencing homelessness as part of the annual Point-in-Time (PIT) Count. But the 5,111 unhoused people—including 746 children—are more than just statistics.
"We tend to boil people down, box them in, singularize their experience, ignoring the story of the person," says Rebecca Flaherty, SPA/BA '18, volunteer services manager, So Others Might Eat. But those living out of cars or in shelters, or sleeping on the streets, are "our neighbors, friends, classmates, and coworkers." 
The rate of homelessness in DC is twice the national average. The result of a "cocktail of complex factors," including low wages and an exorbitant cost of living, homelessness "can happen to anyone regardless of their economic, educational, or cultural background," says Kangsen Wakai, CAS/MFA '16, case manager, Pathways to Housing DC. 
This summer, Mayor Muriel Bowser, SPA/MPP '00, announced her blueprint to end homelessness entirely in the District by 2025. The plan, Homeward 2.0, is acutely focused on providing permanent, supportive housing for those who are chronically without it. 
According to the PIT Count, the number of unhoused families dropped 49 percent between 2020 and 2021, with nearly 750 families moving into permanent housing. However, homelessness among individuals increased by 4.3 percent. 
"Despite regional improvements in addressing homelessness, the issue is still very much a crisis," says Triina Van, SPA/MPP '08, homeless services coordinator, Arlington County Department of Human Services. "These problems are layered and complex and the solutions are similarly layered and complex. While communities are learning a lot about how to improve our responses to homelessness at the local level, it requires aligning sustained, long-term effort throughout the various levels of nonprofits, businesses, philanthropy, and government."
Dozens of AU community members have made it their life's mission to eliminate homelessness in the District. And while they come at the challenge from a variety of backgrounds and disciplines, they all bring empathy, humility, and a fierce determination to their work. Meet some of them here:
"DC leads the nation in gentrification and displacement of Black and Brown residents. This means we have already lost much of the foundation of this city's unique cultural identity. We can do this differently, in ways that make this city more affordable and accessible for all of us. There is more than enough wealth in this city to make this a reality."
—Tracy Davis, WCL/JD '01, managing attorney, Bread for the City 
"The most significant challenges people experiencing homelessness face: lack of understanding from other human beings and the adequate income to live with dignity."
—Jean-Louis Ikambana, SIS/MIS '08, chief evaluation and compliance officer, Friendship Place
"Throughout the United States and around the world, there has been a concerted effort to criminalize homelessness out of existence. This strategy has increased violence against unhoused individuals and feeds into dehumanizing language and attitudes rather than addressing underlying issues. With problems in shelters such as overcrowding during the pandemic, curfews, limits on belongings, rules against pets, and the preexisting trauma from other poorly run shelters, it makes sense that some people choose to live in encampments." 
—William Reid, SOC/MFA '17, social media manager, Food Not Bombs 
"Ending homelessness and addressing racial inequity go hand in hand. Black Americans are disproportionately impacted by homelessness; nationwide, Black people are five times more likely to experience homelessness than White people. In DC, Black individuals account for nearly 86 percent of those experiencing homelessness, while representing only 46 percent of the city's population."
—Sarah Malala, WCL/JD '25, business and data manager, Jaydot
"I've been sustained by the investment my unhoused neighbors have made in me: their patience as they've educated me about my privilege and the history of the city, which can exist as a symbol of racism and pride at the same time." 
—Bryan Bello, SOC/MA '15, SOC doctoral candidate; producer, Street Reporter; founder, Street Sense filmmakers' coop
"Ending housing inequity in our community can feel like a daunting task but there are small actions each of us can take to bring the District closer to making homelessness a brief, rare, and nonrecurring experience. Learn which organizations are addressing homelessness in your neighborhood and get involved. For example, at N Street Village, we have an Amazon wish list of supplies we need to welcome new women coming into housing. During the pandemic, we've also posted on our website ways for folks to volunteer remotely. People can also educate themselves on the issues related to structural racism. The Village posts reading recommendations via social media to support people's efforts to educate themselves about the systemic and individual factors that contribute to housing inequity."
—Shenandoah Gale, CAS/MA '05, director of evaluation and learning, N Street Village
"The small daily wins keep me motivated to support others in their journey to self-sufficiency and out of homelessness. I look at the positive in my daily challenges and do not focus on the negative that can be demoralizing after hearing people's tough stories every day."
—Janethe Peña, SIS/BA '02, founder and executive director, DC Doors
"When I was a student at AU, I was a member of EagleTHON, AU's dance marathon. We were constantly asking ourselves what our why was to keep us grounded in the mission of the organization. At SOME, I have the chance to learn our donors' why every day. One conversation that stands out was a phone call I received from a young child. They were calling to give a percentage of their allowance to help those in our shared community who were in need. I am inspired every day by the young people in DC who make a lasting impact on so many—and I am grateful to have the opportunity to learn their why."
—Alison Donovan, SPA/BA '17, individual philanthropy manager, So Others Might Eat (SOME)
"At Miriam's Kitchen, we have helped 130 guests move into housing this past year. We continue to work to end chronic homelessness in the District while meeting short-term needs by providing healthy meals Monday through Friday, 52 weeks a year, along with high-quality social services to individuals who are experiencing chronic homelessness."
—Arianna Cicchinelli, SPA/MPA '15, senior operations manager, Miriam's Kitchen
"Most people come to understand homelessness through popular culture appeals on TV, or from the news, [but] we found that both platforms are terrible places to learn about homelessness. I also think most people probably don't appreciate how much issues of homelessness relate to the broader struggle for racial justice and equity in this country. Black people are 10 times more likely to become homeless than White people in America. So, learning more about the sheer scale of the race-based discrepancy in housing in America, and just how acutely research is able to pinpoint it, is something that I think more people should be aware of and troubled by."
—David Conrad, research director, Center for Media and Social Impact, who coauthored "The Rent is Too Damn High: News Portrayals of Housing Security and Homelessness in the United States" with CMSI executive director Caty Borum Chattoo