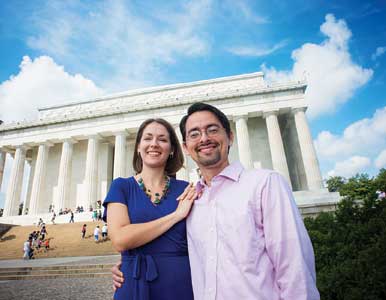 He first laid eyes on her on the steps of the Lincoln Memorial when the entire class went downtown for a picture. "I saw her and thought, this is a very wonderful person," he says. 
She didn't see him. "We met in the cafeteria at Tenley on the morning after my 21st birthday," she says.

He knew right away. "My mom came to visit a couple days after that and I said, 'I met the woman I'm going to marry.'"

They walked down the aisle in the fall of 1998. After a two-year stint teaching in Brazil, they returned to the states for graduate school. Coming back to teach at AU was always the dream. 
Positions: Joe teaches a graduate-level research statistics class and Political Violence and Terrorism in the School of Public Affairs; Melissa teaches in the College Writing Program. Research: Joe looks at how democracy encourages or discourages terrorism. Melissa has published essays and poetry and is working on her first novel. 
They're thrilled to be back at AU. They live in Rockville with their children, Isabelle, 11, and Piper, 5. "Hopefully they'll be AU alums," Joe says. 
Nostalgia: "We were standing in line getting our faculty IDs," Melissa says, "and we were giggling because we had stood in those same lines getting IDs when we were students."