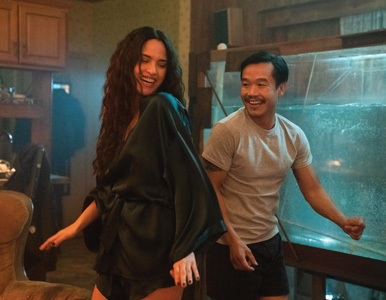 Man finds beached mermaid. Man falls for mermaid. Man—spoiler alert!—meets violent end. It's a tail as old as time: beauty and her feast.
Monsterland, Hulu's eight-part horror anthology, which debuted in October, features frights and ferocity, but also a level of character development that Trieu Tran has been yearning for throughout his 20-year acting career. In the show's "Palacios, Texas" episode, Tran stars as Sharko, a dispirited gulf coast fisherman with COPD—the result of an accident suffered while cleaning up an oil spill. In 40 minutes, viewers learn not just about Sharko's health challenges but also his disappointment and loneliness, desire for a meaningful connection, and struggles as a Vietnamese American man in Texas.
Asian American actors are woefully underrepresented in Hollywood (only 1 percent of leading roles go to them, according to a study by the University of Southern California) and often misrepresented, cast in bit parts rooted in stereotypes. So the role of Sharko proved a refreshing opportunity for Tran to showcase his range—and his dancing skills.
"For years, you would go into an audition room and they would ask you to do it again, but with an accent," says Tran, who was born in Vietnam, immigrated to Canada, and grew up in Boston. While his latest success is available for streaming on TVs and tablets, his career began on stage.
"Being a refugee and growing up in the inner city without a father, the last thing on my mind was the arts,"—but he discovered his love for them in Caleen Sinnette Jennings's theater class at AU. She encouraged him to take risks and after graduation Tran did, moving to Los Angeles with big dreams and zero connections, embarking on a career he describes as "one step forward, two steps back."
In 2007, while studying for the LSAT and planning his second act, he landed a role in Ben Stiller's Tropic Thunder, only to have that momentum halted by the writers' strike. But over the last decade, Tran has rebounded, appearing in HBO's The Newsroom and Netflix's Altered Carbon and staging his own immigrant story in the critically-acclaimed one-man play, Uncle Ho to Uncle Sam.
Even though Tran's latest triumph premiered during a pandemic, Monsterland nonetheless marked another lunge forward. "[Asian American actors] are very capable, but you've got to bill it," he says. "This is what I had been waiting for."