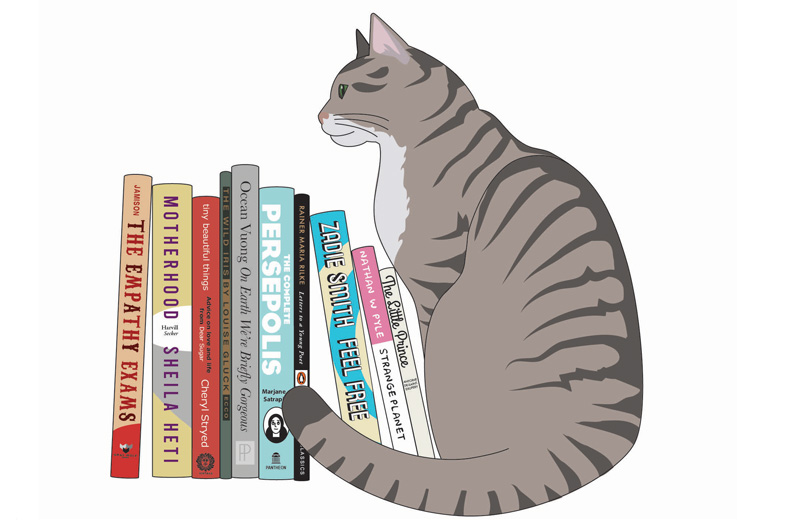 The "credibility bookcase" is "quarantine's hottest accessory," according to the New York Times. But novels and nonfiction are good for more than smart Zoom backgrounds. 
Arielle Bernstein, CAS/MFA '09, senior professorial lecturer of literature in the College of Arts and Sciences, says books can offer inspiration, comfort, and even companionship in the midst of uncertainty.  
"People turn to self-help texts for guidance. Literature doesn't function like self-help, it doesn't provide direct answers," she says. But it can help readers tap into "moments of darkness and light," depending on how they're feeling or what they're searching for.
Bernstein is codirector of AU's new master's in literature, culture, and technology. Kicking off this summer, the 15-month program explores the intersection of the humanities, social science, business, and tech. Students can choose from three tracks: data and computer science, game development and design, or literary studies.
A graduate herself of AU's creative writing program, Bernstein—who's working on three books—hopes to carve out time this summer for her own literary studies. "My library app is ready to go."
Bernstein shares 10 of her favorite reads during troubled times: 
The Empathy Exams 
by Leslie Jamison
Intellectually riveting and emotionally powerful, this essay collection probes our desire for connection and our ability to move through the world with compassion. A moving look at the wonder and pain of being a person in the world. 
Motherhood 
by Sheila Heti 
Philosophical and deeply warm, this novel explores choice and chance through one woman's decision whether or not to have children.  
Tiny Beautiful Things: Advice on Love and Life from Dear Sugar 
by Cheryl Strayed
This collection of advice columns from The Rumpus is heartfelt and intimate, with each letter and reply reading as though it were a poem. The response to each anonymous question is grounded in empathy and wisdom, humor and love. 
The Wild Iris 
by Louise Gluck
These beautiful, Pulitzer Prize–winning poems explore our relationship to the natural world. This fiercely human collection is unafraid to look at darkness and, in doing so, presents an ecstatic vision of what it means to be fully alive. 
On Earth We're Briefly Gorgeous 
by Ocean Vuong
Vuong's clear, emotional writing beckons readers to explore our desire for connection by looking at the relationship between an immigrant mother and son. Tender and deeply intimate,this novel is both heartfeltand haunting. 
The Complete Persepolis
by Marjane Satrapi
This stunning autobiographical graphic novel chronicles a young girl's coming of age in Tehran during the revolution. Through beautiful and evocative images, Satrapi connects her experience to universal themes of growing up and finding your own sense of agency.
Letters to a Young Poet 
by Rainer Maria Rilke
This collection of letters is about what it means to find your own authentic voice and an affirmation of the possibilities of solitude. Regal and openhearted, it inspires young and old alike.  
Feel Free: Essays 
by Zadie Smith
I love Zadie Smith's deeply intellectual and moving essays. My favorite in this collection is "Joy," which considers the risk implicit in our yearning for ecstasy and where that drive might take us. 
Strange Planet
by Nathan W. Pyle
There is no better time to embrace Pyle's adorable and wise alien creatures. Each comic in this deeply imaginative collection inspires joy, offering a charming and funny look at what we consider to be normal life.
The Little Prince 
by Antoine de Saint-Exupéry 
A deeply human philosophical tale, beautifully illustrated, that will put you back in touch with your childhood. This book has charmed generations with its lyrical language and poignant observations about the human experience.