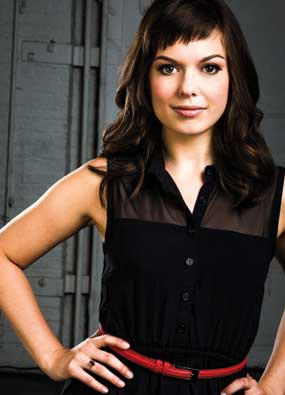 A knockout performance. That's what critics are calling Margo Seibert's Broadway debut as painfully shy pet store clerk Adrian in Rocky, the musical adaptation of the iconic boxing flick, which opened at the Winter Garden Theatre in March. (The Italian Stallion himself, Sylvester Stallone, wrote and produced the musical, which stars Andy Karl in the title role.)
Before inheriting Talia Shire's famous red beret, Seibert, SIS/BA '05, honed her craft on stages across D.C., including the Folger Theatre, Imagination Stage, and the Olney Theatre. Dubbed one of Entertainment Weekly's "2014 faces to watch," the native Marylander moved to New York in 2010 with sights set on her name in lights. Rocky, she says is "thrilling and scary—and the opportunity of a lifetime."
An avid theatergoer (her first playbill: Velveteen Rabbit at Toby's Dinner Theatre in Columbia), Seibert returns to AU each year to speak to students in professor-turned-friend Carl Menninger's Business of Acting class. "It helps me remember how many steps it's taken to get where I am now."
Seibert's most influential musicals:
West Side Story: I grew up watching West Side Story; I think I can sing every word. It doesn't matter if it's a high school production, I'm there.
Gypsy: Gypsy has one of the most beautiful books (narratives); the language is so honest. The part of Louise is my dream role—one day all the stars will align.
Giant: Based on the Elizabeth Taylor movie about a ranch family and the Texas oil boom, this debuted at the Signature Theatre in Arlington. La Chiusa's score is gorgeous.
Les Misérables: An oldie but goodie. I never tire of Les Mis; it's one of the first musicals to use a revolving stage, which is magical. It's coming back to Broadway—I can't wait.
Into the Woods: In high school I played the witch, and at AU I played the baker's wife. I just auditioned for Cinderella. There's not a bad role in the bunch. (I'm a forever Sondheim fan.)
The Boy Detective Fails: This one also premiered at the Signature Theatre; it's about a boy detective who tries to figure out why his sister died. It's a beautiful story about love and loss.
Ragtime: Lynn Ahrens and Stephen Flaherty, the composers of Ragtime, also wrote the score for Rocky. It's an honor to sing their music.
Melancholy Play: Sarah Ruhl and Todd Almond's musical, which I saw in Brooklyn in 2012, is weird but delightful. It's billed as "an irrational play with a highly rational string quartet."
Once: Once is a beautiful movie-into-a-musical, which is the trend now. All the actors play instruments—fiddles and accordions. It's exciting to watch such a talented cast.
The Disappearing Man: I'm partial to this one because it's my boyfriend Jahn Sood's musical about a 1930s circus. I've been involved creatively with the show; it's important to cultivate and support new art.