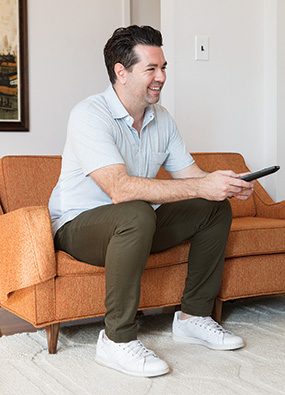 Jeremy Egner, SOC/MA '08, watches a lot of TV. The difference between him and the rest of Americans, who spend an average of five hours a day glued to the flat screen (or tablet or iPhone)? He's paid to watch Game of Thrones.
As assistant TV editor at the New York Times, Egner has delved into such shows as Friday Night Lights and Saturday Night Live. But he insists the gig is more work than play. "It's impossible to watch everything, but I've always got a second screen going at work and I usually take a day at home every week just to cram as much TV in as I can."
A native Texan, Egner landed a job on the Times's culture desk a month after graduating from AU. He got his start at the Austin American-Statesman where he covered the music beat, reviewing albums and concerts. "Then I got older," he laughs, "and TV became a better option because I could stay home." 
He's not alone. According to Deloitte, US consumers are ravenous for streaming video. Seventy percent of Americans binge-watch TV shows on services like Netflix and Hulu, averaging five episodes per session. Hungry for something new to watch over the holidays? Chase that turkey and pumpkin pie with one of Egner's 10 favorite binge-worthy shows:
The Deuce: Set in the grimy Times Square of the 1970s, David Simon and George Pelecanos's drama is about the birth of the modern porn industry. But like The Wire, Simon's most renowned show, it's more broadly about a broken city full of strivers hustling for a piece of the American dream.
The Leftovers: This metaphysical drama wrapped up its three-season run in June. The first season was a bummer but by the end, this poignant, surprising (and surprisingly funny) meditation on love and survival had become one of the best shows on TV.
Master of None: In its second season, Aziz Ansari's comedy was even sharper on its signature themes: millennial ennui, modern romance, the multigenerational immigrant experience, and the push and pull of family bonds. "Thanksgiving," was one of the best episodes of TV this year.
The Handmaid's Tale: This series about a misogynistic dystopia, based on the Margaret Atwood novel, won raves and a best drama Emmy for its political relevance. It's also entertainingly terrifying, a chilling gothic nightmare. 
The Vietnam War: The latest historical opus by Ken Burns, working with Lynn Novick, might be his best. It takes apart America's most controversial conflict and examines it anew, often adding the Vietnamese perspective as well. 
The Good Place: TV's only sitcom about the afterlife and Kantian ethics, it's also one of the funniest.
One Mississippi: Tig Nigaro's tender dramedy was inspired by her real-life struggles with cancer and the death of her mother. It's expanded into a dryly funny portrait of a quirky but loving family getting by in a fishbowl of a Southern town. 
Catastrophe: This transatlantic comedy offers the most frankly hilarious, vulgar, and honest portrayal of parenthood and domestic romance on TV. 
Rick and Morty: An animated comedy about a caustic genius and his guileless grandson satirizes pop culture, TV tropes, family dynamics, politics, and anything else you might have lying around. It's also nearly as heartwarming as it is demented.
Atlanta: This terrific comedy by the polymath Donald Glover is side-splitting and whimsically inventive, and has plenty of heart.