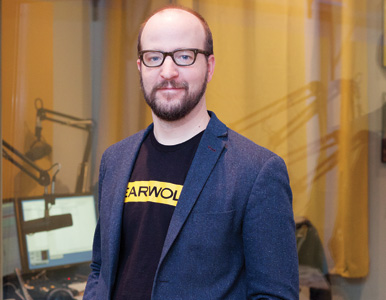 At the dawn of the smart phone era, one might safely assume that all those people walking around with little buds stuffed in their ears were listening to music. No longer. Over the past few years, podcasts have exploded in popularity, making stars out of previously overlooked or never known hosts who present programming on everything from aeronautics to zoology.
Erik Diehn, SOC-SPA/BA '97, is CEO of Midroll Media, a podcast media company that owns the Earwolf network and Stitcher, a distribution platform. It produces, creates, and monetizes hundreds of shows.
"I think a lot of people discovered [podcasts] as this perfect medium to consume while doing other things," he says. "Like music, it is something you can listen to passively in the background, but it serves a very different function because it can delight and entertain and move you in a way that music cannot necessarily do."
An estimated 57 million Americans listen to podcasts on a monthly basis, according to Edison Research. Shows like This American Life and Serial have found their way into pop culture, and Diehn thinks he knows why.
"There's an intimacy to podcasting—you've literally got someone's voice in your ear. People develop incredibly close connections to the shows and hosts. We see a level of connection chemistry that is hard to find in other media forms."
Diehn broadcasts his favorite podcasts:
Why Oh Why: I haven't been a part the dating scene for a very long time, so to me, Andrea Silenzi's funny and personal show about romance in the modern age feels like an anthropological expedition to a strange world.
Hello from the Magic Tavern: Admittedly, this may be an acquired taste; it's an improv comedy show about a guy who falls through a magical portal outside his local Burger King and ends up in the mythical land of Foon.
Revolutions: Creator Mike Duncan's accessible writing and clear love of the material make this examination of major historical revolutions one of the best history podcasts around.
How I Built This: Host Guy Raz interviews entrepreneurs about the businesses they've built.The show stands out for its focus and brevity.
WTF with Marc Maron: In theory a "comedy" podcast, WTF is one of the best interview shows around. Marc gets amazing guests like Louis C. K., Bruce Springsteen, and President Obama to open up in a way they rarely do.
How Did This Get Made?: The chemistry between hosts Paul, June, and Jason is infectious as they eviscerate some truly bad movies.
FiveThirtyEight Politics: Nate Silver is just one of several panelists who cut through the headlines and polling data to help navigate the twists and turns of politics.
Radiolab: The show sets the standard for rich sound design, and the depth of reporting is incredible. It's grown well beyond its roots as a science show, but remains faithful to the style and heart that made it a hit.
Beautiful Stories from Anonymous People: The concept is simple: comedian Chris Gethard takes an anonymous call for up to one hour. The only rules are that he can't know who's on the line and he can't hang up.
Reply All: A wonderfully engaging show that's ostensibly an examination of the intersection of digital culture and real life but really is just an excuse for hosts Alex and P. J. to head down some crazy rabbit holes.