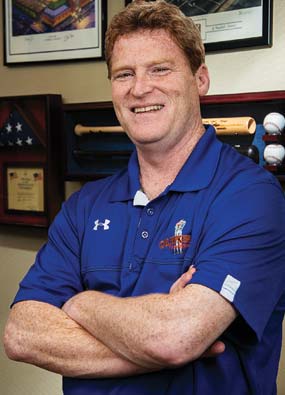 Like the star of John Fogerty's classic rock baseball anthem, "Centerfield," Steve Salem, CAS/BA '84, CAS/MS '86, is always ready to play.
Once upon a time, AU fielded a baseball team, and Salem patrolled the outfield for the Eagles. His love of the game never subsided, even as his dreams of a big league career faded away.   
Instead of the majors, Salem slid into the world of public service. He worked at the Boys and Girls Clubs of America before being named president of the Cal Ripken Sr. Foundation in 2006.
The name Ripken resonates far beyond baseball diamonds. The foundation, started by the legendary Orioles shortstop Cal Jr. and his brother, Bill, uses baseball and softball as catalysts to help disadvantaged kids build character and develop life skills.
Salem's 10 favorite inspirational ballplayers:
Cal and Bill Ripken: The foundation is named for their dad, whose legacy they continue. One of our initiatives is building multipurpose parks with synthetic turf in areas where kids can't safely play outside. We're transforming neighborhoods.
Willie Mays: He was involved with the Boys and Girls Club in Atlantic City—an extremely tough neighborhood. Willie made kids feel special.
Yogi Berra: Through the Yogi Berra Museum and Learning Center, Yogi teaches thousands of students each year the importance of respect, personal responsibility, and integrity.
Brooks Robinson: Brooks defines the word "gentleman." He is always there to help a child in need.
B. J. Surhof: B. J. and his wife, Polly, started Pathfinders for Autism, Maryland's largest organization dedicated to helping people with autism.
Jamie Moyer: Jamie won more than 260 games in the big leagues, but I'm most impressed with what he and his wife, Karen, do at the Moyer Foundation. Camp Erin is a bereavement camp for children grieving a loss.
Jackie Robinson: I was born five years after Jackie retired, but his impact wasn't lost on me. Jackie changed our nation, even if that was never his intention.
Buck O'Neil: The first African American coach in the Major League, Buck helped establish the Negro Leagues Baseball Museum.
Mark Teixeira: Mark is involved with Harlem RBI, which serves at-risk kids in the neighborhood for which it's named.