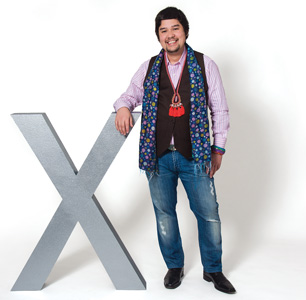 Nic Sakurai was the first person in line. Actually, they were the line. 
Only a local television news crew had beaten Sakurai to the Department of Motor Vehicles on Benning Road in Southeast Washington on June 27. It was 4:45 a.m., so Sakurai had more than three hours to kill. For once, the wait wasn't the DMV's fault: it opens at 8:15.
Just before the main doors were unlocked, Sakurai, CAS/MA '07, was invited inside by the DMV director, who was there early to mark the historic occasion. Five minutes later, Sakurai walked out with the first US driver's license ever issued with a nonbinary gender designation.
In box number 15 (next to "height," under "address"), "X" marks the spot where "M" or "F" once exclusively resided. In the photo, Sakurai, wearing a patterned scarf, is smiling exultantly. 
"I want my government to recognize that I exist," says Sakurai, who identifies as agender, or without gender. "They/them" are the personal pronouns Sakurai uses, rather than "he" or "she." "When the marker that appears on my ID isn't who I am, it feels like an erasure or an invalidation."
That momentous summer day was the culmination of months of collaborative work between Sakurai, the LGBTQ community, and the District of Columbia, which became the nation's first jurisdiction to offer a gender-neutral identifier on a driver's license. 
"Washington, DC, has long been a leader in LGBTQ rights and gender issues, and this change is the most recent example of our city's commitment to inclusivity," Mayor Muriel Bowser, SPA/MPP '00, said in a statement. "The safety and well-being of all Washingtonians is my top priority, and whenever we are presented with an opportunity to improve the lives of residents and better align our policies with DC values, I will take it."
Oregon and California have since joined DC. What might seem like a small distinction to some is an important victory to Sakurai and others who have felt marginalized for much of their lives. 
"The issue of IDs for trans and nonbinary people is part of a larger picture for me," Sakurai says. "It's about what it looks like to provide inclusive government services."
If Sakurai ever needs a reminder, they can now just glance at their license.
The older of two kids, Sakurai, 37, was raised in Ohio. Their father is a Japanese immigrant from Tokyo, their mother a native of Detroit. Sakurai didn't think much about gender while growing up, but once they got to high school—an all-boys Jesuit one in Cincinnati—they began to consider it more, and became involved in social justice advocacy.
As a senior, Sakurai served as an editor of Saint Xavier's newspaper, Blueprint, in which they and two others published an op-ed revealing that they identified as gay and bisexual. It was a coming-out of the most political sort.
"I think it was the first time that a student publicly said there are queer people here," Sakurai says. It's a cold December evening, and they are sitting at a coffee shop near their home in Washington's Columbia Heights neighborhood. "We wanted to put a face to the issue."
As an undergraduate at the University of Illinois, Sakurai started going to meetings of every LGBT-related organization they could find. It was around this time that Sakurai began describing themself as "gender variant."
"I think a lot of people have some notion of, 'this is what it means for me to be a man' or 'this is what it means for me to be a woman,'" Sakurai says. "Some of us have different internal experiences, external expressions, and social identities. I realized my gender didn't fit into what people would commonly think of what it means to be a man. I don't have an internal sense of experiencing being any gender at my core."
Gender is culturally determined, not biological, according to Professor Lauren Weis, director of AU's Women's, Gender, and Sexuality Program. The term "gender" was not applied to anything beyond language—nouns and verbs are gendered in most romance languages—until the mid-twentieth century, she says. Beginning in the 1960s, some people began to believe that if gender is culturally created, it can be changed.
"The internal experience of gender doesn't just come from a collection of outfits and hairdos, or a collection of social expectations based on your body or upbringing—though all of those things are present, too," Sakurai says. "There seems to be an actual internal sense of feeling like or simply being a certain gender. That internal sense is not there for me. Yes, I understand the ways in which behaviors, roles, and appearances impact people and society in gendered ways, including how I am perceived. Yet when I search for an internal anchor of what it feels like to be me, gender is not a part of that."
After moving to Washington in 2003, Sakurai briefly attended DC's queer Asian Pacific Islander men's group, but quickly realized they didn't feel comfortable about the gender assumptions in most men's spaces. When Sakurai created a Facebook account in 2005, they didn't select a gender; more recently, they have identified themself using the term "agender."
"I am in a subset of nonbinary folks," Sakurai says. "I don't speak for all nonbinary people or even all agender people, each of whom may have a radically different narrative from mine. Some agender people see it as being a political rejection of gender systems altogether. While I think that's a valid viewpoint, my use of the term 'agender' is a description of what I experience or don't experience inside of me."
In 2014, already firmly ensconced in the field of social justice (Sakurai works as acting director in the LGBT Equity Center at the University of Maryland and is an adjunct professor at AU), they began going by the title "Mx." rather than "Mr." or "Ms." Soon after, Sakurai asked to be referred to by the pronouns "they/them."
For at least eight years, AU orientation leaders have been asking incoming students what personal pronouns they use and explaining the importance of not making assumptions about someone's identity. In 2015, the Center for Diversity and Inclusion (where Sakurai once worked) created a guide to pronouns. It contains advice on what do if you make a mistake ("Mistakes happen! If you use the wrong pronoun, apologize and correct it, and then move on.")—and states "many people find the use of 'preferred' to describe names and pronouns insulting."
"Pronouns are like names," says Kameron Winters, coordinator of LGBTQ and diversity programs at AU. "You wouldn't call somebody by a different name, so you want to respect someone by using what their pronouns are, not what they 'prefer.'"
Winters has been putting a pronoun line on his email signature for at least five years. The practice is becoming more common. To help advance understanding about pronouns, Sakurai created MyPronouns.org in January 2017. The site has garnered more than 25,000 unique visitors from 144 countries, they say.
"Looking at someone and deciding to call that person 'he' or 'she' based on appearances alone is presumptive about gender in ways that can have all kinds of negative impacts that many people haven't even considered," Sakurai says. "I had said for so many years that any pronouns were fine. It was meant to be an invitation to use different pronouns—but people kept using only he/him, and I didn't feel comfortable with that or feel like it represented who I am. It's not that I'm personally uncomfortable with those words: it's more that I'm uncomfortable with the assumptions that are behind them."
A visual representation of that discomfort, in the form of an "M," stared back at Sakurai every time they pulled out their license from their wallet or purse and passed it to a store clerk or airport official. By early 2017, Sakurai was determined to do something about it.
When Sakurai met with Arli Christian, WCL/JD '13, in February of last year, the DC DMV had been contemplating changing its gender policy for some time. It was considering adding a third option: an "X" for its "sex" category. While Sakurai and the National Center for Transgender Equality, for which Christian works as state policy counsel, applauded that development, both hoped to convince the DMV to eliminate its rule requiring individuals to have written permission from a medical or mental health care provider in order to make a change.
Ultimately, the DMV agreed and scrapped the old guidelines. Under the new policy, called "self-designation," people can select the gender identifier—including "X," which stands for "unspecified/other"—"that is the best fit for them." No approval needed.
"The change recognizes that individuals are best suited to know what their gender is, what should be on their ID, and how they are safest moving through the world," Christian says. "It is an important step in recognizing that government entities should be more respectful of gender and eventually, [they] probably don't need to know our gender at all."
Sakurai attracted significant media coverage during the lead-up to the official change. They were the perfect person to serve as the face of the movement, says Sam DePrimio, WCL/JD '16. Formerly a lawyer at Whitman-Walker Health Legal Services, DePrimio worked with Sakurai throughout the process.
"It had to be someone willing to put themselves out there—and willing to give a voice and a story to the need for nonbinary gender markers and more inclusive policies in general," DePrimio says. "[Sakurai's] very affable and friendly. They come across as a regular person who you might go to school or work with."
That's because they are. Christian said Sakurai was an excellent team player throughout talks with the DMV, which were anything but contentious.
"DC was great to work with," Christian says. "And Nic was a great spokesperson, able to articulate to people why it was important to have this marker. Nic was incredibly professional, working with the agency, and then afterward with handling press inquiries. They were incredibly dedicated to progress and to moving this policy forward."
By all accounts, the new policy has been a terrific success. Christian said the center has fielded no complaints about it. Aside from some hateful rhetoric the comments section of news stories, Sakurai says they have faced no backlash. Through January, the DMV has issued 111 gender-neutral driver's licenses and 48 gender-neutral identification cards. The department has received no complaints about the policy, according to spokesperson Gwendolyn Chambers.
"We have a lot of cultural change ahead of us, but I think it's happening generationally," says Weis, the gender studies professor. "Twenty or 30 years down the road we may have achieved a cultural shift with these small shifts in language and respect."
Although Sakurai played a pivotal role in the historic change, they do not consider themself a trailblazer.
"I'm not as proud of being the first person to officially get this as I am that the community was able to create this change that improves people's lives," Sakurai says. "I don't think that trailblazing is about individuals; I don't think leadership is about charisma. I think it's about community change and transformation, about social movement. It's about so much more than me."