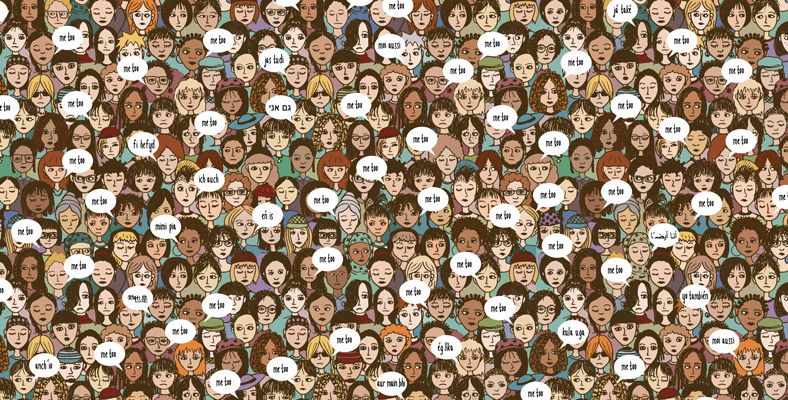 The cyber call went out, and overnight a hashtag became a rallying cry, a chorus for a movement. Connected by technology, and bound by a special kind of fear, pain, and shame that's as much a part of the female experience as childbirth, they responded in droves—30,000 that first night. #MeToo, they typed. Feverishly, tentatively, bravely, without apology. As the movement grew, so did the diversity of faces in the profile pictures: a rainbow of women and men in more than 85 countries, standing together in virtual solidarity.
Six months later, the #MeToo movement has sparked conversations about sexual harassment and assault that are decades, even centuries, overdue. Here, 10 AU experts weigh in on this historic moment and the prospects for meaningful change.
Is this a watershed moment for allegations of sexual harassment and assault?
On October 5, 2017, the New York Times published an explosive 3,500-word story detailing three decades' worth of previously undisclosed allegations of sexual harassment and assault against Hollywood heavyweight Harvey Weinstein.
Ten days later, actress Alyssa Milano tweeted: "If you've been sexually harassed or assaulted write 'me too' as a reply to this tweet." In less than 48 hours, nearly 6 million Twitter and Facebook posts included "me too." Some people left it at that, while others shared wrenching details about their experiences, often for the first time. Women—and men—in 85 countries have employed the phrase, coined in 2006 by civil rights activist Tarana Burke.
But according to CAS professor Stef Woods, WCL/JD '99, the "#MeToo movement" as it's come to be known, was brewing long before Milano tapped out the tweet heard 'round the world.
"Leading up to the [2016] election, much of the media was focused on the fact that we would have our first female president. When that didn't happen and, in fact, we elected someone who was publicly accused of misogyny, people felt more emboldened to express their views on sexual assault," says the American Studies professor.
According to a new report by Stop Street Harassment—the first survey of its kind to inquire about a range of behaviors in a variety of places, from public spaces to the workplace, from online to at home—81 percent of women and 43 percent of men have experienced some form of sexual harassment or assault, from catcalls and homophobic slurs to cyberstalking and groping. The report from the Reston, Virginia, nonprofit—founded in 2008 to document gender-based street harassment worldwide—has been cited by the New York Times, BBC, and other media outlets.
Misconduct is nothing new, but this time around, the public outcry is more pointed and the consequences are more profound. (Film producer Weinstein, who was ousted from the company that bears his name on October 8, was just the first domino to fall.)
Why?
Woods says that if the election of President Donald Trump and the Women's March the day after his inauguration lit the spark of activism among victims and their allies, social media was the match.
"We've had several watershed moments. What makes this one different is this notion of digital activism," she says. "People can share their voices in ways they never could before. In the past, you might confide in one friend or colleague, but now you can communicate and express solidarity with millions of people."
There's another dynamic at play: the cult of celebrity.
Anita Hill might not have been a household name when she testified before the Senate Judiciary Committee in 1991, but many of Weinstein's accusers—including Gwyneth Paltrow, Rose McGowan, and Lupita Nyong'o—are. While big names have put the brightest-ever spotlight on sexual harassment and assault, Woods says it's important to remember that the vast majority of victims are our sisters, friends, neighbors, and coworkers.
"The entertainment industry is starting to dismantle some of the structures" that perpetuate misogyny. "But we can't forget about all the other women—the LGBTQ community, women of color, the low-wage workers."
Sadly, the list goes on.
How widespread is sexual harassment, and why don't more victims speak up?
Of the 74.6 million American women in the workforce, 60 percent have been victims of "unwanted sexual attention, coercion, or crude, sexist comments," according to the US Equal Employment Opportunity Commission (EEOC). That means a staggering 45 million women have experienced an inappropriate joke, touch, or something more sinister.
And most of them never say a word.
The EEOC, the federal agency established in 1965 to enforce workplace discrimination laws, estimates that 85 percent of people who experience sexual harassment on the job never file a formal complaint—either with their employer or an external agency. This could be why: 75 percent of those who speak up face retaliation from their employers.
Reprisal can take many forms, says attorney Jeffrey Sadri, SPA/BA '09, from the overt—for example, being put on a performance improvement plan, demoted, suspended, involuntary transferred, or terminated—to more subtle acts intended to chip away at morale, ostracize the victim, and hinder opportunities for advancement. Retaliation might be immediate—a cut in hours the next month, for example—or it could be more long-term, like being passed over for a promotion the following year.
Sadri—who practices employment, discrimination, and sexual harassment law with Bennett and Ellison P.C. in Annapolis, Maryland—says such actions can make an already hostile work environment nearly intolerable for victims, who include an increasing number of men. (Harassment complaints by men doubled from 1990 to 2009, according to the EEOC.)
"I've had conversations with employees who are afraid to speak their minds, who are worried about their careers and afraid of being labelled in a stigmatizing way. As difficult as it can be, though, I believe in fighting for your rights—not just from a legal perspective but because of the personal relief it can bring."
If you are a victim of workplace harassment, Sadri recommends documenting everything: "emails and texts can be a very powerful form of evidence." He also encourages victims to seek professional counseling, for their emotional and mental well-being, and also to document distress caused by the harassment or retaliation.
Standing up to a handsy boss or a sexist coworker is a brave act of defiance—even more so for women in male-dominated industries and low-wage jobs. But the more who come forward, Sadri says, the easier it will get.
There is, he says, great strength in numbers.
How has a culture of masculinity contributed to sexual violence?
The adage "boys will be boys" has served for centuries as an excuse for all manner of bad-boy behavior, from bullying and "locker-room talk" to rape. It's based on the presumption that males are inherently immature, cruel, insensitive, and even violent, and that these natural proclivities are as inevitable as facial hair or voice change.
Or are they?
According to Justin Angotti, SPA/BA '07, society has perpetuated a culture of "toxic masculinity" in which "men are dominant, violence is celebrated, and emotions are simply unacceptable." But tough guys weren't born that way.
Research by Niobe Way, a developmental psychologist at New York University, indicates that boys enjoy close friendships until they hit middle school, at which point it's no longer socially acceptable to be emotionally vulnerable with other boys. This turning point, when boys are disconnected from what Way calls "a core part of their humanity," stunts their ability to empathize with others and can lead to loneliness and isolation. It can also have a deleterious impact on the way they eventually treat their romantic partners.
"Discussion about sexual assault has always focused on teaching women how not to be victimized. We're just starting to reframe that and focus on how to behave better as men," Angotti says. "We're always going to talk about consent: What is it? Why is it important? How do you get it? But it's very easy to end up on the wrong side of that line. We need to take a step back and talk about respect and dignity—what's best for the well-being of the person you're with? A misstep there might be embarrassing, but you're further away from that dangerous line."
As assistant executive director of prevention and accountability for Pi Kappa Phi fraternity, which boasts more than 12,000 student members on 185 US campuses, Angotti works with college-aged men every day. He says if we wait until then to talk about respect and consent, we're about 10 years too late.
"When something happens in a college environment, it was a problem long before it got to us. We need to work backwards and have these conversations in middle school or even earlier," he says. "And the message needs to be reinforced by other men—friends, fathers, coaches, teammates. Without those strong bonds, the message will be drowned out."
Such a magnitudinous cultural change is daunting but necessary.
"No 5-year-old boy feels like he needs permission to cry or hug someone—but at 12, never mind 20, he wouldn't dare," Angotti says. "We need to encourage and celebrate boys and men who are emotional, empathetic, and thoughtful. That shift will have a huge ripple effect."
How do we turn this into a teachable moment for our children?
Think it's too soon to talk about #MeToo with your child? Too bad. Striking up a (G-rated) conversation with youngsters about establishing boundaries and respecting their bodies is more urgent than ever. According to the Girl Scouts, 1 in 10 girls is catcalled before her 11th birthday and, per Stop Street Harassment, 8 percent of boys aged 10 and younger have experienced some form of sexual harassment.
Christa Craven, CAS/PhD '03, says parents shouldn't be intimidated by what might seem like an uncomfortable subject. It's possible to broach a mature topic in a way that is age appropriate. "We teach toddlers that no means no. So we're already talking to our kids about consent from very early on," says Craven, professor of anthropology and women's, gender, and sexuality studies at the College of Wooster in Ohio.
The mother of seven-year-old twins, Craven says we should adapt conversations to kids' life experiences—not base them on our own. "We're not going to discuss specific allegations against Harvey Weinstein and others. But, for example, if they witness bullying on the playground, we can take that opportunity to talk about why it's important to stand up for our friends and work together to create a space that's comfortable and safe for everyone."
Parents need to embrace teachable moments when they arise to ensure we're raising strong, sensitive, respectful, confident, and empathetic boys and girls.
Craven recalls one such moment. "When my son was about three, he grabbed my friend's breast. Even though it was completely innocent, I was aghast. But she said the greatest thing to him: 'Wait, whose body is this?' When he responded, 'Yours,' she said, 'Right, this is my body, and I get to choose who touches it. And you get to choose for yourbody,'" Craven says. "He wasn't reprimanded, he wasn't shamed— but he got the message that it wasn't OK, and he never did it again."
In addition to respecting other people's boundaries, kids need to establish their own. Not every child is a hugger, for example.
"Parents are well-intentioned when they tell their children to hug someone goodbye, but some kids, like my daughter, are very uncomfortable with that," Craven says. "If that's the case, teach them to express their affection in other ways," like giving a wave, blowing a kiss, or offering a fist bump or high five.
"The most important thing is that we teach kids not only to respect others' boundaries but also to have confidence in their own."
How do you craft a public apology?
Actor Kevin Spacey's public apology for allegedly assaulting a 14-year-old boy in 1986 doubled as a coming out: "I choose now to live as a gay man." New York Times reporter Glenn Thrush blamed his unwanted sexual advances toward young journalists on an alcohol problem. Celebrity chef Mario Batali served up a recipe for cinnamon rolls with his apology. Representative John Conyers (D-MI) admitted to settling a female staffer's 2015 complaint, while "expressly and vehemently" denying the allegations against him. Comedian Louis C.K. admitted to exposing himself and masturbating in front of five women, but "sorry" was not among the nearly 500 words in his statement.
Here's what these men should have said, according to Pallavi Kumar, SOC professor and crisis communications expert: "I was wrong, and I own it."
"There's no formula for a public apology, but sincerity and accountability are key," she says.
If it sounds simple, that's because it is. A genuine apology is devoid of denials, deflection, and victim blaming. Its aim is not to repair the perpetrator's reputation—or, in the case of a celebrity, to preserve his fan base—but, rather, to make amends with victims.
Former Today Show host Matt Lauer's November 30 statement—issued a day after NBC fired him in the wake of sexual harassment and assault allegations—gets high marks from Kumar. "He apologized and admitted that the reports were accurate. And he issued it very quickly."
Carefully crafted statements like Lauer's aren't just intended to right a wrong, however. "Issuing a public apology is like saying, 'here's my stake in the sand.' Going forward, anything written about that individual will include their perspective. We like to think that someone says 'I'm sorry' simply because it's the right thing to do, but there's also a strategy behind it," Kumar says.
So, is redemption possible for the slew of famous men whose apologies have been splashed across the news media in recent months?
"There's a pecking order in our society," Kumar says. "Celebrities and athletes are more easily forgiven than politicians, CEOs, or journalists, because they have talents we like. To this point, bad behavior in Hollywood has had a short shelf life. Forgiveness has always been one hit away—just look at Charlie Sheen and Robert Downey Jr.
But this is threading a different needle."
How do people maintain friendly working relationships without crossing a line?
In this climate of #MeToo, many men are rethinking putting themselves in potentially hairy situations with female coworkers, and many are struggling to understand where boundaries lie. Was it OK to compliment her haircut? Should I have said I prefer her as a blonde?
According to Mark Clark, management professor in the Kogod School of Business, there's a delicate dance between personal and professional. (For the record, the answers to the questions above are— yes and no.) He says it's not enough to abide by the golden rule—do unto others as you would have them do unto you. We all need to adhere to what's known in management circles as the platinum rule: treat others the way they want to be treated.
"We're in sort of a Truman Show moment," Clark says. "And it's not just, would you be comfortable with your own actions—but if everyone else could see your actions, would they be comfortable?"
It's OK to exchange friendly banter with the woman in the adjacent cubicle; it's fine to crack a joke. But if the punchline crosses the line, someone—the woman, the third cubicle mate, or the passerby on the way to the break room—needs to call it.
"Maybe you can assume good intentions until proven otherwise, but in that moment, someone has to say, 'Hey, do you realize what you're saying?' #MeToo has brought these issues out of the shadows and created a space, not just for awareness and change but [also] for redefining what harassment is and how we deal with it," Clark says.
However, there's no need to go to extremes. Vice President Mike Pence famously adheres to the "Billy Graham rule," refusing to dine alone with a woman not his wife or attend an event where alcohol is served without Karen at his side. A January article about workplace boundaries in the Washington Post opened with the example of a Texas lobbyist who flew to DC without his female associate—who had done much of the work on the project—out of an abundance of caution.
Such practices can have serious unintended consequences for women, impeding mentoring and networking opportunities, blocking pathways to advancement, and limiting access to those in positions of power.
"We can't allow our fear of what might happen to get in the way of opportunities for women," Clark says.
What should you do if you witness sexual harassment in the workplace?
In 2014 when President Barack Obama launched the It's On Us campaign to end sexual assault on college campuses, he encouraged bystanders to step off the sidelines and become part of the solution.
"As far as we've come, the fact is that from sports leagues to pop culture to politics, our society still does not sufficiently value women," Obama said. "We still don't condemn sexual assault as loudly as we should. We make excuses. We look the other way. The message that sends can have a chilling effect."
According to a recent NBC poll, four out of five Americans think sexual harassment occurs in the workplace (although just 9 percent believe it's a problem in their office). SPA professor Jane Palmer, SPA/PhD '13, an expert on bystander intervention, believes that when people witness or hear about an incident, they can play an important role in keeping coworkers in line.
"Harassment can be very isolating. A lot of women are [made] to feel like they're crazy or that they just can't take a joke. They might not feel comfortable speaking up, so others need to—especially if they have some power in the situation," says Palmer, a member of AU's Sexual Assault Working Group.
Speaking up can take many forms, not all of them verbal.
"Use body language—sighing, crossing your arms, rolling your eyes, giving a disapproving look—to convey the message that, 'Hey, this is not OK,'" Palmer says. "If you're in a meeting, you might stop and say, 'Did you really mean that?' Or you can pull the person aside privately."
While Palmer says some personalities are more prone to intervening, she hopes "we can get to a place where more people feel comfortable speaking up. Just like with smoking or seatbelts, there's a way to change the culture."
What impact might the #MeToo movement have on our political landscape?
While more than 500 women are running for major office this year—most of them non-incumbents, many of them spurred by Donald Trump's election and inspired by the #MeToo movement—Jennifer Lawless isn't declaring 2018 "the year of the woman" just yet.
"There's been an unprecedented amount of activism on the Democratic side, and women in particular are getting involved in ways they haven't before," says Lawless, director of AU's Women and Politics Institute and coauthor of 2017's Women, Men and US Politics: 10 Big Questions.
But women are "so gravely underrepresented" in public office—in 2017, they held 21 percent of seats in the US Senate and 19.3 percent of seats in the House of Representatives—that Lawless thinks even a record number of wins in November won't translate to a 10 percent increase in women's representation.
Among the reasons why: Democratic men are also running in historic numbers, says Lawless, which means some women will be eliminated in the primaries. Also, 2018 will bring a record number of female Republican retirements (6 of the 22 Republican women in Congress aren't running for reelection, although some are seeking higher office), and other women aren't vying to fill those positions.
If gender parity is possible in American politics—and that's a big if, as even the most optimistic among us are skeptical that we'll see a true 50-50 split in our lifetimes—it won't come with Democratic gains alone.
How can even people that we admire be accused of behavior we deplore?
When former Minnesota Senator Al Franken was swept up in the flood of high-profile men publicly accused of sexual harassment and assault in November, many staunch supporters of the #MeToo movement cried #NotHim.
Radio host Leeann Tweeden accused the Democrat of groping and kissing her without consent during a USO tour in 2006. Her tweet included a damning bit of evidence: a photo of a grinning Franken pretending to squeeze Tweeden's breasts while she slept.
Over the next several weeks, seven more women—several of them unnamed—accused Franken of unwanted kissing and groping during photo ops at, among other places, the Minnesota State Fair.
The Franken headlines underscored that not all scandals are created equal. Thirty-six female Saturday Night Live staffers released a statement supporting the former comedian, saying "not one of us ever experienced any inappropriate behavior." Franken couldn't be lumped in with Roy Moore or President Donald Trump—he's a feminist, a champion for women's rights! (We heard the same argument after actor and Modern Romance author Aziz Ansari was accused of sexual misconduct by a 23-year-old photographer in January.)
"You have these women who come forward and say, 'He was smart and friendly and always kind to me—this is not the man I knew,'" says Mahri Irvine, CAS/MA '13, CAS/PhD '14. "But to think that it's easy to spot a predatory man just by looking at him—that's a harmful and pervasive rape myth [steeped] in racism and classism.
"Predators can be very skilled, very smart," continues Irvine, director of campus initiatives at the Indiana Coalition to End Sexual Assault. "They understand how important it is to put on a good outside persona. Al Franken was making very strategic decisions and probably had a good sense of who would speak out and who wouldn't."
When that good guy image is shattered, Irvine says we often feel duped.
"We want to believe we're a good judge of character. If a story comes out about someone we've admired—or they're our friend, family member, or colleague—at some level, psychologically, we're questioning ourselves. Wait a minute, how did I not see this? So some part of us thinks the woman must be lying."
It's simply, Irvine says, easier to believe that women are lying, rather than admit we might have been wrong about someone we admired.
Where do we go from here?
In December, Time named the "silence breakers" its Person of the Year, proclaiming that the women and men, famous and not, who spoke out against sexual harassment and assault "have started a revolution of refusal, gathering strength by the day, and in the past two months alone, their collective anger has spurred immediate and shocking results: nearly every day, CEOs have been fired, moguls toppled, icons disgraced."
It's now been six months since the New York Times opened the proverbial floodgates with its damning piece on Harvey Weinstein. According to Reuters, phones at sexual assault hotlines across the United States are still ringing in record numbers, and Time reported that 82 percent of women are more likely to speak out about harassment since the allegations against Weinstein were made public.
"Me" has given way to "we" with the emergence of Time's Up, a collective of more than 300 women in Hollywood who've teamed up to fight sexual harassment in their industry—and beyond. The group has already raised nearly $22 million via a GoFundMe campaign to provide legal support for women and men who've experienced workplace harassment or assault.
But is it enough to inspire systemic social and cultural change about the ways in which we treat—and mistreat—women in this country and around the world?
"I hope that this is a transformative moment, but I thought we were having this moment 27 years ago, when I was working in the Senate during the Clarence Thomas hearings," says Molly O'Rourke, SOC executive in residence and director of the master's in public communication program. "Perhaps we had some false starts along the way. It's easy to express outrage, but the systemic change that needs to happen is going to come in daily interactions. That's where we're at real risk of losing the momentum."
The #MeToo movement is a viral sisterhood. With a simple tweet, millions of women around the globe, some for the first time, said: This happened. It matters. I matter. But if the movement is to be more than just a sneak preview of what respect, equality, and safety mightlook like in the boardroom, the bedroom, and everywhere between, we need to go from standing up to speaking out.
O'Rourke says change will come from honest, inclusive, and sometimes difficult conversations. "It's important to hold your ground and say you won't be treated that way. It's very easy to say—and incredibly difficult to do—but that's the beginning of feeling empowered and respected.
"A personal narrative is a compelling way to break through. We have to continue the conversation, but we can't do it in anger."