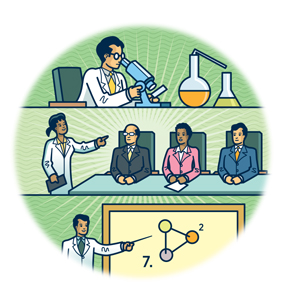 Where people live, learn, work, and play can affect their health. Founded in 2010, AU's Center on Health, Risk, and Society (CHRS) seeks to understand and address the social determinants of health. The center draws on the expertise of faculty across campus and practitioners around DC to explore issues like HIV/AIDS, lead exposure, diabetes, and gender-based violence. "CHRS is unusual in its focus on the intersection of social structures and health risks," says Deanna Kerrigan, director and sociology professor. "We know what works in treatment and prevention, but we also know that powerful social and structural factors constrain access. We need to further understand these barriers." CHRS launched its first cohort of faculty research fellows this semester. With philanthropic support, the center wants to go a step further and fill a key gap in the field, establishing a focused fellowship program for recent PhDs to explore the social determinants of health.
Shaping a Healthier World
From cancer research and obesity to women's brain health and global inequities in treating infectious diseases, AU experts are immersed in some of the most consequential and complex health issues of our time. Through innovative, cross-disciplinary partnerships, faculty and students in every school and college are committed to making our world a healthier place.
"American University brings a distinct focus to the field of health studies, and to public health issues in particular," says Mary Clark, dean of Academic Affairs.  "AU's strengths in the areas of cognitive neuroscience and health, risk, and society, for example, bring leading-edge multidisciplinary scholarship to bear on today's most pressing health issues." 
From collaborations to conferences and scholarship to services, here are some of the ways our community is engaging with health issues:
Launched five years ago, health studies is the largest department in the College of Arts and Sciences. Chair Anastasia Snelling says the department is a leader in health equity and community-based work, including research on LBGTQ health, food and nutrition, and maternal and children's health. "When we launched the department, we spoke of creating a culture of health at AU, now we are moving beyond the AU campus to the District so everyone can benefit from the work of our students and our faculty research," she says. 
Snelling often partners with Sarah Irvine Belson, executive director of the Institute for Innovation in Education in AU's School of Education, on programs focused on health status and academic achievement in some of DC's most under-resourced schools. "We see a relationship between healthy behavior and higher grades," Irvine Belson says. "As a former teacher myself, I know if we can focus on kids' health it can positively affect long-term academic achievement."
Our DC location creates opportunities to learn from leaders. In October, the Washington College of Law's Health Law and Policy Program gathered four former commissioners of the Food and Drug Administration to discuss drug prices, opioids, and how the agency operates in an increasingly globalized world.
Meanwhile, students in the Kogod School of Business's graduate analytics program have partnered with Special Olympics International to evaluate health data on people with intellectual disabilities and develop predictive models that inform organizational programming.
AU is also committed to the health of its own community. The Health Promotion and Advocacy Center provides students with resources to promote healthy lifestyles and reduce high-risk behaviors. Six hundred students participated in the Step Up program, which taught them how to intervene if they suspect someone is wrestling with anxiety or depression, anger management issues, or substance abuse. 
Food insecurity has increased on college campuses around the nation. The Market, a food pantry initiated by AU students, has served more than 360 students since it opened on campus in 2017. 
AHealthyU supports the health and well-being of faculty and staff through programs like yoga and an annual pedometer challenge. A weekly farmers market on the quad brings fresh, local produce to the AU community. 
Philanthropic investment in AU's faculty, facilities, and programs creates a national platform for the vital health work being undertaken here and sparks promising new areas of research. With health an important area of focus for the university, we continue our legacy of engaging with the most pressing issues of our time. 
For information on how to support big ideas in health, contact Courtney Surls, vice president of Development and Alumni Relations, at 202-885-5900 or vpdar@american.edu.
Gift Sparks Healthy Dose of Innovation
An important new gift to the School of Public Affairs (SPA) puts AU at the intersection of public policy, health, and business. The SPA Health Innovation Fund, established this year by Stacey and Gary Jacobs, SPA/MPA '76, will enhance student learning, support cutting-edge research, inform policy debates, and extend the school's impact in health care. 
SPA Dean Vicky Wilkins says the couple's gift will enable the school to tap into the expertise of faculty, students, and others across campus to help resource-strapped nonprofits and policy groups test and evaluate their health care solutions. "We think of this as a workshop for new ideas in the area of health care delivery." 
"Gary has years of experience across many health organizations. He has a passion for how we can fuel and be a resource to innovation in an area that's looking for new policy approaches," Wilkins says.
Gary is president of Village@Home, an innovator in primary care for complex patients that links technology, remote monitoring, and highly trained practitioners to provide in-home care. 
A longtime member of the SPA Dean's Advisory Council, he says the fund will "spark innovation in a rapidly-changing health care environment, and offer teachable moments for our students by providing them the skills necessary to compete in this new, emerging health economy."
Stacey shares Gary's enthusiasm for mentorship and philanthropy. She's also seen the positive impact of internships and other hands-on learning experiences on their three sons and family friends. "It gave me pleasure to follow their careers and discuss their days at work. I love seeing kids grow—that's my passion."
The Jacobses and Dean Wilkins hope the fund will expand with additional investment from others interested in amplifying SPA's leadership in health. 
For information on how to support the SPA Health Innovation Fund, contact Laura Mikolajko, chief development officer, School of Public Affairs, at 202-885-3968 or lauram@american.edu.