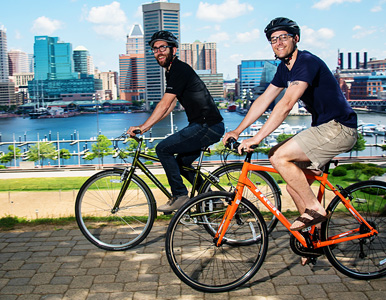 Some days Nik Obriecht and Paul Cavalieri commute to work in a manner their customers dream of: on bikes. They help run Race Pace Bicycles, one of the nation's largest independent bike dealers. The company, which has five locations in and around Baltimore, was started by Obriecht's father, Alex, in 1978. He's still the sole owner, but his son, who's worked there in some capacity since he was 12, and Cavalieri, who came on board five years ago, are key parts of the management team. 
"Bicycles have become this romanticized symbol of a lot of different things," Cavalieri says. "Some of that is the freedom to explore. We're a big part of this city, and we're looking to get more people on bikes and improve things in Baltimore." 
The two, who occasionally are mistaken for brothers, hit it off immediately on an alternative spring break trip to Mexico while they were at AU. After graduating, Obriecht went (back) to work for Race Pace, while Cavalieri taught elementary school in Brooklyn then worked for a bicycle nonprofit in Denver. When Obriecht needed someone to help oversee the downtown Baltimore store's move to a larger location, he tapped his old friend; they now help steer a company with more than 40 full-time employees. Providing those workers—and the 60 or so part-timers they hire during the summer—with stable, well-paying jobs is a priority. 
"We're trying to make this somewhere people can make a good living in an industry that traditionally doesn't pay enough," Obriecht says. "It's a family business. Not just the Obriecht family—it's the Race Pace family." In cycling, they see nothing but the potential for growth. "Bikes have and will continue to have a very important role in the development of our urban centers," Obriecht says. "It's exciting to be a part of that."