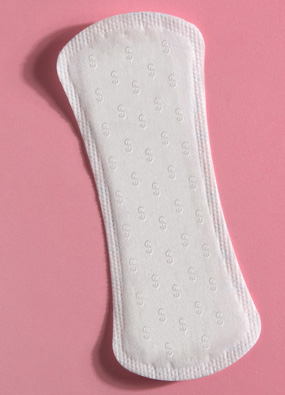 Holly Seibold is reminded of her privilege around the 10th of every month. 
"I consider myself a feminist, and I've always been very active in politics," says Seibold, SPA/BA '00. "But it never occurred to me that there are women in this world who don't have access to the menstrual products that I've used—and taken for granted—for the last 20 years."
Period poverty is pervasive. According to UNICEF, of the 1.8 billion people around the globe who menstruate each month—girls, women, transgender men, and nonbinary individuals—about one in four struggles to afford the necessary supplies, which average $13 a month, or $6,300 over a lifetime. Many are forced to improvise: fashioning makeshift pads from diapers, socks, or toilet paper; extending the life of products, risking leaks and health issues like bladder infections; and skipping school or work until their period passes, widening the opportunity gap between them and their non-menstruating peers.
And yet, unlike opioids or food insecurity, period poverty is not a public health crisis that most people are comfortable talking about. According to a survey by THINX, 58 percent of women report feeling embarrassed about menstruating and 47 percent mask their discomfort—or that of those around them—by using more "palatable" nicknames for their period. But Seibold believes it's about time that society got comfortable with the language of menstruation. Period.
"This is about more than making pads and tampons available to the people who need them. This is about opportunity, independence, and quality of life. Women's bodies should never be a barrier to those things," she says. "Changing that starts with talking about it—without stigma or shame." 
Seibold has been doing just that since 2015. After reading an article in the Huffington Post about how donations to women's shelters rarely include the items women urgently need—like undergarments and menstrual products—she hosted a Mardi Gras party at her Northern Virginia home to raise donations. In exchange for beads and booze, her girlfriends brought a bra or underwear—new with tags—or a box of menstrual products. Seibold ended the evening with 100 items—and a new purpose.
Today, as founder and executive director of Bringing Resources to Aid Women's Shelters (BRAWS), she has shepherded the collection and distribution of more than 4 million bras, panties, pads, and tampons to 60,000 individuals across the DC area. And that Fat Tuesday fete is now annual affair. Last year, Mardi Bras raised more than $135,000 to provide products directly to schools, shelters for the unhoused and survivors of domestic violence, and nonprofits that serve formerly incarcerated women and immigrants. Last fall, BRAWS also landed a $10,000 grant from the Community Foundation for Northern Virginia to provide supplies to Afghan refugees through Lutheran Social Services. 
Roberta Gosling, cofounder of the food pantry at South Lakes High School (SLHS) in Reston, Virginia, has worked with BRAWS since June 2017. Launched by the parent teacher student association to serve the SLHS pyramid, which includes nearby elementary, middle, and high schools, the pantry serves about 150 families a week through its curbside distribution program.
"In the high school alone, there are more than 830 students on free and reduced lunch. [Menstrual] products cannot be purchased through SNAP funding, so we have made it a practice to supply them as part of our services," she says. "Initially we asked each family if they needed [them], but it became obvious that virtually every family did, so we don't even ask anymore."
To date, BRAWS has supplied nearly 55,000 pads, which have been distributed to 2,750 students. "Holly's enthusiasm in establishing and maintaining this partnership helps to ease our burden greatly," Gosling says. "Our relationship with BRAWS helps to ensure that our students can easily access the products they need to stay in school." 
But creating a reliable supply chain is only half the battle. Alleviating period poverty is as much about policy and politics as it is pads and pantyliners.
In 2016, Seibold and Marcy Karin, CAS-SPA/BA '00—former AU classmates who studied abroad together in London—reconnected to take on DC's 5.75 percent tax on tampons and diapers. Karin, then a law professor at Arizona State University, was preparing to move back to Washington to launch the legislation clinic at the University of the District of Columbia's David A. Clarke School of Law. She needed a client for her students, who train to work at the intersection of tax law, policy, and politics. 
"When I saw the hearing scheduled at the DC Council to eliminate the tampon tax, I went through my networks to see who I might know working in this space," recalls Karin, UDC's Jack and Lovell Olender Professor of Law. "Holly was the obvious choice. It was great to be able to work with a college classmate who was doing such important gender equity work in the District and to help a nonprofit find its voice."
The DC Council passed the bill in November 2016, but it didn't go into effect until the city found a way to cover the lost tax revenue—$14 million over four years. "If a law isn't funded, it gets taken off the books," Karin says. "We worked with Holly for two years to make sure that the mayor and the council held up to the promise of eliminating the tax." Their persistence paid off and in October 2018, Mayor Muriel Bowser, SPA/MPP '00, announced that the bill had been funded, tweeting: "Because feminine hygiene is a necessity, not a luxury." 
Despite the delay, DC was still at the vanguard of a nationwide movement to abolish what period activists call the "pink tax." Lawmakers in at least 20 states introduced legislation last year, but according to Period Equity, 27 states still have menstrual-related taxes on the book that generate $120 million a year in revenue. The nonprofit, which is leading the charge to overturn the tampon tax nationwide, argues it's more than a financial burden for women—it's unconstitutional, tantamount to a violation of the equal protection clause. 
Seibold's home state of Virginia—where Viagra and Rogaine are exempted from sales tax, but menstrual supplies are not—is among those where legislation is in progress. Her testimony was instrumental to the passage in 2018 of a bill mandating free supplies for incarcerated women; the Dignity Act a year later, which lowered the tax on period products in the Commonwealth to 2.5 percent; and 2020 legislation requiring menstrual supplies in school bathrooms. A bill eliminating the tax altogether unanimously passed the Senate in 2020 but hasn't yet moved forward in the House.
Karin, meanwhile, scored another legal victory in the District earlier this year, when the council passed legislation requiring public and private schools to stock period supplies in girls' and non-gender specific bathrooms (or, if the latter doesn't exist, in at least one boys' restroom). The bill also directs the school district to develop menstrual education—currently aimed at ninth graders—for kids as young as fourth grade. 
"It's been great to see the steady drumbeat of change," Karin says, "but there's so much left to do. We need to examine every societal structure and ask: Does menstruation pose a barrier here? And if so, what are we going to do about it?"