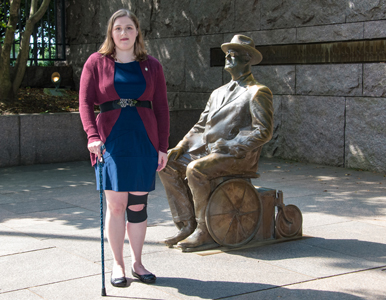 When we asked Sarah Blahovec, SIS/BA '14, the disability vote organizer for the National Council on Independent Living (NCIL), for a spot to snap her for our July issue, she delivered the perfect pitch: the Franklin Delano Roosevelt Memorial.
Blahovec, who has Crohn's disease, created Elevate, a first-of-its-kind webinar series that gives first-time candidates with disabilities the tools to run for local office. She also has a personal connection to the memorial, dedicated to the 32nd president of the United States, who was diagnosed with polio in 1921.
The 7.5-acre park, which is tucked off the Tidal Basin, features four sections representing each of Roosevelt's terms in office. When it opened in May 1997, it didn't represent FDR's disability (he's seated in one statue, but a cloak is draped over his body).
The omission was a source of controversy. Members of the FDR Commission wanted to honor the president's desire to keep his disability private, while groups like the National Organization on Disability (NOD) countered that the memorial failed to acknowledge a source of FDR's strength. Blahovec's mentor, voting rights subcommittee cochair Jim Dickson—the first blind person to sail alone from Rhode Island to Bermuda—organized the NOD's campaign to depict FDR in a wheelchair. "FDR led the nation through the Great Depression, to victory in World War II, and he did so from a wheelchair," Dickson told the Washington Post in 1997.
Following a Congressional resolution endorsed by President Clinton and a $1.65 million fundraising campaign, a bronze statue of FDR in a wheelchair was dedicated in 2001. NOD required that the statue be life-size and sit at ground level to make visits more meaningful for children with disabilities and their parents. "One parent could stand behind the first president who used a wheelchair, and the other parent could stand behind the next president who used a wheelchair," Blahovec says of the NOD's vision.
Even before she knew of Dickson's involvement, Blahovec says FDR is her favorite memorial in a city teeming with them. "It's beautiful, and it of course has significance to me seeing a person with a disability who was serving in elected office. So it was just really cool to find out that the statue is here [in part] because of [Dickson]." 
Since our June photo shoot, Blahovec's been busy. She was accepted into AU's 2019–20 Women and Politics Institute's WeLead program and her work on Elevate was featured in Time magazine.
"It can be really challenging, especially in a political context, to get people with disabilities recognized," Blahovec says. "So it was amazing to have that opportunity; it's really built some momentum for us."