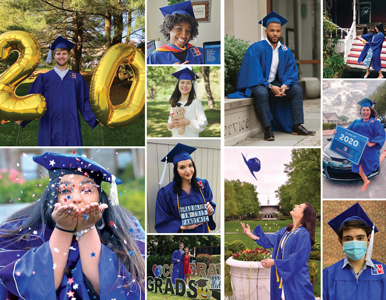 The familiar skirl of bagpipes kicked off AU's 139th commencement ceremony on May 9—but instead of reverberating off the rafters of a packed Bender Arena, the triumphal sound met 3,000 graduates as they celebrated in kitchens and living rooms around the world. 
"The last few months of sacrifice prove that when we come together for a cause greater than ourselves—the safety and well-being of our greater community—we are infinitely stronger together than apart," said President Sylvia Burwell during the virtual ceremony, which has been viewed 25,000 times. 
Henry Louis Gates Jr., renowned historian, Harvard professor, and creator of Finding Your Roots, delivered the commencement address from his Cambridge home. He drew on the African American journey from slavery to freedom to illustrate how others survived "the unimaginable." 
"Their lesson to us," Gates said, "is not to give in to the horrors around us, but as the Black tradition says, to make a way out of no way." 
The festivities also included a video featuring pearls of wisdom and encouragement from alumni, professors, and deans.
Here are some of their well wishes, along with those of alumni and faculty featured in the summer 2020 issue of American magazine:
Remember, your AU community will always be behind you all the way. You will always find your home here at AU. Once an Eagle, always an Eagle!
—President Sylvia Burwell
It seems that it's been a hundred years since I attended American University. Back then there were no cell phones or internet, so there was no texting, streaming video, or 24-hour news. And no one ever wore a mask on the street, except on Halloween. It was a very different time. Your time begins now and what you do and how you evolve in the years ahead is that constant question that every graduating class faces. The question: What do I do now? Hopefully, the answer will come quickly, as your generation may very well be the most important.  
—Academy Award-winning director Barry Levinson, SOC/BA '67
Recognize that with your degree, you have the opportunity and the obligation to do good, to help make our country better. 
—Secretary of the Smithsonian Institution Lonnie Bunch, CAS/BA '74, CAS/MA '76
I encourage each of you to continue working hard and building connections as you begin the next exciting chapter of your lives. Good luck and God bless you.
—Maryland first lady Yumi Hogan, CAS/MFA '10
You're entering the world in complex and challenging times, but also at a moment where the opportunities to contribute are nearly infinite.
—Ambassador Susan Rice, visiting distinguished research fellow, SIS
Here's my advice for your first job: Show up earlier than everyone else, stay later than everyone else, volunteer to help anyone, and say "yes" to every opportunity.
—CNN host Alisyn Camerota, SOC/BA '88
Do what you can for others, when you can. Exercise moderation in all things, except love for your family. And don't be a jerk. 
—Jeremy Egner, SOC/MA '08, television editor, New York Times 
Congratulations on rising to the challenges you've faced to reach this moment. Stay aloft and soar in the future!
—Professor Roberta Rubenstein, Department of Literature, CAS
This is a hard time to be a graduate. However, this is also the best time to be bold, brave, and creative. 
—Manjyot Kaur Ahluwalia, SPA/PhD '15, senior program officer, US and and international climate cooperation, World Wildlife Fund 
With each breath, you both receive and let go. Find balance in doing both in your life. Let your breath be your guide.
—Deborah Norris, CAS/MA '84, CAS/PhD '88, founder, Mindfulness Center, and psychologist in residence, CAS

Millard Fillmore likened educated people to cooks equipped to feed their communities. Congratulations on graduating in challenging times. You have the ingredients to improve your world.
—Research professor Michael Cohen, Department of Government, SPA, and faculty fellow, Center for Congressional and Presidential Studies 
Seize this crisis as an opportunity to promote health, well-being, and a safer future for all. You can do it!
—Professor Taryn Morrissey, Department of Public Administration and Policy, SPA
 
Wherever you're headed, remember: It's the world as it is, not as it should be. Find allies and bridge the divide. 
—Aaron Cohen, SIS/BA '13, food systems analyst, Food Insight Group
May you be inspired by the wonder and beauty of life, ever open to new perspectives, and always maintain something that anchors your heart. 
—Reverend Bryant Oskvig, interim university chaplain 
Even in dark times, you will find your path to a bright future.
—Recalled Peace Corps volunteer Amber Cohen, CAS/BA '15
Do what you love. It may mean starting low and slow and maybe more than once. But success is inevitable.
—Larry Wells, SPA/BA '74, adjunct professor, Fox School of Business, Temple University
You will be remembered as the generation of Eagles who succeeded during one of the most difficult times in our history. Our future is bright because of you. 
—Professor Angela Davis, WCL
Even without the fanfare of commencement, I see and celebrate you.
—Professor Lara Schwartz, Department of Government, and director, Project on Civil Discourse 
In the words of Fannie Lou Hamer: I hope that if you fall, you fall forward in the fight for freedom. Don't ever back off.
—Samantha Davis, SPA/MPP '12, founder and executive director, Black Swan Academy 
If the front door doesn't work, try the back door, windows, chimney, air ducts, teleportation, or quantum travel. You've got this.
—Vanessa Buffry, SIS/BA '10, senior program manager, digital inclusion, Neighborhood Allies 
Keep your eyes on your goals, but remember that your journey might look quite different from how you imagine. Stay determined!
—Caroline Cheek, CAS/BA '09, registered nurse and clinical supervisor, George Washington University Hospital   
The world needs your compassion, diligence, resourcefulness, intelligence, and spirit. Our communities need your commitment to justice, health, and peace. Shine on!
—Professor Garrett Graddy-Lovelace, SIS
Always look for joy and purpose in your life. So many adventures await—seize them all!
—Professor Caty Borum Chattoo, SOC, and executive director, Center for Media and Social Impact
The world needs you more than ever. Leave your mark.
—Fanta Aw, vice president, Campus Life and Inclusive Excellence 
The legacy of American University is its people—and you are the future. 
—SOE dean Cheryl Holcomb-McCoy
Be mindful to take good care of yourself and the world around you. You are both worth it.
—Nancy Kislin, CAS/BA '86, psychotherapist  
Take strength from the people rooting for your success and happiness and hold dearly to relationships you've built with your peers and mentors.
—Taylor Jones, SIS/MA '09, executive director, Bikes for the World 
Use your education to be a force for justice and progress in an uncertain world. 
—Jayesh Rathod, associate dean for experiential education, and director, Immigrant Justice Clinic, WCL
My advice to you is to always remember your inner superhero.
—Jessica Waters, SPA/BA '98, WCL/JD '03, dean of undergraduate education and vice provost for academic student services 
Use the Career Center, your professors, your fellow students, and alumni. We are here for you, and we will help you launch. 
—Rob Johnson, SPA/BS '81, president, AU Alumni Association 
What I wish I knew when I graduated? That it's OK to fail. Period.
—Acting provost Peter Starr
From the collective heart of SIS to yours, congratulations.
—SIS dean Christine Chin
Here's the statement that has inspired my life. I hope it can inspire yours. It comes from the late psychologist Frantz Fanon: "It is the role of each generation, out of relative obscurity, to discover its mission and either fulfill it or betray it." I hope you can fulfill the mission of your generation. 
—Kojo Nnamdi, host, The Kojo Nnamdi Show, WAMU 88.5
COVID-19 has tested you greatly. It's tested your resilience, your character, your endurance, and your humanity. I'm confident that the skills you learned at American University will allow you to ace that test. 
—Kogod dean John Delaney
This graduating class may very well be one of our strongest and most influential. We are proud. And I hope you will take this moment to pause and feel proud.  
—SOC interim dean Laura DeNardis
You've taught us so much about fortitude and grace and sacrifice. You are our toughest Eagles.
—SPA dean Vicky Wilkins 
To those willing to work hard, search for a new way, and ultimately give themselves to an endeavor that helps people move forward, you will discover what true success has to offer. Go Eagles!
—Teague Moore, wrestling coach 
As you go out into the world, always give maximum effort, try to have a good attitude, and remember, having fun is serious business. 
—Athletic Director Billy Walker
You've built knowledge and skills, relationships, and resiliency. We can't wait to see how far you'll go. 
—Molly Sauer, CAS-SOC/BA '10, researcher, International Vaccine Access Center, Johns Hopkins University Bloomberg School of Public Health 
Although the circumstances under which you finished your degrees were unprecedented, every generation faces unique challenges. I am sure you are up to the task. 
—Ron Lysek, SIS/BA '88, head of trading, Franklin Mutual Advisors
Your contributions to creating a better world are going to be more important than ever in these unprecedented times. But you are up to the challenge!
—George Twigg, SOC/MA '98, policy analyst and join information system manager for COVID-19 response, Boulder County, Colorado 
Your perseverance and dedication over the past four years are a recipe for sustained success in the years to come. Eagles forever!
—Professorial lecturer Kevin Boyle, Department of Justice, Law, and Criminology, SPA
Stay curious and learn every day.
—Maureen Breslin, assistant dean of online programs, Kogod 
You are making history as you graduate during a pandemic. I cannot wait to see what more you accomplish.
—Heather Mongilio, CAS-SOC/BA '15, health, social services, and Fort Detrick reporter, News-Post
Graduating is just the beginning of an amazing journey awaiting you. Write your own story and enjoy the little things. 
—Andre De Mello, recalled Peace Corps volunteer, SIS/BA '19
You did it—no, really, you did! Be proud of your amazing accomplishment. You will change the world. 
—Patrick Malone, director, Key Executive Leadership Programs
Best of luck in all your future endeavors. This is just the beginning of your journey and I know you all have great things ahead of you. 
—Jada Wittow, SPA/BA '13, food access coordinator, Ballard Food Bank
Sometimes it's hard to see our way through. But this moment, this crisis, this challenge will pass as well. And we will come through it stronger.
—Former WCL dean Camille Nelson
It has been a privilege to teach you. I truly admire your courage and perseverance and can't wait to hear about your achievements.
—Professor Anna Amirkhanyan, Department of Public Administration and Policy, SPA 
You have so much to be proud of and will certainly make a difference in our world for a better tomorrow.
—Danielle Montecalvo, recalled Peace Corps volunteer, CAS-SIS/BA '18
Be proud of everything you've accomplished and use all that you've learned at AU to make a positive difference in the world.
—Professor Jolynn Gardner, Department of Health Studies, CAS, and director, public health program
Cheers to your incredible resilience and fierce determination, even—and especially—during a global pandemic. I'm so proud of you all—warmest congratulations!
—Professor Cynthia Miller-Idriss, SOE, and director, Polarization and Extremism Research and Innovation Lab
I am confident that while fulfilling your professional and personal goals, you will always remember what you learned at AU—to make contributions to world peace, and to serve this great country.
—Professor Quansheng Zhao, SIS
Use this time to cultivate your networks and continue to grow. You have all the tools; put them to good use.  
—Sana Azem, SOC/BA '07, state legislative director for the Great Lakes region, American Society for the Prevention of Cruelty to Animals 
Go forth and create your best life. Be wholeheartedly committed to your community and mankind, and give of yourself so you may receive of others.  
—Professorial lecturer Stacy Merida, Department of Marketing, Kogod
Your accomplishment demonstrates your ability to soar in the face of headwinds. Your triumph is evidence you can succeed as you face the challenges to come. 
—Caroline Bruckner, managing director, Kogod Tax Policy Center 
You are fierce and resilient. I can't wait to see the creative contributions you will continue to make to the world.
—Professor Molly Dondero, Department of Sociology, CAS
Your AU family is so proud of you. As you begin your careers, remember this: Don't aim for perfection, but do strive for greatness.
—Brianna Hawk, recalled Peace Corps volunteer, SIS/BA '17
You have demonstrated exceptional strength and grace in these times of adversity. Remember that your AU community is always here for you.  
—Professor Aparna Soni, Department of Public Administration and Policy, SPA 
As you go off and become the changemakers for your generation, don't forget who you are: compassionate, caring, kind. You have overcome obstacles and persisted. Be yourself—the world needs more of you. 
—Professor Katie DeCicco-Skinner, Department of Biology, CAS
The world you find yourself joining as professionals looks a lot different than it did when you first enrolled as students. What remains the same is that your reality is comprised of the stories you choose you tell about it. If you don't like the version you're living, give yourself permission to tell a better story. Then have the courage to act it until it is enacted.
—Olu Burrell, SPA/MSOD '14, executive leadership program manager, DC Department of Human Resources, and leadership coach, Key Executive Leadership Programs 
Wishing you brighter days as we come through these difficult times. You have the knowledge and the power to change the world. If you follow the pure light within you, you have nothing to fear.
—Kerry Altman, CAS/BA '72, clinical psychologist 
As you move on to the next chapter, new challenges will emerge. Accept them and believe in yourself; you have already proven how resilient you are.
—Professor Ayman Omar, Department of Information Technology and Analytics, and interim dean for graduate programs, Kogod 
Graduation ceremonies, speeches, and parties are temporary. Knowledge, resilience, and spirit to make this world a better place are priceless.
—Adjunct professor Rainey Ransom, Department of Justice, Law, and Criminology, SPA 
Go forth with confidence that your education has prepared you to face the challenges ahead. Cherish the relationships you have formed and recognize the value of connection in times of great uncertainty.
—WCL acting dean Bob Dinerstein, director, Disability Rights Law Clinic 
Congratulations—and a favorite quote of mine from Primo Levi: "How important it is in life not necessarily to be strong but to feel strong, to measure yourself at least once, to find yourself at least once."
—Professor Thomas Zeitzoff, Department of Justice, Law, and Criminology, SPA
While entering a challenging job market, there has never been a class more prepared to work in a virtual environment.  
—Don Chartock, SPA/BA '93, deputy director, public transportation division, Washington State Department of Transportation 
These unprecedented times are challenging—embrace your entrepreneurial spirits, and create innovations that help improve the world. 
—Professor Mauricio Rodriguez, Kogod/MBA '89, Department of Finance, Neeley School of Business, Texas Christian University 
Always follow your passion and seek meaningful work. Even during these difficult times, you will find your path and succeed. 
—Kellie May, SIS/BA '06, vice president of programs and partnerships, National Recreation and Parks Association 
I know it's a crazy time and we're all just muddling along the best we can. But don't forget to be proud of yourself—you've earned it.
—Lindsey Grutchfield, recalled Peace Corps volunteer, SOS/BA '19