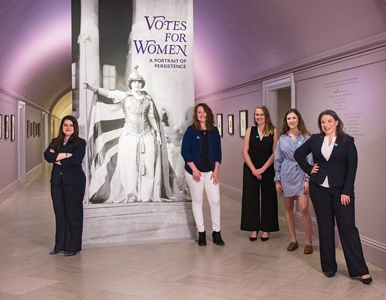 In 1985, 25 women—rolodexes in hand—gathered in Ellen Malcolm's basement to raise money for pro-choice Democratic women candidates. Nearly 35 years later, EMILY's List is one of the most powerful political action committees in the country.
Since its founding, the organization has helped elect 16 women to the governor's mansion, 26 to the Senate, more than 100 to the House, and hundreds to state and local office. In keeping with its moniker—"Early Money Is Like Yeast"—EMILY's List has also helped raise major dough for minority women seeking federal office.
"I like politics, but I need to know I am making a difference," says Karen Defilippi, SIS/BA '05, vice president of federal and gubernatorial campaigns (far right). "At EMILY's List, I help elect the women who are changing the face of power in our country." 
Defilippi is among seven AU community members at EMILY's List. They include, from left: Samantha Pedreiro, SPA/MPA '19, state and local campaigns coordinator; Charlie Estes, SIS/BA '21, research intern; Maya Nelander, SPA/BA '16, events manager; and Anna Donohue, SOC/BA '20, communications intern. (Not pictured: Kyra Briddell, SOC/MA '20, communications intern, and Lindsay Russell, SOC-SPA/BA '20, marketing intern.)
"We are so proud that, over the years, AU students and graduates have found their way to EMILY's List," says President Stephanie Schriock. "The work that these team members have contributed helps move our country closer to elected bodies, at every level, who represent the communities, districts, and states they serve."
The women were photographed at the National Portrait Gallery's Votes for Women: A Portrait of Persistence, which celebrates the 100th anniversary of the 19th Amendment. The exhibit runs through January 5.