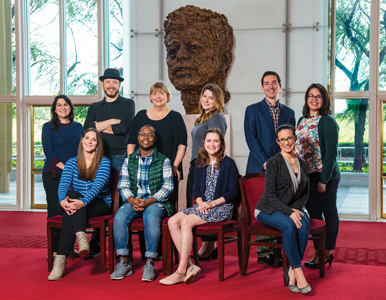 Peek behind the luxe red and gold silk curtains in the Kennedy Center Opera House and you'll see a chorus of AU alumni and students who keep the arts institution—a living tribute to the 35th president—humming. 
More than 20 members of the AU community work at the center, which hosts 2,000 performances and 2 million patrons each year. They include, clockwise from back left: Muna Shami, CAS/PhD '10, director of research and evaluation; Jeremy Birch, CAS-SOC/BA '95, manager of publications, advertising; Jillian Gibson, CAS/BA '72, third assistant box office treasurer; Rebecca Blader, CAS/MA '16, assistant manager, NSO development; Joel Iscaro, SOC-SPA/BA '16, assistant manager, Kennedy Center Circles; Karyn Castro, CAS/MA '19, institutional affairs fellow; Michelle Pendoley, CAS/MA '06, director of public relations; Katie Webb, SPA/MPA '20, institutional affairs intern; Xavier Boudreaux, CAS/MA '18, program assistant, music education; and Elizabeth Sacharov, CAS/BA '06, assistant manager, subscriptions. 
AU's troupe says it's an honor to work at Washington's premier arts space—especially in December, when it hosts the 41st annual Kennedy Center Honors. The gala, which will be televised on December 26, celebrates the artists who've made a profound and enduring mark on American culture. 
This year's awardees include Cher, Reba McEntire, and the foursome behind Hamilton, which enjoyed a sold-out run at the Kennedy Center this summer. All honorees will receive the iconic medal designed by Ivan Chermayeff, featuring a mosaic of rainbow ribbon that represents the spectrum of skills within the performing arts—skills shared, no doubt, by AU's talented cast of professionals.