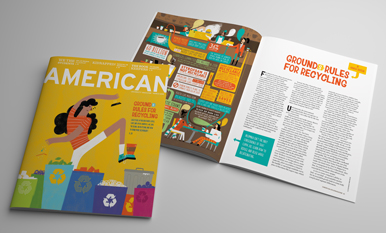 American magazine has designs on the competition.
On July 28, AU's alumni publication took home four honors in the University College Designers Association (UCDA)'s annual Design Awards. 
Founded in 1970, UCDA is the nation's first and only association for professionals involved in the creation of visual communications for educational institutions. It boasts more than 1,000 members throughout the United States and Canada.
American received an "excellence" award—UCDA's highest distinction—for cover design for "Grounds Rules for Recycling." The March 2019 cover story on the complexities of recycling was illustrated by Shaw Nielsen, a talented artist whose quirky, colorful work has appeared in the New York Times, Wall Street Journal, and more. 
The magazine also picked up an excellence award for editorial spreads for "Grounds Rules for Recycling." The story features two full-page vignettes by Nielsen—a bustling coffee shop scene and one set in a kitchen. The infographics explore the recyclability of different components of coffee, from cups and lids to straws and stirrers.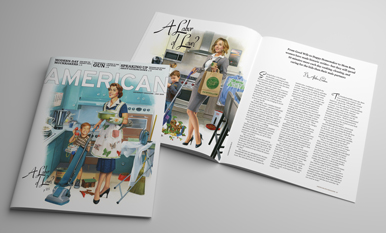 American's July 2019 cover story, "A Labor of Love?"—which explores why women are still doing more cooking and cleaning 30 years after the publication of The Second Shift—received honorable mentions for cover design and editorial spreads. 
Illustrated by Michael Koelsch, known for his retro, pulp artistry from the '40s, '50s, and '60s, the images depict the same woman and child—70 years apart. Nearly every element in the "happy homemaker" vignette features a modern counterpart in the "mom boss" illustration: the broom becomes a Roomba, Lincoln Logs become Lego, and the casserole dish becomes a takeout bag. 
"From headlines to illustrations to the stories themselves, everything in the magazine is a collaborative effort," says managing editor Adrienne Frank, SPA/MA '08. "The UCDA awards are a testament to the creativity and commitment of our small but mighty team—and that of the talented artists we're lucky enough to work with."
Published three times a year by University Communications and Marketing for about 110,000 alumni and friends of the university, American is also staffed by art director Maria Jackson and writer Andrew Erickson, Kogod/MS '22. The magazine debuted in 1970 and has since published 139 issues. The 140th will drop in mid-November.