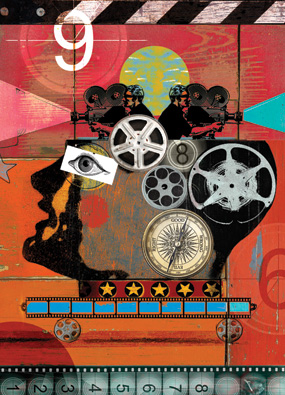 The idea that entertainment has a cultural purpose beyond simply entertaining people is fundamental in western culture, says College of Arts and Sciences professor Ellen Feder. But since she teaches philosophy, Feder's statement leads her to, of course, a question.
"What is film for us?" she asks.
Her course examines how film can reflect and shape our conception of the good life and the responsibilities that this conception entails.
Movies on the syllabus include Sophie's Choice and When the Levees Broke, a Spike Lee documentary that examines the social implications surrounding Hurricane Katrina.
Students also read works by Aristotle, Kant, and Nietzsche.
"This is an opportunity to think about film and ethics in a different way," Feder says. "Instead of thinking about using films simply to illustrate moral theories, to look at how the actions or the choices [of the characters] or the violations represented help us put the moral theory to work."
The Palestinian documentary, Paradise Now, is screened during the first week of class. It's a gripping look at what motivates suicide bombers.
"Its intention isn't to convince you that suicide bombing is good; the aim is to heighten sensitivity to how this could be possible. Such a conversation extends beyond the easier questions of right and wrong to consider broader questions, including whether, in applying more theories, we are asking the right questions."