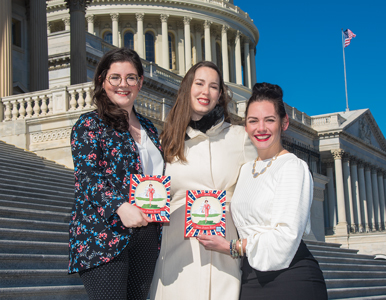 A hunger strike in November 1917 at a Lorton, Virginia, workhouse elevated the voices of Alice Paul and other suffragettes who had been imprisoned there for demanding the right to vote. A century later, voters in November 2017 elected one of two female candidates to represent the district in the Virginia House of Delegates. 
Virginians sent a record number of women to the state house last year, part of a wave of women running for office across the country. That thrills Clare Bresnahan English, executive director of a nonprofit called She Should Run. "These women have decided that they can't keep waiting for some other leader to step up," she says. 
Sydney Latas, staff coordinator for the nonpartisan organization, adds, "Not only were these women winning, they were winning against men who had made sexist comments. You had these really incredible symbolic victories that resonated at the national level even though they were local races." 
English believes that these candidates will serve as role models and inspire more women to step up. Wins by women of color, such as the former refugee from Vietnam who won the seat in Lorton, are particularly exciting to the organization's staff. 
She Should Run is working toward a goal of 250,000 women contenders by 2030. They've already helped recruit 40,000 thanks to their signature "ask a woman to run for office" initiative, which provides a means to nudge inspiring and talented mentors and leaders. "We see a lot of mother-daughter nominations," Latas says. 
"The data shows that when women run, they do win. So it's not a problem with success—it's a problem with the pipeline," says Taylor Prochnow, who works with the group's young professionals chapter in DC. "We need more women of all backgrounds, religious affiliations, gender identifications—veterans, teachers, moms," she says. 
English believes we'll have the best policies and a better government when women's voices are fully represented at all levels. "In the twenty-first century, in a democracy, we can't leave half of our population off the team."