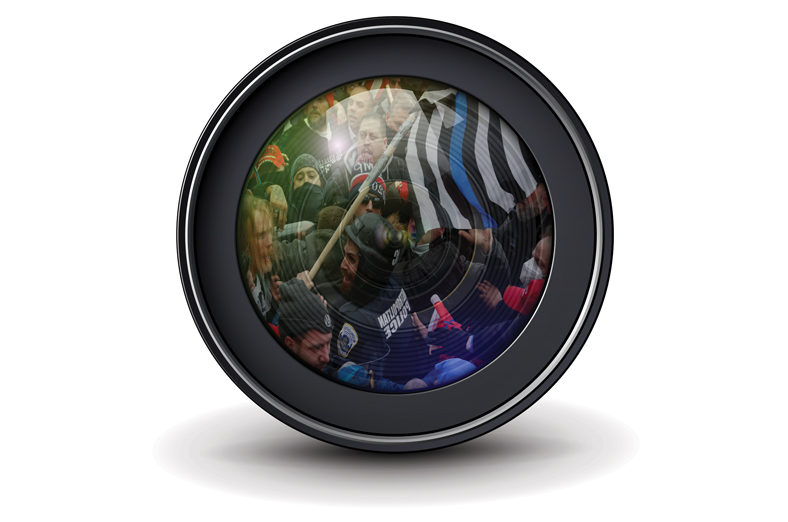 The footage from the body-worn camera—dated 2021-01-06—is shaky and discombobulating. But the brutality of what it captures is crystal clear. 
 
DC police officer Michael Fanone, a 20-year law enforcement veteran, is dragged by the neck from the Lower West Terrace tunnel of the US Capitol as he and several dozen other officers—ducking fire extinguishers, bricks, and other debris being hurled at them through a noxious cloud of bear spray—fight to hold back "a human battering ram" of insurrectionists.
 
"I got one!" shouts a Tennessee man named Albuquerque Head, who in October was sentenced to 96 months in federal prison for the attack on Fanone. The mob descends on the officer, ripping the badge from his chest, shocking him three times at the base of his skull with a taser, beating him with a flagpole, and threatening to kill him with his own gun. After sustaining a traumatic brain injury and suffering a heart attack, Fanone pleads for his life, appealing to whatever shred of humanity remains. 
 
"I got kids."
 
Crystal clear. 
 
But as the footage began appearing on Twitter feeds and cable news broadcasts, some people—conspiracy theorists, talking heads, even Fanone's buddies in the rural Virginia county where he has hunted for years—started to question its authenticity. Even as Fanone continued to nurse his (visible) wounds, including the charred skin on the back of his neck, they suggested the video was the result of Hollywood special effects, or that the 42-year-old was a "crisis actor." 
 
Fanone—who retired from the Metropolitan Police Department (MPD) at the end of 2021 due to the injuries he sustained on January 6, including PTSD—knew he had to speak out: for himself; for the 140 or so police who were also injured; for the five who died, including four at their own hand; and for every other officer who fought valiantly that day to protect the Capitol and preserve our very democracy.
 
"For whatever reason—God only knows—I've been afforded a hell of a platform, and I'm going to continue to use it for the sole purpose of making people stop describing January 6th as anything other than what it was: a horrific day in which a lot of police officers almost died," Fanone writes in his new book, Hold the Line: The Insurrection and One Cop's Battle for America's Soul, which debuted in October at number six on the New York Times' best sellers list. 
 
"I'm telling my story the only way I know how, from the perspective of a rank-and-file officer who pounded the streets every day," he writes. "I'm not f---ing polished or highly educated. I'm not going to cite a bunch of statistics. I don't think in terms of PowerPoint slides or well-honed talking points. But in two decades on the job, I've learned a thing or two, and have something to contribute."
 
Reuters investigative journalist John Shiffman, SOC/MA '98, WCL/JD '98—twice a Pulitzer Prize finalist for reporting—was tapped to help him share it. 
 
The coauthors met for the first time over drinks in October 2021. Shiffman and Fanone, both native sons of the Washington area, bonded over their shared love of music and their favorite haunts, including DC's famed 9:30 Club. Meals with Fanone's family followed, as did more beers with his fellow officers, whose own harrowing experiences helped flesh out the narrative. 
 
"So much of what we know about policing on January 6 comes from people who wear suits to work," Shiffman says. "It was eye-opening to get the perspectives of street cops, so that history will remember what really happened that day. What they have to say about America looking at itself in the mirror and figuring out what kind of country we want to be is really powerful."
 
As Shiffman earned Fanone's trust and a writing partnership began to take shape, so too did a friendship.
 
"John was amazing, and I could not have imagined doing this with any other writer," Fanone said on October 17, during a book talk at DC's Politics and Prose. "I tell people all the time: I supplied the f-bombs and John pretty much wrote everything else."
 
That's not entirely true. "I took out a few of the f-bombs," Shiffman says with a smile. 
 
"As a reporter, you interview a lot of polished politicians who know exactly what they want to say and exactly how they want it to be framed," says Shiffman, a veteran of the Philadelphia Inquirer and Tennessean. "The great thing about writing with Mike is that he doesn't hold anything back. People don't necessarily admit in their memoirs that they made mistakes in their lives or talk about how they learned from them—but those are the details that Mike insisted we include. Rarely do you find someone who's so transparent and speaks with such a refreshingly unfiltered voice."
 
Fanone is the son of a high-powered DC attorney father and a social worker mother, who separated when he was eight. Nursing a rebellious streak, he dropped out of high school at 16 and started working construction. Fanone was at a building site three blocks from the White House on 9/11 when a Boeing 757 crashed into the Pentagon. 
 
Not long after, a recruiting ad for the US Capitol Police caught his eye on a bus ride to work. Fanone enrolled in a special program at Ballou High School to earn his diploma and joined the agency in 2002. The 21-year-old was "full of piss and vinegar, adrenaline and ambition, ready and eager to fight crime," but it quickly became clear that the Capitol complex, swarming with politicians, staffers, and tourists, was not a good fit. Two years later, he joined MPD. 
 
The First District, where Fanone spent his entire career, is a study in contrasts. It includes the city's most notable landmarks, from the National Mall to Nationals Park, and some of its most neglected neighborhoods, marred by poverty and crime. He had been on the job just two years when he joined the plainclothes vice unit, making drug buys and building a stable of informants, including a Black transgender woman and sex worker named Leslie, with whom Fanone enjoyed a friendship that outlasted his marriage to the mother of three of his four daughters.  
 
Fanone was planning to make a heroin buy with Leslie later in the day on January 6 when, from his mother's house in Arlington, Virginia, he began hearing frantic calls of 10-33—code for "officer down"—on the handheld police radio. Like so many others that day, Fanone and his partner "self-deployed" to the Capitol.
 
We all know what happened next. It is on camera.
 
In the days after the insurrection, Fanone was among a handful of officers MPD offered up to the media for interviews. But he wasn't interested in sound bites—he wanted the terrorists who besieged the Capitol to be held accountable and the officers who defended it to be acknowledged.
 
"Mike started going through normal channels, writing letters to Congress, but he wasn't getting anywhere," Shiffman says. "But Mike is not someone that you ignore, or he'll keep coming. [In an October interview] Gayle King said, 'My heart broke reading the book. How do you keep going?' And he said, 'I'm stubborn.'"
On July 27, 2021, Fanone and three other officers testified before the House select committee investigating January 6. "I feel like I went to hell and back to protect the people in this room. But too many are now telling me that hell doesn't even exist—or that hell actually wasn't all that bad," he said. "It has been 202 days since 850 MPD officers responded to the Capitol and helped stop a violent insurrection. . . . The time to fully recognize these officers' actions is now."
 
A week later, the Senate unanimously passed the Gold Medal bill that Fanone had for months advocated for, to honor the 2,000 police officers who served on January 6. 
 
But his outspokenness also led to ostracization by fellow officers and the powerful Fraternal Order of Police (FOP), which endorsed the former president in 2016. In meetings that Fanone recorded and recounts in the book, FOP and MPD leaders scolded him for appearing on CNN (Fox News rebuffed his offers to appear on their network) and alongside outgoing Speaker of the House Nancy Pelosi and other Democrats who have criticized the police. 
 
"I'd become a walking billboard that confirmed one simple truth: January 6th actually happened and the response was disgraceful," he writes.
 
"I think some officers thought he was doing it for attention, to get his 15 minutes of fame," Shiffman says. And in fact, between Fanone's TV appearances, his testimony on the Hill, and his image on the cover of Time in August 2021, the heavily tattooed cop had become the face of January 6. "But I don't know why anyone would think he had anything to gain by speaking out the way he did, given all the blowback and hatred he received," from vile voicemails to outright death threats. 
 
Relegated to a desk job because of his injuries, Fanone retired from MPD last December—five years shy of his full pension. Even though he's no longer on the job, however, the job of speaking truth to power—and the public—continues.
 
"He's been pretty successful at grabbing people by the collar and saying, 'Stop with the talking points, the BS, and the fake news. Let's talk about the reality of what really happened.' But he's the first to say there's more to be done," Shiffman says. "Mike sees this as an extension of his service on January 6." 
 
During his book talk, Fanone reflected on his opportunity to lead change. He didn't ask for the horror that unfolded on his body-worn camera footage. But now that Americans have seen it, he is committed to making them believe it.
 
"I used to think as a narcotics officer, 'Man, I only feel like I'm only having an effect on an extremely micro level.' Maybe I can make a difference for a very limited period of time in a specific neighborhood, then it's on to the next thing," said Fanone, who received the Presidential Citizens Medal this year on the second anniversary of January 6. "I always wished there was something I could do to have an effect at a macro level—so I guess this is it. I'm hopeful in the reaction of so many people . . . people that stop me in the street that are incredibly gracious. I see [their] emotion and how much January 6 impacted them. It makes me feel like maybe some people do give a damn."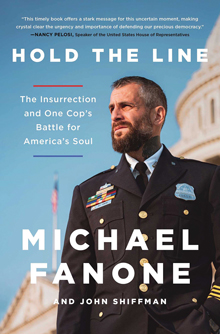 Excerpt from Hold the Line: The Insurrection and One Cop's Battle for America's Soul by Michael Fanone and John Shiffman 
Content warning: The following includes a graphic description of violence that may be difficult for some readers.
The next day I was discharged and Jimmy picked me up. Before I left, a doctor prescribed an antidepressant and the equivalent of extra-strength Advil for pain. As I had when admitted to the hospital, I declined an offer for stronger pain narcotics, like opioids, because I was terrified of addiction. The doc also gave me a drug called montelukast, used to prevent asthma attacks, because the scans had revealed a potential lung injury from all the chemical sprays I had inhaled during the riot. Given the mild heart attack and traumatic brain injuries, the doctor said I should schedule follow-up visits. He also warned me that my recovery would take time. 
 
"Weeks?"
 
"More like months," the doctor said.
 
I had no civilian clothes with me, so I was presented with a choice of leaving the hospital in a gown or the still-stained uniform I wore during the riot. I wore the uniform.
 
Jimmy drove me directly to the First District, where I was met in the hallway outside my office by Chief Robert J. Contee III and my First District commander at the time, Morgan Kane. Sergeant Phil McHugh [SPA/BA '08, MA '09], the man who helped me become a more compassionate police officer, was there, too. As it happened, Phil now served as a liaison between the department and the union as part of its employee assistance program. A big part of that program is mental health, and Phil had been busy meeting with as many officers as possible.
 
After a minute of small talk, someone asked if I wanted to see my body-worn camera footage from the riot. The battery-operated recorder works like a GoPro, with a wide-angle lens attached to an officer's breast. The device records audio, video, the precise time of day, and approximate location via GPS.
 
So far, only a handful of people had seen my body-worn camera footage, and it would not be made public for many months. To lighten the grim mood, Phil joked that given my preference for plainclothes, he was surprised to discover that I'd actually remembered to grab a camera before heading to the riot. 
 
Phil warned that the video was pretty chilling. He said I didn't have to watch, at least not yet.
 
I said I did.
 
Someone opened a laptop and people gathered around me in a cubicle. No one said a word. The video begins as Jimmy and I approach and enter the Capitol. It shows our entry into the Hall of Columns, past the statues, and into the Crypt. For such a chaotic scene, the audio is pretty clear, and shows us responding to Ray's 10-33, heading toward the smoke-filled Lower West Terrace Tunnel.
 
At that point—before the video turned violent—Phil stood up and left the squad room. Later, he told me that he just couldn't watch the footage again. As a patrolman and a homicide detective, Phil remained haunted by many memories, the kind that never go away—like removing the body of a twelve-year-old boy who'd hanged himself with a wire coat hanger. But this was different, the first act of violence he'd witness against a friend. Phil said that hearing me beg for my life on camera by citing my kids—kids he knew—just broke him.
 
Back on the video, Ray came into view, looking like Patton, and then Jimmy and me, following Ray's command to hold the line. The camera catches my bare hands reaching out for injured officers and straining to stop rioters from entering the tunnel. At times, rioters push so close that they block the camera lens, and the video turns black for a moment or two. Then in an instant, there's a burst of bright sky, and I'm outside and in the middle of the mob. For a hectic minute, flashes of hands, menacing faces, and flagpoles rush in and out of the frame. The picture goes dark and then I'm back inside the Capitol on my back, with officers calling out my name to try and revive me.
 
After watching the video, I didn't know what to say. I was too soon to process the trauma. I thought, That couldn't be me. The doctors at Washington Hospital Center had warned that I'd remain jacked up on adrenaline for days, if not a week. Viewing my body-worn camera footage on January 8th, I understood for the first time what people meant when they said they had an out-of-body experience
 
I coped by making a lame joke. "Oh man, that poor bastard is getting the shit kicked out of him."
 
I stepped out into the hallway and saw Phil staring at the floor.
 
He asked me what I thought.
 
"It's just too much," I said.
 
"Well," he said, wrapping me in a hug. "I'm just glad you're still here." 
Police Academy
There's been a lot of finger-pointing in the wake of January 6, but John Firman, adjunct professional lecturer in SPA's Department of Justice, Law, and Criminology (JLC), says training and leadership are two key areas that deserve the most focus.
"There was a significant degree of advance intelligence about what people were talking about and planning to do. And yet, the numerous federal, state, county, and local policing agencies responsible for this region weren't on the same page about that intel or how to leverage it," says Firman, who served as director of research and director of strategic partnerships for 24 years at the International Association of Chiefs of Police, before joining AU in 2012. "Leadership of all agencies and at all levels should have come together five weeks, five days, and even five hours beforehand to use that intelligence to create a carefully designed response."
 
Last fall, Firman coauthored Re-Envisioning Police Training in the US: Rejecting the Status Quo, Speeding the Pace of Progress Toward a True 21st Century Model, which argues that the instructional models used to train police officers at all levels, from the academy to city hall, are in many cases antiquated, inadequate, and in critical need of transformation. The report includes insights gleaned from career officers, criminologists, and community leaders during a symposium convened last year by JLC and AU's Key Leadership Institute. It represents the first step in the university's multi-year effort to help develop entirely new training curricula for more than 18,000 agencies across the US.
"Today, policing in America is at a transformative juncture when all aspects of policy, practice, and mission are being examined by the very communities they serve," says SPA dean Vicky Wilkins. "How police officers are trained is the most important factor that dictates how successfully the sworn officers across the US serve their communities."
"It's all about training—it's always about training," Firman says. "We are gravely concerned about these issues, but we're not just standing by. SPA and AU are taking steps to help lead in that arena." 
learning from newsmakers 
SOC professor Jane Hall turned tragedy into a teachable moment for AU's journalism and political communication students, bringing Metropolitan Police Department (MPD) officer Daniel Hodges and US Capitol Police officer Harry Dunn to campus last fall for a special American Forum. 
Hodges and Dunn were among the hundreds of officers who defended the US Capitol on January 6, and their traumas were documented by the media in the wake of the insurrection. Both testified with former MPD officer Michael Fanone before the House select committee investigating January 6 in summer 2021; they also received the Presidential Citizens Medal this year on the second anniversary of the attack.
Hodges and Dunn spoke with students for an hour about their harrowing experiences and how the events of January 6 continue to impact their lives and those of other police officers. They also gave the young journalists invaluable advice about covering survivors of trauma.
"Kudos to Jane Hall for bringing together such a poignant, magical, and intimate event for our students to meet newsmakers in person," says SOC journalism division director Amy Eisman. "They won't forget it." 
View excerpts from the program on SOC's YouTube channel.