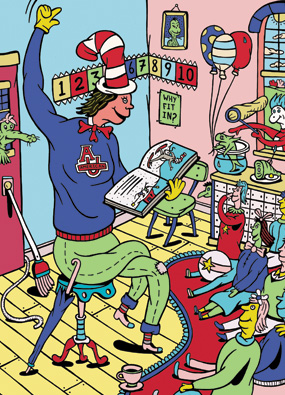 Across AU-ville, the cries they came, one candle two candle red candle blue candle! March 2, the most special of days, 100 plus 12, our dear Theodor Geisel would've been. Hold onto your sandals, you don't know that name? Why, it's Dr. Seuss, of course, master of anapestic tetrameter (say what, Peter?) and author beloved by all, be your name Buxbaum or Bixby or Henrietta Hall. With more than 600 million books sold by the time of his passing, there's no writer mightier, no illustrator greater, no better tickler of tongues and splitter of sides and gifter of giggles—friend, it's unequivocal.
But how do we celebrate? Sam suggests green eggs and ham; Horton wants a cake baked with sugar and shortin', yes ma'am. But will they rate, will they resonate? Seuss's rhymes sent generations of kids to sleep with a smile, and the parents who loved him? Well, shoot, they line up for miles. The best way to show the good doctor we care is to share.
So across the Capital City our 50 student volunteers go, a pop in their hop, the Cat's hat atop their mop—to introduce Seuss to a gaggle of grade-schoolers. "Reading is fun," they proclaim, "open the pages of a book and life will never be the same. Just ask my pal Lorax, literacy couldn't be cooler."
Organized by the Center for Community Engagement and Service (oh rats, I'll give you a dime for anything that rhymes with that), AU's been participating in Dr. Seuss Day for more than a decade. Even the Grinch can't deny, that's a lot of new Seuss fans made.