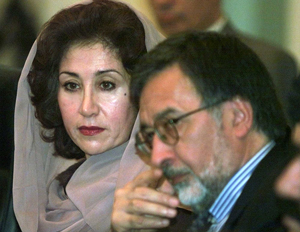 Women's rights activist Sima Wali, SIS/MA '84, committed her life to waging a "jihad for peace and equality" in her native Afghanistan. But in a tragic twist of fate, the woman who gave a voice to millions, silenced first by Communists and later by the Taliban, lost hers when she succumbed to multiple system atrophy, a rare neurological disorder that robs people of their ability to walk, talk, eat, and move. 
Wali died on September 22, 2017, at her home in Falls Church, Virginia. She was 66.
Once dubbed the "Joan of Arc of Afghanistan," Wali was born in Kandahar in 1951. She was the daughter of Mohammad Wali, manager of the Afghan National Bank, and Shafiqa Sharifi, a clothing factory supervisor. She fled the country after the Soviet-backed coup in 1978 and settled in Washington, DC, where she was joined by her parents after they escaped from a Communist jail. 
Although she was half a world away, Wali never forgot about the plight of Afghan women. In 1981 she formed the now-defunct Refugee Women in Development (RefWID) and raised millions of dollars to assist victims of war and genocide. She was also a founding member of the Sisterhood Is Global Institute, a feminist think tank in Montreal, which celebrated its 30th anniversary in 2014.
"The Taliban is using culture and religion to keep women down," Wali said of her cause in 1998, "but there is nothing in my religion that teaches keeping women at home, not educating them, starving them, and withholding medical treatment from them so they die. 
"Islam teaches us to care for and protect women." 
Wali was one of just three female delegates to a United Nations-sponsored meeting in Germany in 2001 that led to the Bonn Agreement, which formed a new Afghan government after the US-led invasion. She was instrumental in the creation of a Ministry of Women's Affairs (she declined a nomination to lead the division, so she could focus on her work with RefWID) and helped direct international funding to Afghanistan's women, children, and refugees. Wali also ensured that gender-sensitive language was incorporated into the peace accord, which became a foundation for the Afghan constitution. 
She received the Gloria Steinem Women of Vision Award from the Ms. Foundation for Women in 1989 and the Amnesty International Ginetta Sagan Fund Award in 1999.
A veteran of the Peace Corps, Wali held a bachelor's degree in business administration from Kabul University and a master's in international relations from AU's School of International Service. She is survived by six siblings and their children. 
"My aunt extended great tides of empathy, sympathy, and inexhaustible generosity toward her family, friends, and all who crossed her path," says Suleiman Wali, SOC/MA '10.