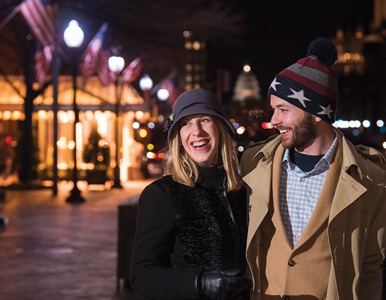 History majors joke that they have three career paths: teacher, bartender, tour guide. With the launch of Tours for Humanity in 2015, Bo Hammond has now done all three. 
The American history buff founded the company with girlfriend Lisa Maurer after she beat lymphoma in 2013. It offers walking tours of DC destinations like Capitol Hill, Arlington National Cemetery, and the National Mall (and an app for those who prefer to go it alone), with 15 percent of the proceeds going to charity. "We wanted to do something every day to create a tiny ripple of hope," says Hammond with a gentle drawl, a vestige of his Rome, Georgia, roots. 
An Indiegogo campaign raised $19,220 to get the business up and running (or walking, as it were) and today the couple is paying it forward, having already donated $3,000 to organizations that fight "ignorance, poverty, and disease." Even the guides' uniforms—TOMS shoes, FEED bags, and Freeset t-shirts made by former sex workers in India—reflect Hammond and Maurer's desire "to harness the power of business for good." 
But the couple's philosophy isn't the only thing that sets them apart from their Segway-driving, bus-riding competition. Their passion for history and love for their adopted hometown underscores every anecdote they share about this president or that monument. "When I get kids who say 'If my teacher had only told me the story in that way, I would've been more interested in history,' that makes my day," Hammond says. 
One of Tours for Humanity's most popular offerings is Drinking History. Stops include DC's oldest watering hole, Old Ebbitt Grill, where animal heads bagged by President Theodore Roosevelt during his year-long African safari adorn the main bar, and the iconic Willard Hotel, where President Ulysses S. Grant frequently snuck away for whiskey and a cigar. "People are a little shy at first," Hammond says of tourgoers, "but the questions really start flowing after the second drink."