Once one of the largest cities in America, Baltimore has a storied and sometimes painful history. Charm City, as this town of 621,000 is known, is a blue-collar bastion of friendly neighborhoods, with a thriving arts scene, one of baseball's most iconic ballparks, and corporations like Under Armour and T. Rowe Price.
In 1814, Francis Scott Key penned the words to the "Star-Spangled Banner" from a boat anchored off Fort McHenry. Forty-seven years later, the first blood of the Civil War was shed near what's now the Inner Harbor, a tourist magnet that's home to the National Aquarium.
Civil rights pioneer Thurgood Marshall was born in Baltimore, poet Edgar Allan Poe is buried there, and cult filmmaker John Waters still calls it home. Ravaged by riots in the 1960s, the city has since struggled to fight crime and the scourge of drugs, problems documented in the brilliant television shows Homicide and The Wire, created by Baltimore's own Barry Levinson and David Simon, respectively.
An eccentric town where people greet their neighbors with "hey hon" from the front stoops of their rowhouses, Baltimore is home to more than 2,000 AU grads, any of whom would love to have you over for a crab feast, hon.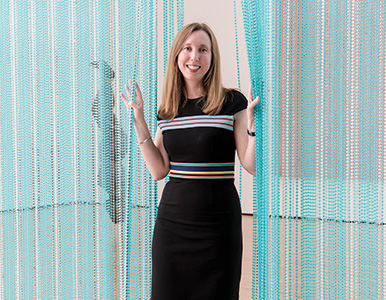 Kristen Hileman, SIS/BA '95, senior curator of contemporary art, Baltimore Museum of Art
Highbrow yet shocking, world-class yet quintessentially American, vintage yet contemporary-such is the range of artistic expression on tap in Baltimore. Kristen Hileman shares her take on Charm City's creative scene from her post at the Baltimore Museum of Art.
The museum is known for having one of the world's largest public holdings of Henri Matisse, the French postimpressionist regarded as that country's answer to Pablo Picasso. It's also the venue, Hileman reveals, for a 2018 show on filmmaker John Waters, a native son whose films have shocked and delighted moviegoers since at least the 1972 cult classic, Pink Flamingos.
Hileman invokes the auteur's subversive oeuvre in conversation about the power of the artistic spirit to revitalize this postindustrial American city-for example, through start-ups involving local cuisine, theater, or artist-run spaces.
"Because Baltimore is an affordable city, with big, old buildings that are conducive to artist studios or artist-run spaces, we see a lot of students stay here, bring their creative energies to the city, and really develop here as artists," she says.
"This is a city looking for positive ways to grow, and that does involve attracting talented people who have a taste for living in kind of a quirky city," Hileman says.
She speaks of a deep sense of pride in the city and its institutions, including schools like the Maryland Institute College of Art, and even the nearby University of Maryland-College Park, where she earned a master's in art history in 2001.
If you want to chase an artsy, entrepreneurial dream in a place that eschews convention, this may be it. Says Hileman, "There's not a lot of judgment here in Baltimore. We love the DIY ethos and edgy experimentation."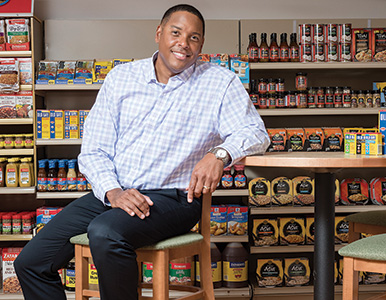 Scott Robinson, Kogod/MBA '01, senior manager, corporate communications, McCormick and Company
It's sprinkled on crabs, of course, but also on french fries, popcorn, baked potatoes, and steamed shrimp.
"Folks in Baltimore are endeared to Old Bay," says Scott Robinson, who should know. He works for McCormick, the international food company that makes the iconic seasoning. "We literally put it on everything."
Headquartered in suburban Sparks, Maryland, McCormick has been in the flavor business since 1889. Today, it is a multinational company, with 11,000 employees and facilities in 27 countries. It sources spices from 80 nations, and last year it generated more than $4.4 billion in sales.
You'll probably find at least one McCormick product in your pantry. In addition to staples like salt, pepper, cinnamon, and vanilla, the company produces hundreds of other spices and owns well-known brands like Zatarain's rice, French's mustard, Frank's Red Hot sauce, and Stubb's barbecue sauce.
If a seasoning, spice, or sauce makes food taste better, there's a good chance McCormick sells it.
As a senior manager of corporate communications, it's Robinson's job to get the company's story out to internal and external audiences. He develops McCormick's corporate social responsibility initiatives, creates content for executives, connects with local media outlets on news stories, and maintains the company's corporate archives.
A suburban Washington native, Robinson has come to love Baltimore for, well, its local flavor.
"You'll often hear people call it 'Smalltimore,'" he says. "That's because it really does have the charm of a smaller town. Talk to someone long enough and you'll probably discover that you have more than one mutual friend. I think it's wonderful the way people interact in the city. People don't put on airs in Baltimore; there are a lot of fun and irreverent folks here."
As for his personal favorite use for Old Bay? Robinson's answer is a little like his adopted hometown: unconventional.
"I love it on eggs!"