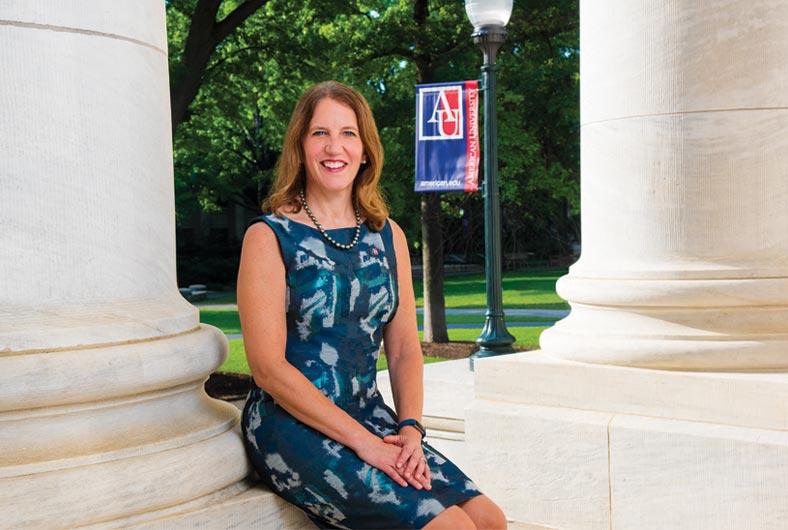 Throngs of people began gathering just before 9 a.m. The woman they were so eager to meet, AU president Sylvia Mathews Burwell, had arrived for her first day on the job—on a bicycle, with a pack strapped to her back—without fanfare an hour earlier. But by 10, the line snaked from the side patio outside her office, past the front door, down a flight of stone stairs, and to the bottom of the asphalt driveway.
Thirty minutes later, the line was so long that it appeared to stretch almost to West Virginia.
Why all the excitement? Granted, it's been more than a decade since a new person occupied the rectangular office in the homey white building atop the hill reserved for AU's head honcho. The fact that the school's 15th president is its first female one contributed to the buzz, certainly, but that doesn't fully explain the phenomenon. Seldom does a university reach outside academia for a new leader, and when it does, it almost never snags one with the resume, charisma, and compelling backstory of Burwell.
"Sylvia is from a small town—Hinton, West Virginia," President Obama said in the Rose Garden on April 11, 2014, the day he nominated her to become secretary of Health and Human Services. "So she brings the common sense that you see in small towns. She brings the values of caring about your neighbor and ordinary folks to some of the biggest and most complex challenges of her time. She's a proven manager who's demonstrated her ability to field great teams, forge strong relationships, and deliver excellent results at the highest levels. And she's done it both in the public and private sectors."
On a beautiful, cloudless early June day, she began doing it at AU.
"Good morning! Sylvia Burwell, nice to meet you," she greeted each person who patiently waited in that reception line. The conversations were brief, but Burwell was engaged, inquiring about jobs and families, hometowns and hobbies. She clasped her left hand to the right arms of some; with all she maintained steady eye contact.
"Sylvia's one of those people who has the friends that she made in fourth grade, as well as the Republican senator from the Deep South," says Patty Stonesifer, president and CEO of the Washington, DC, nonprofit Martha's Table. When Burwell served first as chief operating officer of the Bill and Melinda Gates Foundation, and later as founding president of its global development program, Stonesifer was CEO.
"She has this personal warmth, while still being someone who is so fierce about moving the ball forward that she's going to ask everybody to bring their best game when considering an issue, a policy, a plan. She has that combination of genuine warmth and consideration for the individual with this focus on intentionality and results. You don't get both of those in one package very often."
As the students, faculty, and staff at the event finished their coffee and bite-sized muffins and strolled back to their offices, classrooms, and dorms, many had to be struck by the same thought:
We're lucky she's ours.
If you have met Sylvia Burwell or even just read about her, then you likely already know that she was raised in a tiny town of about 3,000 in southeastern West Virginia. It's about 300 miles from Washington, but feels more like 3 million.
Both sets of her grandparents immigrated to the United States from Greece. When her mother's father came through Ellis Island, his last name, Mathiopoulos, became Mathews. Growing up, her parents emphasized education and public service. Her mother taught in everything from a one-room schoolhouse to college classrooms (and later served as Hinton's mayor), while her father, an optometrist, was on the local board of education.
"Being in a small-town community has always been an important part of my life, because the sense of community is great," Burwell says. "You know everyone, you have a sense of people's lives, both their challenges and their joys. That's been important to me in my career. It helps inform me and keep it real."
Burwell was the valedictorian and president of her high school class of about 165, and she spent summers pursuing opportunities that took her to the statehouse in Charleston, the United Nations in New York, and to Japan for a student exchange program. But it wasn't until her sister Stephanie, a National Merit Scholar semifinalist four years her senior, went off to Harvard that she imagined following suit—which she did.
In Cambridge, she majored in government, and by the time she graduated her resume could hardly fit on a single page. She studied at the Institute of Balkan Studies in Greece, worked in Boston for former Massachusetts governor Michael Dukakis, and interned for Representative Nick Joe Rahall (D-WV) in Washington. She still remembers her office number: Canon 252.
As a Rhodes Scholar in England, she met Susan Rice, future US ambassador to the United Nations (and now a distinguished visiting research fellow at AU's School of International Service), who would play an important role in her life both professionally and personally. After a stint in New York at a consulting firm, she joined Bill Clinton's presidential campaign in 1992. When he won, she was named staff director of the National Economic Council, then former Treasury secretary Robert Rubin's chief of staff. Both positions earned her a seat at—or near—the most powerful tables in Washington.
"With President Clinton, the importance of connecting the work to real people was a consistent theme and something that he did so incredibly well," Burwell says. "When we finished the first budget, there were meetings and meetings around the Roosevelt Room table. I had a chair sitting [against the wall]. Of course, the president sits in the middle of the table with the chair slightly higher. We finally complete the budget, and the president turns to me and says, 'What are the people back in Hinton going to think of what we just did?' It's just so reflective of how he thought about the work we were doing."
Burwell's command of the issues and prowess in meetings caught the eye of Clinton aide Erskine Bowles, who became the president's chief of staff in 1997 and hired her as one of his deputies.
"When she was at Treasury with Rubin, we had a meeting in the Oval Office," Bowles says in his folksy, North Carolina drawl. "We'd had lots of similar meetings like this before. The president would ask Bob Rubin a question, and Sylvia would slip him [a] note. In the meeting, I said, 'Mr. President, I have finally figured something out: If I can get Sylvia Mathews to sit next to me at every meeting we have and slip me notes, everybody in town's gonna think I'm as smart as Bob Rubin.'"
George W. Bush's victory in 2000 spelled the end, at least temporarily, of Burwell's career in DC. Another awaited in a different Washington.
In 2001 the board of the Bill and Melinda Gates Foundation, still in its infancy, recognized that in order to achieve its mission, the organization needed more coherence and cooperation with the government. When it went looking for a chief operating officer, its search honed in on Burwell.
"Her passion for the public good, and her unerring ability to work with a range of leaders, was what drew us to her," Patty Stonesifer says. "It's about the issue with Sylvia; it's not about the politics."
Burwell took the job and settled into life in Seattle, where Susan Rice introduced her to a friend named Victoria. The women became pals, and when she hosted a barbecue in 2005, Burwell went.
"I don't even think I showered that day," says Victoria's cousin Stephen. "I sat at a picnic table with Sylvia and her friend. We didn't really talk one-on-one, but as a table we were talking. The next day I emailed Victoria and said, 'Who is your friend Sylvia, and how do I meet her?'"
One year later, Stephen proposed at Bellepoint Park in Hinton, and in 2007 they were married. Their family has expanded to include daughter Helene, 9, and son Matthew, 7, whom Stephen says has two speeds: full
and asleep.
A few months before Helene was born, the couple began discussing child care options.
"We came to the conclusion that the best thing we could do was for one of us to stay home," says Stephen, a lawyer. "The first question was, can we make that happen? We looked at our finances and figured out that we could. But who would get to quit their job? I like to say that we got in a big argument, and I won. I got to quit my job."
Burwell kept hers at the Gates Foundation until 2011, when she left to become president of the Walmart Foundation.
"Sylvia's done a great job of helping us build a world-class organization, and [she] created a transformative grant making program that is helping millions of poor people around the world," Bill Gates said in a statement. "She put our global development work on a path to success."
After a stint in Arkansas, the nation's capital once again beckoned. Burwell was nominated by Obama in 2013 to be director of the White House Office of Management and Budget—and confirmed by a 96-0 vote in the Senate. The next year, he chose her to run the Department of Health and Human Services (HHS). That time, the bipartisan vote was 78-to-17.
At HHS Burwell headed an organization with 78,000 employees and a budget of more than $1 trillion. Save for undertaking the most comprehensive reform of the nation's health care system in a generation; confronting public health issues, like the opioid crisis; and addressing Zika and Ebola outbreaks, her tenure was rather uneventful.
Running such a monstrous bureaucratic organization is a monumental task—one her mentor, Erskine Bowles, says she is uniquely positioned to do.
"There's some people who I think have vision, and then there are other people who I think can execute," he says. "I'm on the execution side, and I've always said President Clinton's on the vision side, and I thought that's why we made a good team. I'm 71. In my 50 years of working in both the public and private sectors, Sylvia is the only person I've met that has both great vision and the ability to execute. She's organized, she's structured, she's focused, she gets things done—and she can also somehow develop the vision. That's extraordinary."
A week into her tenure at AU, Burwell's office walls were still bare, her bookshelves sparsely populated. The most noticeable addition was the standing desk she had installed next to her traditional one. Throughout the room framed posters, presents from old coworkers, mementos, and keepsakes sat waiting for permanent placement.
One item, a memory quilt of a photograph of a young girl bathing in a bucket, lay draped over the back of the couch.
"You can't know Sylvia and not know about that little child in the bucket," Stonesifer says.
The girl's name is Ndeye, and the image was captured by a Gates grantee in Senegal. Burwell was so taken by the photo that she gave a print to everyone on her team at the foundation.
"We called her 'the Boss,'" Burwell says. "The purpose was to keep people focused on who we are working for. As you're doing your work every day, I hope you look at that picture of the Boss and remember it's not about the form you're filling out, the actual grant application, financial stuff you're working on, the communication stuff: it is about that child."
It's a mentality she's consciously bringing with her to AU. Even at a university with so many disparate missions, the focus must remain on the ultimate goals: educating students and conducting paradigm-changing research.
Scroll through her Twitter account and one begins to understand Burwell's leadership style. In her first few weeks, she met with Professor Caleen Jennings and AU Student Government president Taylor Dumpson to discuss issues surrounding diversity. Photos with deans and staff and selfies with students are sprinkled throughout her feed (along with a cute shot of her kids curled up in armchairs in her office reading books about Clawed the Eagle).
Listening and learning are not only words she frequently uses but concepts to which she doggedly adheres.
"My vision is to build on the great work that Neil Kerwin and the team have done to bring the university to the place it is—and then take us to the next level," she says. "It's very important to have the input of faculty, students, staff, alumni, and our community in DC and beyond, in terms of how we think about defining what we want to focus on most."
Burwell is particularly interested in questions of economics in higher education. How do we, as a society, make college affordable? How do we ensure adequate funding for research? How do we balance the need for technical skills with the tradition—and importance—of a liberal arts education?
In digging for answers, Burwell will tap the brains of a broad coalition of thinkers, both on campus and off. She's already read books on academia recommended to her by her friend and predecessor at HHS, former University of Miami president Donna Shalala, and by Judith Rodin, the first female president of an Ivy League university.
"Sylvia does not need to be the smartest one in the room," Stonesifer says. "She's always seeking to bring the right people to the table so that the room is as smart as it can be."
Among the items scattered throughout her office are a sign for the Sierra Leone Ebola Response Team (Burwell deployed the US Public Health Service to Africa to try to contain the outbreak) and a gift from Chuck Yeager, an autographed picture of the aging but still cool-as-ice pilot in his flight suit. He never graduated from college but established a scholarship program at Marshall University in Huntington, West Virginia.
Resting in a corner on the hardwood floor, leaning against a bookcase, is a simple framed topographical map of the nation's 35th state, a mosaic of colors flowing inside its jagged and quirky borders.
Soon, it will hang proudly on a wall in her new professional home.