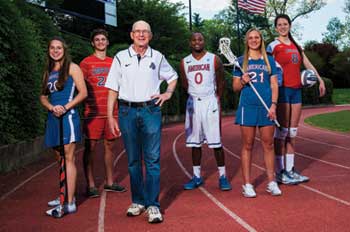 Ted Ringelheim, CAS/BA '68, is perhaps busier in retirement than he was during his working days, and the former Alexandria Public Schools employee's own alma mater remains an important part of his social calendar.
After attending an AU men's basketball game in 2001 at the invitation of the alumni association, Ringelheim, a sports nut and a history buff, has become one of the Athletics Department's biggest cheerleaders. He's a regular in the stands at basketball games and volleyball matches, and hits the field himself as a second baseman with the Northern Virginia Senior Softball league. An avid bowler and Washington Nationals' season ticket holder, Ringelheim—a former social studies teacher and guidance counselor—also exercises his mind, auditing AU history courses with Professor Peter Kuznick.

In appreciation of those who shaped his AU experience, as both a student and an alumnus, Ringelheim established the Ted Ringelheim Life Skills Fund to give student-athletes training in financial literacy and social etiquette. "I wanted to extend a big thank you to AU during my lifetime and now have the pleasure of seeing AU student-athletes mature through the life skills program," Ringelheim says. He also made provisions in his estate plans to enhance the Life Skills Fund and to create an endowed scholarship for AU students pursuing a degree in history.

American University is grateful for Ringelheim's foresight, enthusiasm, and lifelong commitment to students. Scores of AU Eagles will benefit from his generosity—on the field, in the classroom, and beyond.
For information on how your vision can create a legacy at American University through a sound charitable estate plan, contact Kara Barnes, director of planned giving, at (202) 885-5914 or kbarnes@american.edu, or visit american.edu/plannedgiving.