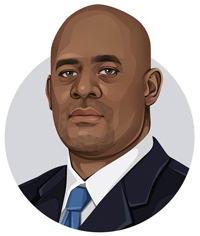 A six-foot-three, 240-pound frame, lightning-quick feet, and a talent for dragging tailbacks to the AstroTurf made Keith Goganious, OPS/MS '22, a feared linebacker—and an anomalistic athlete.
The Virginia Beach native was among the 2 percent of high school athletes to reach Division I, accepting a scholarship from Penn State in 1987. He joined an even more elite team—the 1.6 percent of college football players who are drafted—when the Buffalo Bills picked him in the third round in 1992. And his first two pro seasons brought two Super Bowl appearances.
"I couldn't believe it was happening my rookie year," Goganious says of Super Bowl XXVII, his first. "That was just freakish."
His rise to the National Football League's biggest stage coincided with freakishly bad luck for the Bills. They won four consecutive American Football Conference titles from 1991 to 1994 but lost four straight Super Bowls. (No other team has suffered more than back-to-back defeats.) Goganious played in Buffalo's latter two: 52–17 and 30–13 losses to the Dallas Cowboys.
After oh-so-close title runs, "you're still pissed that you lost," says Goganious, whose five-year career also included stints with the Jaguars and Ravens. "Then you reflect: 'I got drafted. My parents watched me play on TV. I had a childhood dream [come true].'"
As linebackers coach at North Point High School in Charles County, Maryland, Goganious draws on his NFL experience to motivate young athletes to "outwork yesterday." He's taking a page from his own playbook to do just that, pursuing a master's in sports analytics and management from AU to open more doors in the football arena.
Goganious never hoisted the Lombardi Trophy. Like nearly all NFL players, his pro career ended sooner than he would have hoped, and the pandemic has cranked up the competition for top-tier college coaching opportunities. But he knows firsthand that yesterday's frustrating outcome can become today's fond memory.
"I can still say I busted my butt and got to the highest game of the highest level in my sport."