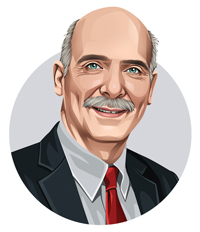 Advisory neighborhood commissioner and Northwest DC activist Phil Mendelson, SPA/BA '81, had 20 years of experience fighting for reforms. He had a strong working knowledge of the DC Council, having served as an aide to former Ward 3 council member Jim Nathanson and chair David Clarke. And in a September 1996 Democratic primary for a vacant at-large council seat—his first citywide race—Mendelson felt he had a shot.
"As it was, I came in fourth." Mendelson received 7 percent of the vote and a few important takeaways for a follow-up run.
"The first thing I learned was don't run a campaign without a campaign manager," he says. Mendelson hired one in 1998, improving his ability to reach out to different wards and neighborhoods. He also became a more diligent fundraiser and relationship builder. Entering the 1998 primary, he carried labor union endorsements; a sturdier base; a vote of confidence from the Washington Post, which noted his ability to "[get] things done"; and, critically, no hard feelings from his defeat two years earlier. "It seems like most people who hold [elected] office run once and lose, then win the second time," he says.
That arc held true for Mendelson. Enough ballots broke in his favor in 1998, allowing him to emerge from a crowded field by 2,557 votes. General or primary, at-large seat or DC Council chair, he hasn't lost an election since. Mendelson again cruised to reelection this fall and next year—his 11th leading the council—he'll become the longest-tenured chair in DC history.  
From that seat, he's shepherded the passage of bills such as tax code revisions, marriage equality, and universal paid leave while maintaining a full legislative plate that includes enhancements to public education and the new Department of Buildings, which aims to improve code enforcement and housing conditions.
Twenty-six years' worth of earning votes—only once too few—has been worth it for the simple opportunity it affords: "Making a difference." Times and titles have changed, yet Mendelson feels the same drive to get things done.