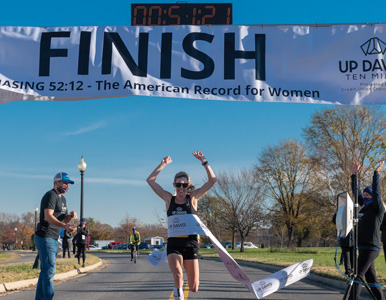 The Up Dawg Ten Miler was named for a corny joke, but its result was anything but. Keira D'Amato's legs delivered the punchline on a cloudless morning in late November, carrying her across the finish line in Anacostia Park in 51:23 to shatter the six-year-old record for the American women's 10-mile race by a laughable 49 seconds.
COVID-19 stripped Up Dawg of a typical race day buzz, with just five elite runners lacing up their sneakers. But D'Amato was determined to deliver for her supporters: the Cherry Blossom Ten Mile Run committee, of which she's a member, and which organized the race; Potomac River Running, a former employer, which timed it; friends who lined the course; and her mother and husband, who held the tape at a finish line that arrived mercifully.
"I started getting a little dizzy, but I've done enough races to know that if that happens, you don't freak out," she says.
The race was the exclamation point on a fast 2020. In January, D'Amato qualified for the World Athletics Half Marathon Championships—to which the US did not send a team. In February, she finished 15th at the US Olympic marathon trials. And in June, the former NCAA All-American in track and cross country clocked 15:04 in a 5,000-meter time trial at a high school track in Richmond, shaving a minute off her AU best.
The 36-year-old realtor and mother of two—who has been logging 80 to 100 miles a week in hopes of running the 5K and 10K at the US Olympic Trials in June—never expected to return to this level of competition. Soon after college, she suffered repeated stress fractures in her foot and pressed pause. But there was "unfinished business," and in 2017, a 2:47:00 Richmond Marathon signaled she was back.
"It's magical that all of those running aspirations and dreams suddenly became possible again." A running career that appeared lost was dusted off a decade later, and D'Amato's only direction has been up. Dawg.