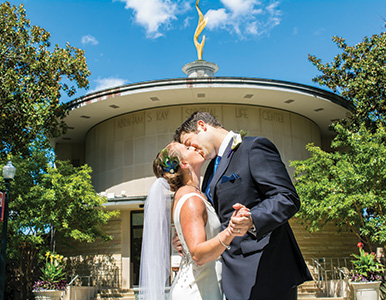 They met in the Tavern on August 18, 2009. She was recruiting cheerleaders for the AU spirit squad, which had just gone coed. "I thought he was attractive; he had the most beautiful blue eyes," recalls Lisa Suda, a longtime cheerleader who shook the pom-poms for AU for four years. "I sent one of the other girls to bring him over."
You might think the rest is history—but Justin Berger needed some convincing. "I had never considered cheerleading," he says. "I didn't think I'd do it." 
After a serendipitous meeting at a Welcome Week party, however, they friended each other on Facebook and started texting. One night she showed him cheerleading videos on her laptop, and he finally gave in—first to cheer, then to Suda. They started dating and moved in together immediately after collecting their diplomas in 2011. Five years later, Berger, an attorney, popped the question on the balcony of their Arlington apartment. 
On August 5, 2017—nearly eight years to the day after they first met—the couple married at the new labyrinth in front of AU's Kay Spiritual Life Center. The wedding was truly an alumni affair. Clay Peneck, SIS/BA '11, SPA/MPA '18, and Connor Jackson, CAS/BA '13, served as groomsmen, while Rebecca Ernest, SOC/MA '10, officiated the ceremony before 20 guests.
Photographer Ben Zenker, SOC/BA '16, had an especially important job: recreating a 2011 photo of the couple on the hardwood in Bender Arena. In the original, Berger holds Suda, sporting an oversized blue bow in her hair and her arms draped around his neck. They wear their red cheerleader uniforms—and huge grins. Suda, a public policy specialist, always knew that she wanted to take the same picture as husband and wife. In Zenker's photo, Berger, wearing an AU blue tie and pocket square, holds his beautiful bride, her muscular legs outstretched, just as they were six years ago. And those smiles? Even bigger.