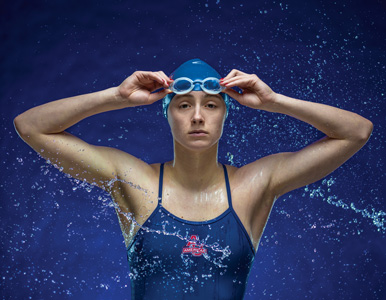 Mimi Watts competes in a sport measured in minutes and seconds. But even as the sophomore AU swimmer's race results quicken by tenths and hundredths, the only pressure she applies is while adjusting the clear Speedo Vanquishers that teammates joke make her look bug-eyed.
"I've always had a 'Let's go with the flow' mindset for swimming. If it's going to happen, it's going to happen," Watts, CAS/BA '24, says of setting personal bests. "But either way I am just going to have to trust my training behind it."
Twenty hours a week spent in the pool and weight room have built confidence, strength, speed, and potential, while Coach Garland Bartlett's philosophy—"I recruit people, not times"—alleviates the stress of trying to reach it. Lately, there is a lot to celebrate about Watts the person and her ever-decreasing times—even if she's not fixated on them.  
In July 2021, the Raleigh, North Carolina, native was named to the College Swimming and Diving Coaches Association of America's scholar all-American team—an honor requiring both a GPA of 3.5 or higher and an NCAA "B" qualifying time—making her the first Eagle to earn the accolade since 2010.
The firsts have continued to flow like chlorinated water. At the Patriot League Championships in February, she became AU's first medalist since 2013, earning silver and an NCAA "B" cut in the 50-yard freestyle, followed by silver and "B" standard in the 100-yard butterfly and bronze in the 200 fly. She broke her own school record in each—and contributed that same weekend to school bests in the 200 freestyle, 200 medley, 400 freestyle, and 400 medley relays. The only place the all-Patriot League first-team swimmer—also AU's first since 2013—isn't cutting time is the classroom, where she added mathematics to her economics coursework because "I realized I didn't have any calculus in my schedule and I missed it."
"Swimming is important to her and a big part of her personality, but I'm happy for her that it hasn't defined her," says her father, Bubba, a former butterflier and a collegiate champion cheerleader at NC State. His daughter is excelling as a Division I swimmer, "but also as many other things: a good sister, a good kid, and a good student."
Bartlett admires Watts's humility, coachability, and willingness to work on the minute details, from race strategy and starts to the catch of her butterfly stroke. Those finer points could make the difference in meeting the goals they've set for the next two and a half years, from the NCAA Championships to the 2024 US Olympic Trials.
"It hasn't happened yet, but I know that it is 100 percent within reach," Watts says of an Olympic Trials cut. "It's going to be hard work, hard training to get there, but it could happen."
True to form, she's focused not on the times themselves, but time she'll need to invest to reach them. Time to get to work.