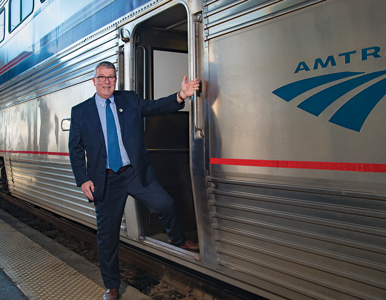 Joe McHugh realized a few years ago that he was within striking distance of a remarkable achievement: riding every mile of track and every train in the Amtrak system. "It wasn't a bucket list thing," McHugh says, but once he realized how close he was, it was full steam ahead.
As an Amtrak VP based near Washington's Union Station, it's his job to manage state contracts, so he already had traversed about 90 percent of the 22,101-mile system just by attending meetings.
After poring over the official inventory of rail segments, he discovered he had a challenge ahead. "I was down to my last three miles here, four miles there," says McHugh, who's worked for Amtrak since 1994. The 318 trains in the system cross 46 states on popular routes like the Empire Builder and the Sunset Limited. But now he had to pick up odd bits of rarely traveled track, like a new 1.4-mile Detroit switch that loops around an old rail yard, and a stretch just beyond Portland, Maine that's just two city blocks long.
With an early morning trip from Stockton to Sacramento, California, in July 2017 he completed the feat, which he believes has been done by only one other active employee. There was no ribbon across the track, no brass band on the platform, no golden railroad spike presented to him from higher-ups. McHugh just walked out of Sacramento Valley Station, sent a few emails to some friends and coworkers who were rooting for him, and enjoyed a breakfast of huevos rancheros.
The one recognition he can claim is his new office nickname: Everywhere Man. McHugh, a former AU swimmer and an avid supporter of the university's basketball program, prefers to travel by train. "It's one of the last refuges of relaxation," he says. "There's a different feel—not as frantic, not as stressed out."