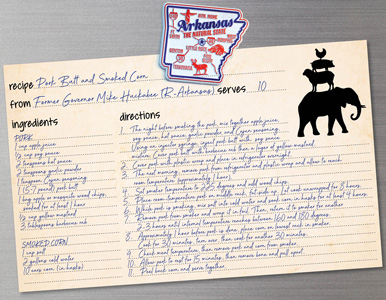 Capri Cafaro got a taste of the unifying power of food when she served as minority leader in the Ohio Senate. The Democrat, who represented the Buckeye State's 32nd district, baked pies—cream-flavored, with a cookie crust—for her colleagues across the aisle whenever they worked together on important legislation like Ohio's Medicaid reform law. 
The simple act of breaking bread—or sharing a slice— "would set the table for compromise, regardless of political ideology," says Cafaro, now an executive in residence at the School of Public Affairs and host of Eat Your Heartland Out on the Heritage Radio Network. 
That recipe for bipartisanship was the impetus for Cafaro's new cookbook, United We Eat. Released on July 4, it features dishes representing all 50 states and the District, with submissions from Democratic and Republican leaders and even an Independent: former congressman Larry Pressler of South Dakota, who shares a recipe for wife Harriet's glazed buffalo medallions. 
"Cooking is part of my DNA," says Cafaro, an Italian American who marks every Christmas with homemade pizzelles and her grandmother's signature tomato sauce. "We can all relate to having heirloom recipes passed down from one generation to the next. It's humanizing for people to talk about their mother's recipes—and a way to start a civil conversation." 
The book is a palate-pleasing stew of family favorites (former Democratic National Committee chair Donna Brazile calls her mother Jean's seafood gumbo "a labor of love"), local flavors (Democratic representative Debbie Dingell's fried goat cheese cherry balls are a nod to her Michigan roots), and sweet treats (former Republican National Committee chair Michael Steele serves up a Maryland favorite, Smith Island cake). There are also award-winning dishes, like Democratic senator Amy Klobuchar's taconite tater tot offering, which took home top honors at the inaugural Minnesota Congressional Delegation Hotdish Competition in 2011—no small potatoes. 
"We all like to eat; we all need to eat. Sharing a meal holds our communities together while allowing us to build bridges across the aisle," Cafaro says.  
After a particularly contentious election season, we're all hankering for a peace of pie. 
Former Arkansas governor Mike Huckabee's pork butt and smoked corn
Serves: 10
PORK
1 cup apple juice
1/2 cup soy sauce
2 teaspoons hot sauce
2 teaspoons garlic powder
1 teaspoon Cajun seasoning
1 (5 to 7-pound) pork butt
1 bag apple or mesquite wood chips, soaked for at least 1 hour
1/2 cup yellow mustard
3 tablespoons barbecue rub
SMOKED CORN
1 cup salt
2 gallons cold water
10 ears corn (in husks)
1. The night before smoking the pork, mix together apple juice, soy sauce, hot sauce, garlic powder, and Cajun seasoning. Using an injector syringe, inject pork butt with soy sauce mixture. Cover pork butt with barbecue rub then a layer of yellow mustard.
2. Cover pork with plastic wrap and place in refrigerator overnight.
3. The next morning, remove pork from refrigerator and plastic wrap and allow to reach room temperature (approximately 1 hour).
4. Set smoker temperature to 225 degrees and add wood chips.
5. Place room-temperature pork on middle rack, fat-side up. Let cook unwrapped for 8 hours.
6. While pork is smoking, mix salt into cold water and soak corn in husks for at least 4 hours.
7. Remove pork from smoker and wrap it in foil. Then, return it to smoker for another 2-3 hours until internal temperature reaches 160 to 180 degrees.
8. Approximately 1 hour before pork is done, place corn on lowest rack in smoker. Cook for 30 minutes, turn over, then cook for another 30 minutes.
9. Check meat temperature, then remove pork and corn from smoker.
10. Allow pork to rest for 15 minutes, then remove bone and pull apart.
11. Peel back corn and serve together.
Former South Bend, Indiana, mayor Pete Buttigieg's Hoosier Pie
Serves: 8
1 pie crust (homemade or store-bought) 
1 cup plus 2 tablespoons sugar
1/2 cup all-purpose flour
1 cup half-and-half
1 cup heavy cream
1-1/2 teaspoons vanilla extract
fresh nutmeg, to garnish 
1. Preheat oven to 375 degrees.
2. On a lightly floured work surface, spread out pie crust. (For homemade crusts, roll the dough into a 12-inch circle.) Fit the dough circle into a 9-inch pie plate, trim the edges, and crimp as desired. Using a fork, prick crust all over, then chill for 30 minutes.   
3. Line crust with a sheet of parchment paper and fill the pie dish with pie weights or dried beans. Bake until crust begins to turn brown at the edge, about 15 minutes.   
4. While crust is in the oven, in a medium bowl, whisk sugar and flour together, then stir in the half-and-half, cream, and vanilla.
5. Remove crust from oven, transfer the pie dish to a rack, and remove the paper and weights. Pour the filling into the pie crust, and bake until the filling is lightly set but jiggles when tapped on the side, about 1 hour and 30 minutes.
6. Transfer the pie to a rack and let cool completely.
7. Grate nutmeg over the top just before serving.