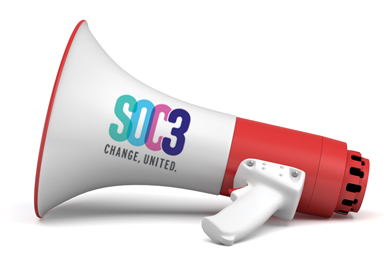 Trustee and public relations CEO Michael Kempner learned his craft by doing: campaigning for Jimmy Carter, running and advocating for a chocolate company, and working in local and state politics before building his own global PR firm, MikeWorldWide (MWW), in 1986. 
 
Now, with a $500,000 gift to launch SOC3—American University's first-of-its-kind, in-house communications agency—Kempner, SPA/BS '81, is giving Eagles the same formative, hands-on opportunities that helped shape his career. "It was time to roll up my sleeves and help be part of tangible change at AU," he says of his gift to the Change Can't Wait campaign.
 
Kempner, who's served on the Board of Trustees since 2019, doesn't describe SOC3 as a class—it's a real agency where participants earn credit and a $1,000 stipend working for a real client, DC Central Kitchen's Healthy Corners. Nor does he refer to the 18 "highly talented, highly motivated Gen Z employees" as students. 
 
Even so, budding communications professionals like Philadelphian Cady Tran, SOC/BA '24, who calls SOC3 one of the most meaningful experiences of her college career, are AU changemakers, through and through. 
 
"It's a privilege to be in the first cohort working with such an important community-based organization," says the public relations major and first-generation Vietnamese American student.
 
Healthy Corners supplies neighborhood stores in low-income communities with fresh and frozen produce and healthy snacks at wholesale prices. Last year, 54 corner stores in food deserts across the District partnered with the program, selling more than 350,000 nutritious snacks, including fresh-cut produce and ready-to-eat meals.
 
This semester, agency members—who conducted field research at grocery stores, interviewing customers and store managers about their knowledge of the program, their food preferences, and the frequency of their shopping trips—are creating dynamic content like videos, infographics, and social media posts to increase awareness of and participation in Healthy Corners. MWW is assisting SOC3 with creative design and media relations.
 
In addition to serving as a model for experiential learning at AU, the groundbreaking initiative—open to juniors and seniors in the School of Communication, with plans to expand to graduate students in spring 2024—also strives to make the field of communications more inclusive. The inaugural SOC3 cohort is 61 percent diverse.
 
SOC professor and faculty advisor Pallavi Damani Kumar, SPA-SOC/BA '94, says students' diversity and youth will spark innovative ideas and help them affect meaningful change.
 
"We believe that Gen Z is well suited to make a difference on the issues that matter most today, from food insecurity to climate change to racial inequities," she says. "SOC3 aims to amplify messages that change minds and mindsets using empathy, knowledge, humor, and goodwill."
American chatted with Kempner about why he believes so strongly in experiential learning and how SOC3 is giving AU students bound for careers in communications a leg up on the competition. 
Q. What drew you to the field of communications? 
 
A. As a young man and even as a child, I had this vision that I wanted to be in politics, but not as the candidate. I was always interested in what motivated people to vote. How do you get people to support a cause, vote for a candidate, take action? I grew up wanting to be part of positive change in the world. And that's the reason, frankly, I chose to go to American. It was both at the center of the universe—Washington, DC—and a place that believed very much in experiential learning.
Q. What advice do you have for students who want to do communications work? 
A. Get a good internship. It will not only teach you a skill set, but it will help you understand what the type of organization—the size, the personality—you want to work for. At the same time, not every student can afford to get an internship.
Q. That's one of the reasons why you wanted to support SOC3. What makes the initiative so unusual in higher education? 
A. It gives students the experience of working at a real firm while they're at school and they can get paid and earn credit. It gives them a significant leg up in understanding both what they want to do and what they don't want to do, also will also help them get hired once they graduate. The projects they're working on and the clients they're working with are all focused on creating and inspiring change. 
 
SOC3 has two unique objectives: to get more a more diverse population interested in communications and two, to give us a Gen Z focus group. Ethnic, religious, and geographic diversity are critically important, but we also need diversity of thought. SOC3 participants bring a diverse Gen Z viewpoint to every program they work on.
When I look at the needs of my company and our industry, why wouldn't we use AU as a place to grow, educate, and motivate a diverse student base to participate in the communications industry? AU is the perfect laboratory to accomplish so much of what is missing in my field today. Professor Kumar gets all the credit, as SOC3 is her dream, her idea. 
Q. Why is AU a home for your philanthropy? 
 
A. I went to an interesting alumni event in NYC where I heard about what was happening at the school. Between the quality of the school and the alumni and the caliber of the research, I thought to myself that this is truly a place that I can and should be proud of.