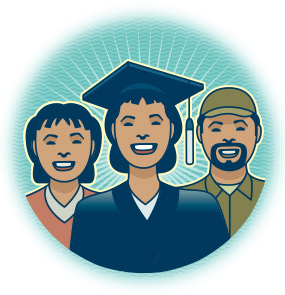 Central to American University's mission is its enduring commitment to provide an exceptional experience for every student. No two circumstances are the same—each student arrives at AU with his or her individual interests, aspirations, and needs. AU strives to make available the resources and support each scholar requires to fully realize their ambitions. To sustain and strengthen this commitment, the university is gearing up to launch an ambitious $100 million philanthropic initiative to provide unparalleled access to an AU education and everything it offers.
An Excellent Education Within Reach

With eyes on a legal career, Shirley Truy, SPA/BA '17, works on issues in international trade as an intern at a DC law firm and was tapped to use her fluency in Spanish in a major pro bono law case. A remarkable experience for any college student, it's especially meaningful for Truy—the first in her family to attend college.
Truy came to AU from her native Miami, where she earned an associate's degree at Miami-Dade Community College. "Before moving to DC, I had never lived outside of Miami. From the very start, I was struck by the way the AU faculty spoke about how students here can succeed at anything they want to do," she says. Truy credits AU for providing the opportunities, skills, support, and scholarship funding to pursue paths she had never dreamed of before.
Nati Bulcho's path at AU has taken him to four continents. Bulcho, Kogod/BS '17, a Frederick Douglass Distinguished Scholar, AU's most prestigious merit-based scholarship, has represented the Department of Commerce in White House briefings, worked in the KPMG London office with Lord Michael Hastings, learned from luminaries like Kofi Annan and Sir Bob Geldof at the One Young World Summit in Bangkok, and studied in Kenya and South Africa. "AU has encouraged me to turn ordinary interactions into extraordinary opportunities," Bulcho says. In November, he secured a job with Deloitte.
American University's students accomplish remarkable things, and the university is committed to providing a wide network of support that ensures students will thrive and achieve their full potential, regardless of background. Beginning with a commitment to meet 100 percent of student need that continues throughout a student's time at AU, and bolstered by programs and teaching that equip students with the knowledge and support to succeed, the AU experience is launching the individuals who will shape
our future.
From the beginning of her AU experience Truy, recipient of a Barbara Bohn Wright Memorial Scholarship, was struck by the confidence faculty and staff instilled in her—the view that a student who has gained access to an AU education can succeed at anything. "The university offers many opportunities to prepare you for the real world. AU has generously invested in my education and has given me the tools to succeed. I am the first person in my family to attend college and scholarship support has made this possible."
"The program has developed my introspection and sense of self that I hadn't had," Bulcho says. "It has been beyond what I expected with the level of mentorship, guidance, and help to build networks. I believe it's important that I pay that forward and help others."
The philanthropic support of generous donors is necessary to ensure that an American University education is accessible, attainable, and affordable to the engaged, talented, high-performing students eager for all that an AU experience offers.
For information on how you can support big idea in creating opportunity for future students at AU, contact Courtney Surls, vice president of development and alumni relations, at 202-885-3405 or vpdar@american.edu.

Responding to the Unexpected
For many American University students, their studies are the fulfillment of dreams and aspirations—their own and their families'.
However, there are times when life takes unexpected and devastating turns, presenting students with significant obstacles to completing their degrees. A death in the family or a job loss can erase years of careful saving and planning, putting at risk a student's educational ambitions. "We have a commitment to support our students so they can thrive. We hope we don't see students only when they are in crisis," says Shirleyne McDonald, associate director of financial aid. Yet it is in these difficult moments that students are most in need of creative solutions and guidance from financial aid experts. Since most financial aid funds are committed from the time a freshman is admitted to AU, options are limited.
So where does that leave dedicated AU students who face an unexpected financial crisis? President Neil Kerwin, his wife, Ann, and their family are leading the way by supporting a financial aid emergency fund specifically designed to provide assistance to students whose unmet financial need poses a significant barrier to graduation. The emergency fund assists students in unexpected circumstances, allowing them to complete their studies while giving the university the agility to respond to changing student need. Ensuring that an excellent AU education is within reach of students of all circumstances has been an unwavering commitment of Kerwin throughout his tenure.
"By the grace of having emergency funding, we can fill in the gap, allowing students to finish on time and finish strong," McDonald says.
To honor the Kerwin family's commitment and Kerwin's legacy as president while he prepares to step down, generous donors are joining together to endow the fund that will bear their name: the Kerwin Family Emergency Financial Aid Fund. University supporters are invited to designate a gift to ensure AU's ability to help students facing unanticipated hardship finish their AU studies. 
For information about how to contribute to the fund, contact giving@american.edu or 202-885-5900.