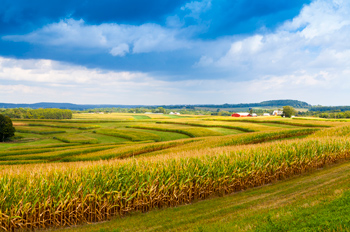 Iowa's population—the 14th smallest in the country—swells by a couple of thousand every fourth February, when reporters flood the state for the first major contest of the US presidential primary season. Since 1972, the Iowa caucuses have predicted the Democratic nominee 43 percent of the time, and the Republican candidate 50 percent of the time.
But Iowa plants more than political seeds.
Nestled in the heart of the Corn Belt, 85 percent of Iowa's 35.7 million acres are farmed. Boasting more than 88,637 farms—about one for every 35 Iowans—the state is the top producer of corn, soybeans, pork, and eggs in the US.
The birthplace of John Wayne, Red Delicious apples, and Blue Bunny ice cream, Iowa is also home to the Field of Dreams baseball diamond; the American Gothic house; more than 4,200 wind turbines; and the world's largest truck stop, with parking for 900 tractor-trailers.
Settle in with a famous Maid-Rite sandwich and a Boone Valley IPA and get to know a few of the 200 Eagles who call the Hawkeye State home.
Mark Baechtel, SOC/BA '84
Editor, Rootstalk: A Prairie Journal of Culture, Science and the Arts; lecturer and director of forensic activities, Grinnell College
Mark Baechtel has always treasured the written word. Growing up in tiny New Carlisle, Ohio, he was introduced to poetry by teachers who took interest in his writing.
"One of the very important poets to me early on was Dylan Thomas," Baechtel says. "He wrote a poem called 'Fern Hill,' which showed me that he'd had an experience in rural Wales that was in some ways comparable to the experience I had in rural Ohio. What he did, to me, seemed magical, and I came away from my reading of his work wanting to know how he did what he did, so that I could do it too."
Baechtel has been doing it ever since. While his job titles are editor and lecturer, at his core he is what he's always been: a writer. A graduate of the prestigious University of Iowa's Writers' Workshop, he's published poems and short stories, and for the last 15 years has been working on a novel called Renovation. The 850-page book is about a surgeon from San Francisco who moves to a small desert town in Nevada following a romantic disappointment, hoping to put his life back together again. 
Much of Baechtel's work is informed by his small-town experiences. He was part of a group that founded the Center for Prairie Studies at Grinnell College (where he teaches and is the staff sponsor of the Debate Union) in 1999, and six years ago he helped start the center's journal, which he edits. 
"The Midwest, especially the rural Midwest, is not an area that's well understood by the rest of the country," he says. "Because of that, it's kind of denigrated. We at Grinnell felt like we needed to get over that, so we founded the center as a way of studying and celebrating and coming to a deeper understanding of this place in which we find ourselves. Writing to me is a path to understanding; it's a path to knowledge, and it's a path to participation in and creation of beauty."
Meg Courter, SIS/MA '87
Sponsorship Director, Iowa State Fair Blue Ribbon Foundation
At this point, you'd think Meg Courter would have explored every corner of the Iowa State Fair. After all, she's attended the state's largest tourist attraction for 26 straight years. 
"There are foods I haven't had, because you can't ever have them all," says Courter, who nonetheless keeps trying. "When my kids were little we had things we'd do, but now I'm finding places I've never been."
Notice the "we"? In April 2017 Courter turned her passion into her profession when she became sponsorship director of the fair's Blue Ribbon Foundation. The organization raises money for capital improvements to the fairgrounds in Des Moines, the event's home each August. 
Buildings, attractions, barns, stages—it can all be sponsored. The fair has a little something for everyone, Courter says, including political junkies. Each year before the famed Iowa caucuses, candidates are given 20 minutes to speak on the Des Moines Register's political soapbox. Many draw huge crowds, but what brings Iowans back year after year are the animals, rides, concerts, 
and food.
A record 1.17 million people attended the 11-day event this year. They gazed at attractions like a sculpture of Sesame Street's Big Bird—made from butter. They crammed into barns to marvel at the state's largest boar, steer, and swine. They filed through the animal learning center to swoon over newborn ducks, piglets, goats, and cows. They hopped on rides at Thrill Ville and rocked out at a concert by local-boys-turned-stars Slipknot. 
But most of all they ate. Corndogs. Pork chops on a stick. Hot beef sundaes—a sinful combination of pulled beef, mashed potatoes, and gravy topped with a cherry tomato. Ribs, macaroni and cheese, turkey tenderloin, edible cookie dough. As Courter puts it, "you don't come to the fair to eat fruit."
In its 26 years, the Blue Ribbon Foundation has raised more than $160 million for the fairgrounds, which hosts 200 non-fair events each year. An Iowa native, Courter can hardly believe it's now her job to help continue the success of one of her state's most beloved institutions. 
"The most depressing day of the year for me is the Monday the fair is over," she says.