Nestled in a basin on the eastern edge of the Mojave Desert, Las Vegas is an oasis from which hospitality springs. 
Founded in 1905, after the completion of a railroad connecting Southern California and Salt Lake City, and incorporated six years later, Las Vegas's population first spiked in 1931, during the construction of the Hoover Dam. The Nevada state legislature legalized gambling the same year, setting the (blackjack) table for the city's future as a casino and resort stronghold.
Forty-one million people visit Sin City every year and stay in 150,000 hotel rooms spanning New York, New York, to Paris—they're only separated by a mile—and stretching all the way to the Stratosphere. Tourists eat, gamble, and spend enough to generate $2 billion in annual tax revenue. 
The Vegas Strip, the brightest spot on Earth according to NASA, witnessed its darkest day in October 2017, when a mass shooter targeted the Route 91 Harvest music festival, killing 58 people. But the city of 640,000 remains #VegasStrong as it continues to heal from tragedy. 
The home of Nellis Air Force Base and the birthplace of Bryce Harper and Andre Agassi, Vegas is also the landing spot for 236 Eagles. Go all in and get to know a few of them here.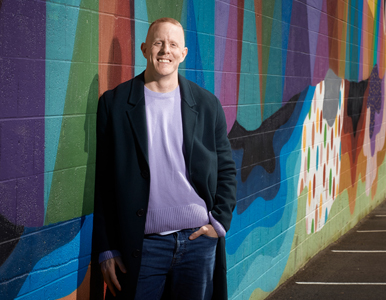 Stephen Carnes, CAS/BA '99, Buying manager, Zappos Luxury
Christian Louboutin, the French footwear designer known for his red-lacquered soles, once said of stilettos: "They lift you physically and emotionally." 
AU alum Stephen Carnes is in the business of elevating people's confidence, style, and attitude with a beautiful pair of shoes. 
As a buying manager for Zappos Luxury—the online retailer's stable of 200 high-end brands like Gucci, Prada, and Jimmy Choo, a perennial favorite of fictional footwear fiend Carrie Bradshaw—Carnes oversees a team of eight buyers. Together, they scour showrooms around the globe, from New York City to Paris to Milan, for the hottest trends in shoes, clothing, and accessories. 
"Right now, we're buying for fall 2019," says Carnes, who joined the Vegas-based Zappos in 2011. "We're seeing lots of rich greens, burgundy, and muted jewel tones. Also, a lot of brands are referencing the '90s—so lots of fluorescent colors and shapes reminiscent of rave culture."
An art history major, Carnes says his work with wearable art is a perfect fit.
"My training at AU taught me to think critically about technique and historical context," he says. "With the products we're buying, there needs to be a justification for why the shoe is priced the way it is, so I'm looking at things like technique, artistry, and craft." 
Zappos, which celebrates its 20th anniversary this summer, is headquartered in the former city hall building, just north of the Strip. The company, which was acquired by Amazon in 2009, offers more than 1,000 brands with price points for every budget—from a killer, 4.5-inch Alexander McQueen stiletto with black leather fringe for $950, to a flirty yellow wedge with silver buckles from Franco Sarto for $90.
"When I buy a really cool pair of sneakers, it makes me walk with my head a little bit higher," says the Houston-born Carnes, a self-professed shopaholic. "I feel confident—and that's what we try and deliver to our customers, no matter their budget."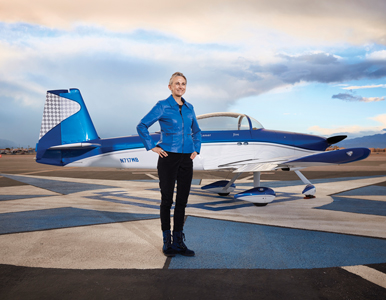 L. M. "Lunar" Sawyer, SOC/MA '00, Team announcer and marketing manager, Wild Blue Rodeo and Trojan Thunder; reporter and host, Airshow360
Lunar Sawyer's face probably doesn't look familiar. But for the 12 million North Americans who attend an air show each year, her voice just might ring a bell.
The North Carolina native is among a group even more elite than air show pilots (of which there are only about 320 in the United States and Canada). She's a female announcer.
"Pilots are used to being asked for their autographs, but when a little girl comes up and asks for mine—well, that's pretty cool," says Sawyer, who's called Vegas home for two years.
She serves as announcer and marketing manager for Wild Blue, a stunt plane manned by her husband, Jerry "Jive" Kerby and Josh "Tater" Boudreaux, both US Air Force fighter pilots. "Wild Blue is the RV-8A that wants to be a fighter jet," Sawyer says of the two-seat, single-engine plane that's been looping and swooping through the sky since 2013. 
Sawyer was introduced to the world of aviation in 1997, when she took a job doing public relations for Col. Robert Morgan, commander of the B-17 bomber Memphis Belle, which soared into the history books after completing 25 missions during World War II without losing a single crew member. 
After Morgan died in 2004, Sawyer began working with an air show performer and took the mic for the first time at a Fourth of July event in Kansas City, narrating eight minutes of death-defying stunts and awe-inspiring aerobatics. It's been nothing but blue skies ever since.
"I just love it. When I hear the [USAF] Thunderbirds roar by during the first air show of the year, I still get emotional," says Sawyer, who also announces for Trojan Thunder, a T-28 demonstration team. "It's exciting to work in an industry that allows you to experiment and grow." 
Sawyer's next challenge: earning her private pilot's license, so she can take Wild Blue out for a spin—and maybe even a barrel roll—all by herself.