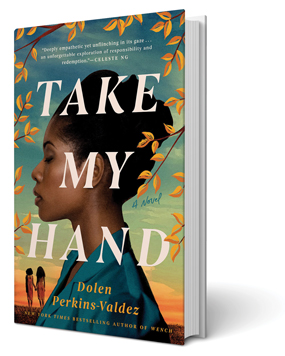 In 1973, two Black girls in Montgomery, Alabama—12- and 14-year-old sisters—were surgically sterilized at a federally funded family planning clinic without their parents' informed consent. When the Southern Poverty Law Center filed a class-action lawsuit on their behalf, they also exposed the widespread practice of robbing poor and disabled people—especially Black people—of their constitutionally protected right to bear children. In Take My Hand, the latest historical novel by CAS professor Dolen Perkins-Valdez, a nurse who played an unwitting role in a case of involuntary sterilization struggles to make peace with her past.
 
What prompted you to write this book?
News accounts about the Relf sisters appeared in every major American publication, but many contemporary people don't know this story. I wrote about it in the form I know best, fiction, so I could pursue some of the questions I had about what happened.
 
What are the benefits and challenges of writing a fictional account of actual events?
A benefit to fiction is that you can explore parts of history you can't find in the archive. Historians use their intuitions based on the research they've done. I go a step further and dramatize those moments to take the reader into the moment firsthand. A disadvantage is that you can't include everything, and there's so much to know. Lots of details about the case are not in my book, and I made choices that veer from what actually happened. I encourage people to do their own research after they finish my book. 
 
What is the significance of the title?
My publicist chose it, after many days of brainstorming, from the song "Take My Hand, Precious Lord." I grew up hearing that song, but I didn't know it was Martin Luther King Jr.'s favorite—and reportedly [among] his last words before he was murdered. I love the connotations of the title. It implies trust and faith. As a reader pointed out to me, "Everybody in the book needs help in some kind of way."
 
Did you uncover anything that surprised you while researching the book?
We keep talking about these historical moments, but we forget the people who actually lived them. The Relf sisters are still alive and have never been acknowledged for the great sacrifices they made. I want the hundreds of thousands of women who were sterilized at the hands of the federal government to receive a presidential apology. So if anybody's reading this who has the power to make that happen . . . 
 
How did you come up with your main character, Civil Townsend?
I was curious about the nurses who worked at the clinic where this happened. How did this happen under their watch? How did they make sense of it? And how did they live with themselves after that?  
 
Did you talk to the Relf sisters?
I chose not to disturb them. They knew I was working on the book, and I was in touch with their previous social worker. They're trying to move on with their lives. I want the best for them, but I don't think every person working on a story should be going in their house and interviewing them. 
 
Did you have any input in choosing the narrator for the audio version of the book?
Usually I do, but this time the audio team wrote me and said, "We're trying to get [actor] Lauren Daggett. Wish us luck!" And I thought, Who is this Lauren Daggett they're all excited about? They wrote me again and said, "She said yes!" I couldn't wait to hear. I bought my own audiobook—I didn't get a copy of it before it came out—and I was listening in the car with my teenager, and we both were astonished. She did a fantastic job. 
 
What's next for you?
I went to the UK over the summer to film an episode of Between the Covers, a television series that airs on the BBC twice a year. Each season they pick six books, and in each episode they talk about a book they've chosen with a celebrity. It's sort of like Britain's biggest book club; pretty much everybody who reads and watches television in the UK will be reading Take My Hand together. The season starts in November. I've done a total of seven book festivals this fall, and I'm also teaching at a retreat. Once I'm done, I'll settle down and work on the next book. 

Epilogue
 
What genres do you focus on when reading for pleasure?
I'm one of those people who reads academic books for fun. My first book [Wench] was inspired by the work of David Levering Lewis, my second [Balm] by Drew Gilpin Faust. History can read like a novel, even though it's all true. 
 
What's the last great book you read?
Celeste Ng's Our Missing Hearts, a dystopian novel in which Asian Americans are targeted. It's the best thing she's ever written, really timely and important. 
 
Do you have a favorite library or bookstore?
My favorite library in DC is the Library of Congress. That's my place to disappear because you can't be on your cell phone in there. DC has a great independent bookstore scene. Loyalty Books and Politics and Prose are two of my favorites. In my hometown of Memphis, there's a bookstore called Novel. I just love the way they organize books. 
 
Best time to read?
I love to read after dinner. It's a way for me to wind down if I've had a long day. Saturday mornings are also a good reading time for me. Sometimes I wake up really early, when everybody else is sleeping, and get my coffee and a book. By the time they wake up, I can be halfway through a book.
 
Best place to read?
At home I have a reading chair. I have a little dog, a schnauzer, and he and I curl up in the chair all the time. 
 
You're struggling to finish a book. Do you push through or put it down?
I don't have time to push through books I'm not connecting with, so I allow myself the grace of saying, "This isn't the book for me, and I'm going to pass it along."
 
Any guilty pleasures?
I just finished reading a crime thriller by S. A. Cosby called Razor Blade Tears, which was so fun—lots of killing and blood and gore. I also listened to an audiobook of Mariah Carey's memoir, The Emancipation of Mimi, which I really enjoyed. She sings and tells all these stories, and I learned a lot about her. 
 
Are there books you like to reread?
If I go back to a book, it's as a student, not as a reader. I'll go back to Toni Morrison over and over and over again, usually to find a scene I want to reread. She's such a master of every technique. I go back to Edward P. Jones, a local writer, for the same reason. 
 
You're hosting a dinner party for three writers—dead or alive. Who's on the guest list? 
Sonia Sanchez, a living legend and an amazing spirit; Toni Morrison, the queen mother of literature; and Audre Lorde, the poet and essayist whose words are still so timeless for us—I'd want to seek her wisdom in this m